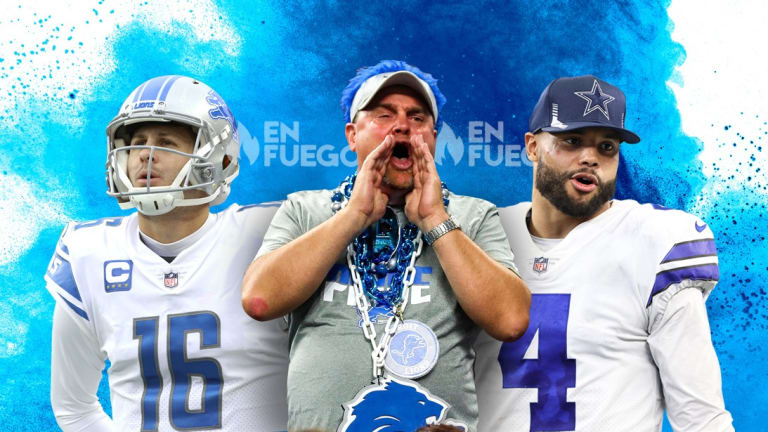 We're Stuck With This Awful, No-Good Cowboys-Lions Thanksgiving Tradition
We're destined to watch the lackluster Lions and the annoying Cowboys every year. And there's not even a good reason why.
You will at some point today feel the sudden urge to pass out on any nearby flat surface. Contrary to what you might think, it's not the turkey. It's not the tryptophan. It's not the abundance of boxed wine or the 15 attempts to explain to your uncle what a Pete Davidson is. 
It's all due to another year of crappy Thanksgiving football games.  
Thanksgiving is here, providing ample opportunity to give thanks as well as recognize our own respective shoddy decision-making abilities.
As a quick recap for the curious. Yes, you are indeed putting entirely too much butter on whatever it is you're eating today. And, no, you don't need a third serving of stuffing. However, as a holiday corollary, you should indeed get another serving.
Most importantly, yes, it is not just you. We all think it's insane that we're still subjected to the Detroit Lions and Dallas Cowboys every single Thanksgiving.
What should be the NFL's equivalent of NBA basketball on Christmas Day, showcasing the brightest stars and most exciting franchises, is nothing more than the pigskin version of 365 brand creamed corn. 
The holiday kicks off with the Bears at the Lions, which is barely worth getting out of bed to watch. 
The better alternative would be to wallow in your comforter a while longer and savor the fall malaise and acknowledge that Thanksgiving is nothing but a day of letdowns, turkey farts, and political debates with the in-laws. Come to think of it, this is a rather apropos game to kick things off.
It's followed by a Raiders team that is again finding it difficult to string an entire season together taking on a Cowboys team that has cruised through what has to be the easiest schedule this side of whatever it was I did senior year of high school.
The night ends with us passing out on the floor in front of the TV as the Bills—a team that just got smoked and played with the defensive vigor of a bouncer who gave in his two weeks notice—take on the Saints in a primetime game that isn't prime at all.
So Why?
It's pretty simple really. The NFL is essentially the waiter at Applebee's. He knows why you're here. He knows you aren't going anywhere else. So, here's your damn menu and order from the slop they have in the back.
Precisely why we do this every year is the same reason we also gather around the table and gorge ourselves until we feel regret and the pangs of our belt tightening. It's tradition.
Tradition remains the easiest yet dumbest reason to continue doing something that doesn't work. Stuffing with a skosh of gravy is a good kind of tradition.
Having our eyes bleed from the number of three-and-outs produced by Detroit is the bad kind of tradition.
So, like, why? Why are we subjected to the same thing every single year?
You can thank George A. Richards who in 1934 wanted to capitalize on his ties to the NBC Blue Network and ownership of the Detroit Lions. He came up with the bright idea of showcasing his team, which worked about as well as you'd expect.
The game was sold out and the Lions ultimately lost to the Bears. A couple of proud traditions were born.
Never content to be just outside the spotlight, the Dallas Cowboys glommed onto the action in 1966. ESPN explains:
"General manager Tex Schramm wanted more national publicity for the Cowboys -- this was before they were known as America's Team -- and thought the holiday game made perfect sense."
'Twas a simpler time, when the Cowboys didn't claim to being "America's Team" without the adjoining clarification "that the country loves to hate."
In any case, the Cowboys and Lions are a holiday institution. And it's all because of you Black-Friday shopping, TikTok-scrolling people out there. You don't know what's good for you and will watch no matter what's thrown onto your TV platter.
"You don't want to take a great matchup and put it in the Lions' slot because there's no reason to," Jay Rosenstein, a former vice president of programming at CBS Sports, told Yahoo! Sports' Jeff Eisenberg. "You're not going to do much bigger numbers on Thanksgiving with a better matchup. The audience that is going to watch football is already there."
Basically, you are stuck with it. Just as you enjoy your mom's stuffing that she makes every year, you are also bound by law to suffer through whatever funky dish your aunt brings every year too.
So, as you slog through another series of awful games. Remember. And this is important. This is all your own fault.
Just like those sweatpants you bust out once a year. They don't look like much, but they are quintessential Thanksgiving. Enjoy all aspects of the day. The good, the bad and the Lions.