These MLB Fans Got Their Steps In
I hope a possible viral moment during the Pirates vs. Diamondbacks game was worth a night in the can for these MLB fans.
We have seen this event hundreds of times. Fans running onto the field and getting inevitably wrecked (rekt) by security. This time it went a little differently.
A decade or so ago, you might have seen these fans get hit with a taser. That has fallen out of favor given some bad incidents. Remember this one?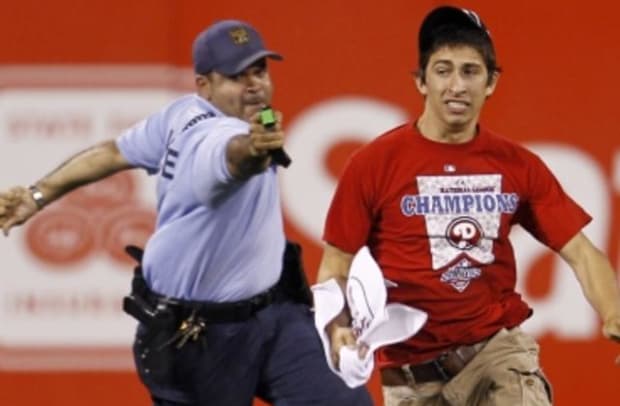 That kid's face always gets me. Anyway. The funniest part of this most recent event is that if these fans had just found a way back into the stands—they might have been able to get out of the stadium without spending a night in the clink.
For the younger fans, this is not new. Nobody from a single generation should be casting any aspersions or making any comments that sound like "in my day" or anything that sounds like "these gen z kids." Fans running onto the field has even happened during the most famous of big MLB moments.
There's no gender dominance here, either folks. Okay, it's usually men. Unless your name is Cody Bellinger.
Then there is always the famous moment that I will always refer to as "Rick Monday captures the flag." Vin Scully's call of Rick Monday stopping a fan from setting fire to the American flag is pretty cool, too. We miss you, Vinny.
This also reminds me to work on my cardio, maybe I could outrun a few zombies should the apocalypse be imminent. As for the two bozos at the Diamondbacks/Pirates game, let us be real here. It's a Pirates and Diamondbacks game. Can you think of anything better to do?