The Denver Broncos Got Their Man In Russell Wilson
Denver finally has a long-term quarterback.
When the Denver Broncos acquired Russell Wilson in March, general manager George Paton (is that really his name) declared that they intended to lock up the franchise quarterback to a long-term extension. On Thursday, Paton and the Broncos did just that, locking up Wilson to a five-year, $245 million extension that includes $165 million in guaranteed money, sources told ESPN's Adam Schefter.
Another "massive quarterback deal" indeed. In terms of annual average salary, here is where Wilson now ranks as the best paid.
Wilson Ranked: Money and Ratings
Let us go ahead and ignore the number four name on that list. I don't wish to give him undue attention. Aaron Rodgers has proven to be a QB1 for a long time, so I don't think anyone would argue. What about the rest of these names? Let's look at last season's quarterback ratings.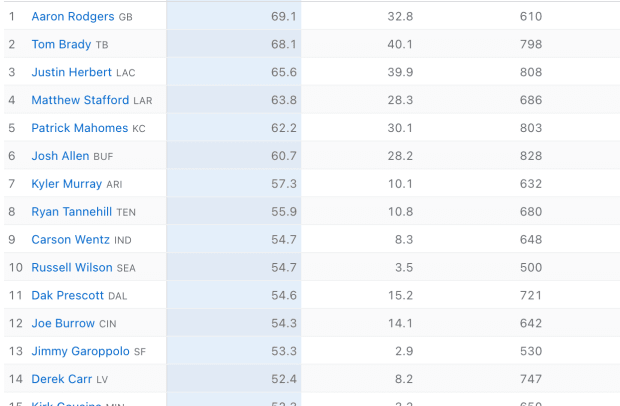 Russell Wilson is rated number 10 on the list. Herbert is still young and this may be why his AAV is lower on the list. Mahomes seems properly rated if you compare his rating to his contract. Who else is above Wilson? CARSON WENTZ? Maybe I do not understand quarterback rating the way I thought I did. I digress.
Context: He's Not Overrated
For decades now, the concept of "playmaker" versus "system quarterback" has been a part of most NFL fans' vernacular. Wilson has always been considered a system quarterback. His presence in Denver suits his style of play perfectly. Wilson is a Super Bowl champion and has nine pro bowl selections.
Wilson's 292 career touchdown passes are the second-most in league history for a quarterback in his first 10 NFL seasons, behind only Peyton Manning's (306). Tom Brady (324) and Rodgers (317) are the only two players with more touchdown passes than Wilson over the past 10 years.
Wilson is clearly one of the more stable performers over the past decade. That is something the Broncos have desperately been searching for. Since Manning's departure, the Broncos have been through Brock Osweiler, Trevor Siemian, Paxton Lynch, Case Keenum, Joe Flacco, Drew Lock, Brandon Allen, Jeff Driskel, Brett Rypien, Phillip Lindsay, and Terry Bridgewater. Lindsay was a running back who started a game when all three Broncos quarterbacks were out under COVID protocols. Either way, that is not a hall of fame list of quarterbacks. The Broncos got the man they were searching for.
Wilson's debut with the Broncos on September 12 will be an odd homecoming of sorts—Denver visits Seattle on Monday Night Football. It is likely he will get a warm reception. He guided Seattle to their only franchise Super Bowl win in 2014 and he has always been tremendously popular. The bucked Bronco returns? Sorry, I should stop trying to write newspaper titles.