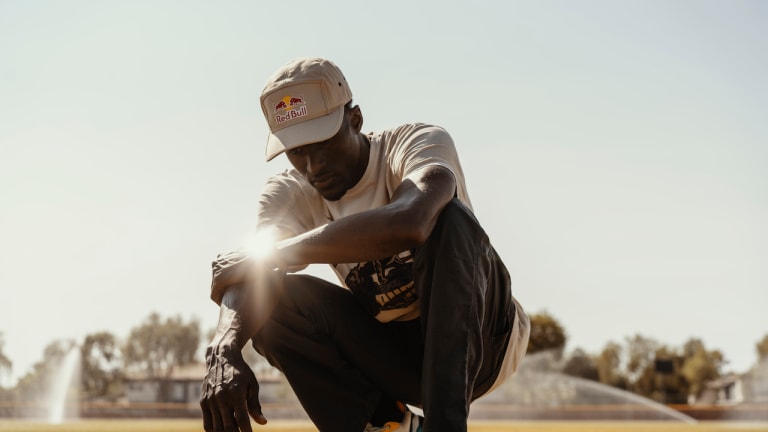 Olympian Will Claye Is a Real-Life Superhero Ready To Take On The World
Will Claye is a platinum recording artist, three-time Olympic medalist, and fearless athlete with eyes on Tokyo gold.
You know, there isn't enough consideration given to how good a reporter Clark Kent was at the Daily Planet.
Sure, he could power lift more than your coworker who reminds you daily about CrossFit. But could he also excel at something other than being a superhero? Because otherwise, life is just a journey through the doldrums of one-dimensional talent.
Now take Will Claye. The dude is The Flash and Superman, soaring through the air after sprinting down the track.
But he's also gifted when he takes off his superhero costume and hits the studio.
Neither Clark Kent the reporter nor Superman has anything on Claye. He is now looking to make his third Olympic track-and-field team.
"It is one of the most amazing feelings to put on a United States uniform," he tells En Fuego. "You know, when you put that uniform on, you feel like a superhero, honestly, like that USA on your chest is, man, it's a feeling like no other."
Trials and Tribulations
Training is hard without the added weight of uncertainty. Claye is just one of countless athletes who have had to wade through the muck of the start-stop syncopation of sports amid a global pandemic.
It's already gut-wrenching enough to go through the schedule of Olympic trials. But this will be for a Tokyo Games that remains an open question for many throughout Japan.
"Right now is a very, very important time," he explained via Zoom. "I'm almost in bubble wrap right now, you know, everything is very delicate."
Delicate is a wonderful way to put it for an athlete whose very sport can be so painfully exacting. World-renowned success is measured in but centimeters.
In any other sport, there would be room to relax for someone as successful as he is. The 29-year-old graduated high school early for opportunities at the University of Oklahoma. Not one to wait for big things to come his way, he set the American junior triple-jump record, which sits at 17.19 meters.
He's an experienced and well-decorated Olympian, taking home silver in the triple jump and bronze in the long jump at the 2012 London Games. Four years later he again landed silver in the triple jump at Rio de Janeiro.
That's nice and all if you are into recounting the accolades of personal history, but this is useless in the realm of future success. Olympic track and field trials are scheduled to begin on June 18. It's a veritable wipe of the chalkboard, a fresh start.
"It doesn't matter what has happened throughout the season, doesn't matter what has happened prior years, it only matters what happens on that day," Claye said. 
On that day, your body could be flawless or you could be but a microsecond off, missing out on a shot for which you've trained your entire life. Now consider that Olympic hopefuls put in that lifetime of training only to see their shot postponed a year as the Tokyo Games have been.
Due to a global pandemic that has shrouded the entire globe in uncertainty, the Summer Games were moved from 2020 to July 2021, but the location remains in Tokyo.
Still, these Olympics continue to be but a shadow of the usual pomp and carefree pageantry that normally precedes it.
"The way we train is to prepare for a certain time, as far as peaking, when you're tapering off of training and just trying to be in your best shape when it counts," he explains.
"So, it's tough when you don't know a date and you don't have an exact time for where you need to be at and at what point."
For Claye, staying in shape throughout this ordeal was crucial. And he is looking toward Tokyo with renewed clarity.
"At this point, we just are hoping and praying that, for one, we can have the Olympics and, two, everyone to be safe at the end of the day."
ELEVATE
Claye's story plays out beautifully in the new 10-minute documentary Elevate, directed by Jen Stafford.
It's a story of perseverance and resolve. Talent and tenacity.
"Me and my mom, we bounced around a lot, especially after my parents divorced at a young age," Claye said, delving into his formative years on the south side of Phoenix.
"That point was where I really went from a boy to a man; I learned a lot of things from the streets, honestly, and it made me grow up fast."
Claye relied heavily on his mother who worked full-time but also credits a lot of his success from the support he had from coaches and friends, so many mentors that shaped who he would become.
As Claye competes at the trials and hopefully the Olympics, the subject of how it feels to don the red-white-and-blue comes up in the short documentary. His wife Queen Claye (neé Harrison), a fellow track athlete who took home gold in the 100m hurdles at the 2015 Pan American Games, explains that there is indeed a visceral moment of empowerment when you put on the colors. But it's not everlasting.
"I think it's two-fold," Queen explained in Elevate. "Because to me, I do feel like anytime I've had the American flag on my chest, I felt super support about America. Now the issue comes when I'm not in a uniform, is do I get that same respect, and I don't."
Claye then goes on to relay the story about being pulled over in San Diego, only to have "the energy switch" when he explained to the officer that he was an Olympic athlete.
The question lingers, what is it like for other Black Americans who don't have that proverbial Olympian card to show when they are pulled over?
There's an unrelenting notion that those Americans who compete and step on the podium every four years are sharing in the American experience. But it's vitally important for the growth of this country to realize that there is not one American experience. It's a cauldron of infinite stories—so many determined by race, ethnicity, and class.
If any of that is going to change, it will start by realizing that so many athletes have complex feelings about the nation for which they compete.
Claye's documentary is a spotlight on his story, a unique experience that shows just how far you can go when you put one foot in front of the other and don't slow down.
He talks about feeling like a superhero on the grandest stage in sports. Things are remarkably different without the cape, however.
"For me, it's tough because I can come home and still be profiled within my own country, just (from) my skin color."
What he wants is something so simple but remains painfully elusive in this country, that we bring the same love and energy for all Americans regardless of whether they are on a podium or walking down the street.
"It just makes you want to go out there and represent your country and also educate your country," Claye said.
"We are one. Look at all the different faces and colors and ethnicities that are representing America.
"These are all amazing people. And we need to look at our people in this country as such, not even on an Olympic level, but on just a personal level, interactions with our people. We are just Americans, whether you are African-American, Latino-American, whatever it may be, you're American. And we need to be treated as such on a daily basis."
The Studio and Beyond
Physical gifts are just one part of Superman. When Claye puts on his Clark Kent suit and gets to work writing, he's often in the studio with famed producer DJ Khalil.
Their most recent collaborative effort is the hypnotic Wee Hours.
Music started for Claye at a young age. Captivated by the church choir, he explored the possibilities of melody and voice. He sang alto as well as the soprano in that choir, even tried out the drums.
By the time he was older, he got into artists like DJ Quik and Outkast. Always soaking up inspiration, he utilized every moment to hone his own sound.
Before you know it, he was laying bars out before his high school teams and putting CDs together. Then, in 2016, he dropped IDGAF with YG and he noticed that he had another avenue to inspire.
"I'm like, OK, well, now is the time for me to start putting music out for the people because that's just another way for me to have a lasting positive effect on whoever it may be that listens to it."
After years in the studio, he is starting to find his legs musically. He likens it to how he started out in track. While he emulated the great Carl Lewis, the way the former Olympian ran wasn't good for Clay's body­­­—So it goes in music.
"I feel like I've finally found one hundred percent my sound and what I want to rap about, how I want to come across, how I want to make people feel like. That's what I feel like I've got now as far as the music goes."
Claye thinks back on his childhood. The brazen innocence of infinite possibilities brush across his face. He tells me he was the kind of kid that might see Travis Pastrana light up the X Games one minute, and the next he's out the door trying the same thing. He is easily inspired, bright-eyed at the potential this world has to offer.
Claye tells me about his brother, someone who showed him the way.
"My oldest brother. He played football and basketball. He went to Cal Berkeley, and he was you know, I really looked up to him. He was like the man to me. So, I was like, I just want to do what he did, and I want to go to college. I saw him go to college, get a free ride and all of that stuff. And I just wanted to do the same thing."
Claye is that same beacon to so many kids around the country who will hopefully see him compete once again at the highest level, showing what hard work can get you, and just how far you can go when you never stop moving forward and reaching for new heights.
In the end, he has this wonderfully refreshing fearlessness that has allowed him to engage his passions and enjoy life as it comes.
On what he has learned about inspiration, he tells me, "You got to just take a chance. I was never scared to take a chance."
As for the Tokyo Games, he is clear in his mindset.
"I just want to go out there and compete at the highest level that I can compete in and just represent God, represent my family, represent my country in the finest way possible."