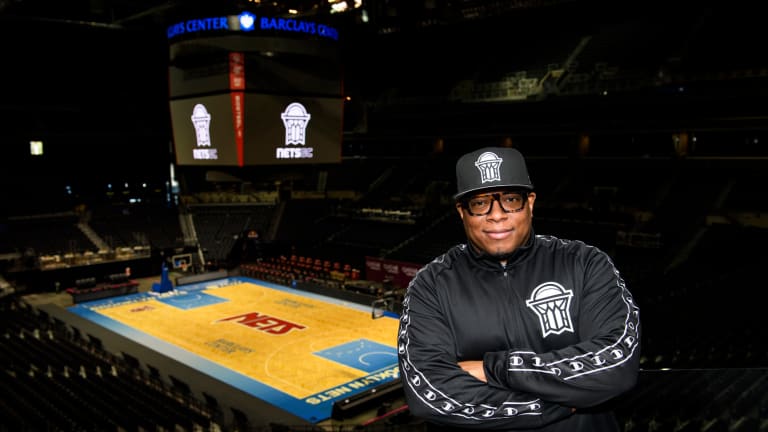 OG King Curt Is Holding Court
The NetsGC general manager and head coach speaks with En Fuego about life in the NBA 2K League.
You never know where a gaming session will take you. One minute you're working late shifts at a long-term healthcare facility and the next you are getting schooled on the nuances of making your own NBA 2K player.
Such was the journey for OG King Curt (Ivan Curtiss) who is the general manager and head coach of the Nets Gaming Crew (NetGC), the Brooklyn Nets' NBA 2K League team. But even those titles don't describe the extent to which this man shapes the success of NetsGC. 
He is a coach, a mentor, and a content creator. He is also the founder of the MPBA2K League and is the cohost of the esportsXTRA show. He helps with the social channels and ensures his players have the proper training and tools to compete through a season that can indeed be both mentally and physically taxing.
He's the dude you go to when the subject revolves around basketball and/or playing basketball with a controller in your hand.
This is his job, sure. But it's also his passion. We talk about a great many things via Zoom, this paragon of the virtual court decked out in NetsGC gear.
He tells me about his life growing up, being raised by his grandparents. We talk for some time about his initial foray into NBA 2K and also of the unfortunate moment when he discovered that the Dreamcast system he let his brother borrow was stolen. An heirloom closely tied to his time gaming but also his hobby in the military was gone. OG King Curt takes his systems seriously, after all.
"I was so upset, not even about the fact that not even being able to play it, but I wanted to keep it," he tells me. "Like I still have my very first XBox; I plan on bronzing it."
Hitting the Court
It took many hours on the console before Ivan Curtiss became OG King Curt. He worked in long-term health care and would spend time with a coworker by the name of Otho Jones, someone he credits a great deal for his career.
Jones was meticulous in his tutelage as they spent their break time going over the nuances of NBA 2K and what you want in a created player.
The lessons benefitted someone who would later befriend Latoijuin (LT) Fairley and Lawrence West, the former is now the general manager and coach of Mavs Gaming and the latter serves as the GM and head coach of Hornets Venom GT.
What started as the ability to carve out a created player in the game in 2011 evolved into a virtual rec center and subsequent amateur leagues by 2015. It was at that time that Fairley boasted that he could start a league superior to the ones he saw popping up.
OG King Curt was game and thus was born the My Player Basketball Association. Success the three found in the MPBA made their inclusion into the budding NBA 2K League—started in 2017—a no-brainer.
The King began offering his wisdom to Bucks Gaming (Bucks GG) as a draft analyst. The following season he jumped at the opportunity in Brooklyn.
It was a crucial step on a long journey from Dayton, Ohio. It's there that he developed his love of gaming, from floppy discs to that first Dreamcast console.
OG King Curt graduated high school in 1997 and had a decision between playing basketball in junior college or going into the U.S. Navy, he decided to enlist and served as a Machinist Mate Petty Officer 3rd Class.
It was there that he cut his teeth on NBA Live before moving on to the superior graphics of NBA 2K. It wasn't until 2011 that he met Jones and really immersed himself in the franchise.
His job means a tremendous amount to the 42-year-old. "I come from the west side of Dayton, not, you know, the suburbs, not the prettiest areas in Dayton," he said.
"I was in my mid-thirties. I was undecided about a lot of things that I wanted to do, but I felt like I could be doing something greater and something more.
"So, when I got into this position, I felt like it was owed to communities that look like me to let them know that, hey, you can be something else out here and not have to be in the streets or anything negative that can hinder your future."
The future is a constant line item when you're not just the coach but the team's general manager. Working daily, Curtiss is immersed in every aspect of the development of his players; players that come with their own particular skillset.
Keeping It 2K
NetsGC is already blessed with renowned players like Josh Humphries (Choc) and Connor Rodrigues who goes by Shotz. Both of whom offered glowing praise for their time in Brooklyn.
"NetsGC has proven we are a force to be reckoned with," Choc, who is second in the league in scoring (31.7 PPG) and first in assists (14.4 PPG), tells En Fuego via email. "We have a great group of high-quality guys supporting one another both on and off the virtual court, and our chemistry combined with Curt's leadership has helped put us in position to compete for the top spot in the league."
Shotz echoed the sentiment for a team that is again playing for a top spot in the Eastern Conference.
"I've played with multiple teams in the NBA 2K League since its creation in 2018, but there is no place quite like Brooklyn," Rodrigues explained. "It has been an honor to be a part of NetsGC this season. Everyone in Brooklyn welcomed me wholeheartedly and we are lucky to have a leader and mentor like Curt."
NBA 2KL is a gauntlet of esports basketball with a regular season sandwiched between three in-season tournaments, The Tipoff, The Turn, and The Ticket. The last is a final opportunity for 13 teams to make the postseason.
The season can feel quick when you're winning but a grind when things don't go your way. Stress is a constant concern regardless of standings.
Nets GC addresses this with mental and physical health training. Even one of their sponsors, Zenni, outfits the crew with gaming eyewear that helps reduce eye fatigue.
"Most people when they think esports, they don't think about the physical aspect of it, but it is mentally draining to be sitting and focused and locked in front of a screen for long periods of time," Curtiss explained.
It's all one part of a larger mission to cultivate a culture of winning. This avid gamer and content creator has a background in coaching boys and girls on the high school level. "I have a great responsibility of who we keep (and) how to build our roster going forward."
Like any ballclub, the players have to know their role. Whether that be an on-court general who can command the pace of the game or a lockdown defender called upon to do dirty work that often goes unheralded but remains critical.
So, you want to make it in this world. Well, it takes more than hours of gaming. It takes the kind of dedication commensurate with any professional athlete. In many ways, the road can be more daunting.
You need talent but also a willingness to grow your brand. Yet, you need to also show you can be part of a team and leave the ego on the sidelines.
A lot of these guys are also used to playing in their hometown. Rising through the ranks and making it at this level means you are transported to a big market where winning is paramount and the pressure to succeed is constant.
Spoken like a true coach, OG King Curt tells me the ones who make it are team players first but are also malleable and willing to learn from what they see across the league.
"Everybody is focused about being better than somebody instead of learning from somebody," he explained. "And I think sometimes that's where their downfall comes in."
Collaboration 
OG King Curt is certainly about gaming, esports and amplifying his players and the sport. But he is also about representation and opening doors.
The NBA 2K League is a collection of talented esports athletes, but there is a wealth of extremely gifted people behind the scenes that make it all happen. Showing communities of color that there are bountiful opportunities in this realm of sports is crucial to not only OG King Curt but the NetsGC organization.
To that end, they have teamed up with HBCU Gaming to showcase just how deep the well is for those interested in gaming.
Look past the buckets and the recognition you get from being on a streaming platform and you quickly realize the kind of work that goes into the product.
"I think everybody gets caught up on the game aspect of it, which is great because that's what fuels it," the GM tells me. "But nobody thinks about the on-air talent, the casters, the journalists, the videographers, the producers, the editors (there's) so much room for a career in sports and just throughout the world of sports in general. But I think that's something that needs to be highlighted just as much as about the gaming aspect."
It's not just the jobs that are diverse in this league but also the personalities. Esports tends to galvanize and entertain people from all corners of the world. The more you show that fact the better and more representative it becomes.
"It's a mix of education and gaming as well," OG King Curt said. "I think gaming is one of those bonding agents that brings a lot of people together from all different types of walks in the world. And I think it's important."
Using his station is important to ensure the success of his team but also make this part of the industry more diverse. "It's all about doing what it takes to create a better future," he tells me.
OG King Curt speaks with conviction and passion. You can tell you're chatting with someone who understands his platform and the power that comes with utilizing it to its fullest.
"Saying it's a dream job. It's kind of an understatement," he said with a smile of recognition. "I've always said that, yes, it's a dream job, but I'm definitely in the perfect destination and place for me to help me grow and then in return, I can do the same for other people."