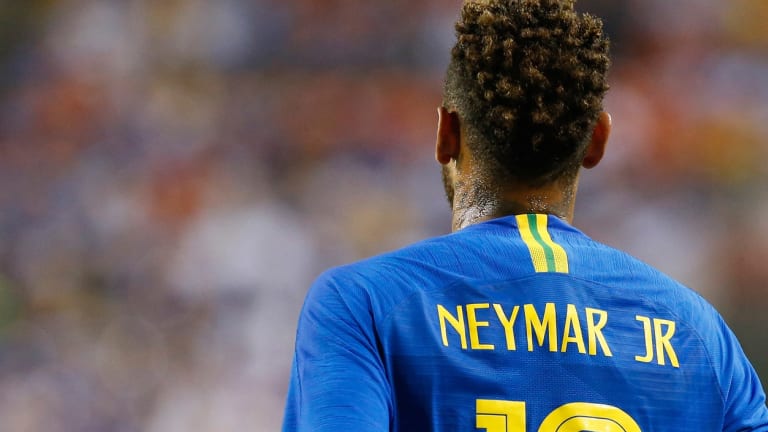 Netflix's 'Neymar: The Perfect Chaos' Highlights the Human Within the Superhero
"Neymar: The Perfect Chaos" director, David Charles Rodrigues, speaks with En Fuego about his time with the football superstar and what it was like to produce this immersive new documentary series.
"Neymar: The Perfect Chaos" starts with a question. It's a simple question, if not loaded with infinite possibilities. How would the soccer superstar start a documentary, one that aims to encapsulate his life and career up to the present day?
"You've got to start with the monster," the 29-year-old Brazilian explains to the camera. "And it keeps going like this. One after the other. Everyone criticizing me. Then, they get to know me."
It's normally advantageous to craft a character from the bottom up at the start of a story. But in the case of Neymar Jr., to get to the heart of it all, you need to chisel away the preconceptions, the misunderstandings, the assumptions.
You need to unmask the cowl of his many splendored exploits on the field just as much as you need to dab away the missteps that have so often painted him the villain.
The greatest thing Netflix's newest documentary series has going for it is honesty. It's a dedication from director David Charles Rodrigues to paint the full picture but also a promise from Neymar and his family.
"I really commend them for opening themselves up fully," Rodrigues, whose previous work includes the documentary "Gay Chorus Deep South" tells En Fuego. "They didn't hide a single thing."
Neymar's ascent has been remarkable but not unblemished—marked by fan vitriol, media criticism, and career-altering injuries.
It's impossible to capture the breadth of his work or the totality of anyone's life in three episodes. But what Rodrigues has done is far more than a snapshot. This is a deep dive into one of the most fascinating athletes on the planet.
By the end of the series, you certainly come away with more of an understanding of the Paris Saint-Germain superstar. In many ways that are important, he ceases being an athlete and is more human than ever.
A Most Perfect Chaos
The title of the Netflix series, now streaming, is itself a perfect representation of the Brazilian's life and career.
"I have to be clear that that name was given by Neymar himself," Rodrigues tells me. "He one day called me and was like, I think I have a name for our series, The Perfect Chaos. And I'm like, oh my God, that really encapsulates not just, the series itself, but the experience of making it through all these adversities."
Many streaming the series undoubtedly will be fans of the man born in Mogi das Cruzes, São Paulo. 
They will remember with fondness his initial success at Santos and his stirring chapter at Barcelona. Of course, the decision to leave the Camp Nou for PSG will be front of mind.
Peppered among those athletic transactions is a great deal of growth and maturity.
Being able to handle the fame and the pressure of the biggest clubs in football is a testament to Neymar's foundation.
Family Matters
Very quickly you discover that the Neymar show is far more intimate than a stadium packed with fans. The global brand is the consumer-facing entity. But behind the scenes, what matters is family. Tender moments filled with frivolity and care are as common as through passes on the pitch.
Neymar's mother, Nadine da Silva, encapsulates one of the many overarching themes of the limited series documentary. The family was recalling the days when the soccer star learned that his then-girlfriend Carolina Dantas was pregnant with Neymar's son, Davi Lucca.
"In order to be a good father, you have to be a good son," da Silva said in prescient tones.
You can certainly feel the lover Neymar and his father, Neymar Santos Sr., share throughout the series. You also see the quintessential struggle between the two. Dad attempts every moment to show his son a path; son trying tirelessly to forge his own.
The two share an early anecdote that shaped the kind of player Neymar Jr. would become. A budding soccer star was playing for a youth team when he decided to stop midgame. His father later asked why he chose not to run on that play.
A young Neymar Jr. pointed out that nobody else did, so why should he. The answer he received was quick and left an indelible mark.
"What, that's the answer you're gonna give me," Santos Sr. remembers saying during a scene in "A Perfect Chaos." "You've got to give your blood out there."
Whether you decry Neymar for his flair or champion him for his success, you can't deny that he certainly leaves his blood out there on the field.
Chided for his flamboyance and predilection to hit the ground writhing after contact, the 29-year-old has certainly had his share of career-altering injuries: a fracture in his spine, ruptured ankle ligament, and metatarsal fracture to name a few.
Rodrigues points out that hard work is a family trait, something passed down as an heirloom.
"His father was an amateur player and then his last job before he started managing Neymar was a bricklayer, which in Brazil is literally the lowest paid, lowest form of work," the director said. "In a span of 10 years, he went from that to making the biggest deal in sports history, sold Neymar from Barcelona to PSG."
In 2017, after much success at the Camp Nou, Neymar struck out on his own with a move that would put him on the highest rung on the marquee, a move that meant €222 million (£200.5 million) to PSG.
It's fascinating to watch this chapter unfold in the documentary. Journalists and fans opining on the move while the family makes a careful and calculated transfer that works best for them, best for Neymar Jr.
The Human Element
The three-part series is a revelation for football fans and a great watch for anyone interested in the human condition. It's about a boy going from the streets to the world stage. A maestro in the middle of his symphony. A son learning how to be a father.
"I think his son is really the grounding force in his life and he has so much love and it's really beautiful to see," Rodrigues said.
"The Perfect Chaos" delivers intimacy that isn't afforded elsewhere. Neymar Jr. may command an astounding 168 million followers on Instagram. But there is a limit, even to the daily deluge of social media posts.
Rodrigues tells me that when he first started production, he asked Neymar Jr's friends if he could film parts in the athlete's bedroom—the setting would lend itself to authenticity.
Off limits, he was told. Nobody steps foot in there besides Neymar Jr. It's his haven. A place away from the ever-watchful eye of a discerning world.
After asking a few more times, he was told to go ask Neymar himself. To his credit, Neymar Jr. immediately allowed the request.
"We kind of created this, I don't know, spiritual agreement," Rodrigues said of his time with Neymar and his family. "I was never told no once, and that's really something that I have deep respect for them, understanding and trusting the process and making something that that is real and that is not afraid to reveal itself in its full dimension."
What the audience is left with is perhaps the first deep dive into the life behind one of the most famous athletes. As the documentary's director explains, Neymar's life is a classic tale.
"In our age-old narrative, we need a hero and a villain. Right? And for the press' luck, Neymar can play both roles.  And so in a way it's just easy to cherry pick these key moments and vilify him in that way. Where if you really look at it at a deeper level, he's just being himself. He's being very authentic and very sincere, and he's not putting on a front."
Neymar Jr. has a painting that makes a couple of cameos in "Neymar: The Perfect Chaos." It's a portrait of the titular athlete playing both parts of DC Comics' most famed enemies. In vivid color, he looks toward the viewer as both Batman and the Joker.
Rodrigues' look into Neymar Jr.'s life is as honest a glimpse as one can get at someone so beloved and yet so vilified.
By the end of nearly three hours, Neymar's humanity begins to shine through. You begin to understand his shortcomings and revel even more in his ability.
One thing "The Perfect Chaos" highlights through three episodes is that Neymar has never tried to hide who he is.
"After going through all these changes and becoming a superstar, to preserve your identity is something I really commend him for," Rodrigues adds.
When you are dedicated to authenticity, people get to see all angles. The smooth and the rough.
Neymar has played the monster to aplomb. He's shined amid a chorus of jeers and come away from the cacophony triumphant.
Neymar has also been the hero, his name shouted from every corner of a pulsating stadium, the smile he dons is less like a cowl or the makeup of a villain.
His energy, the vivacious way he has led his life, is his true self. Neymar Jr. is less a comic book character and more a force of nature—one that continues to move and shape the world with dramatic flourishes of deft skill and unrelenting authenticity.
"Neymar: A Perfect Chaos" is streaming now on Netflix