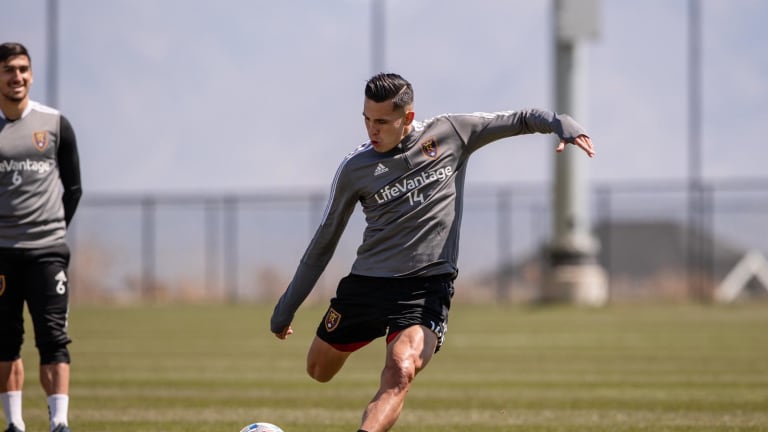 Guided By Maradona And Landon Donovan, Real Salt Lake's Rubio Rubin Is Ready To Make His Mark In MLS
Rubio Rubin has found another level to his game thanks to legendary players as well as the simple act of staying present.

Some players need weeks or months to collect their first goal or assist in MLS. Others wait out their entire careers for opportunities.
On April 24th, Rubio Rubin only needed 31 minutes. 
After launching a shot on target just 70 seconds into his MLS debut, the Real Salt Lake forward continued to pressure defenders and eventually found an assist for the first goal in a match against Minnesota United. Moments later, in the 41st minute, Rubin provided a second assist that would eventually help carry RSL to a 2-1 win in their season-opener.
"It was great," said the 25-year-old with a big smile in an interview with En Fuego. "From the get-go, you just want everything to go well."
Few could complain. In his first game for a new club, it's difficult to ask more of a player who had a role in creating two goals.
And with a wealth of invaluable experience and knowledge backing him up, this could prove to be the sign of an early renaissance for a player who has been on the American soccer radar for nearly a decade. 
Raised by his Guatemalan mother and Mexican father, Rubin grew up just outside of Portland, Oregon in nearby Beaverton. After winning the 2012 U.S. Soccer Young Male Athlete of the Year award, he took the leap over to Europe to begin his career with FC Utrecht in the Netherlands. 
He eventually made his professional debut in August of 2014, and by November of that year, he was earning his first minutes for the senior U.S. men's national team. 
Then came a major setback in 2015.
An ankle injury kept the young American off the field for months, and after recovering, Rubin struggled to regain regular minutes for Utrecht. Quick moves to different clubs followed. He played for Silkeborg in Denmark, Stabæk in Norway, he made the move over to Mexico to join Club Tijuana, and by early 2019, he found himself with Dorados in the country's second division.
And yet, it was here in Mexico's lower leagues that he would get an unimaginable chance to be guided by one of the greatest names, if not the greatest name, of the sport he loved: Diego Maradona. It was there with Dorados that Rubin not only began to collect more minutes, but also got to learn from one of the most charismatic figures in soccer.
"I remember one moment that we're doing a shooting drill," mentioned Rubin about the end of a memorable training session with Maradona. "I took a shot, and I missed the shot. And I was like, Okay, I'm done."
Rubin was about to walk off the field but was stopped by Maradona. "Never go off on a miss," said the Argentine great to the American. "Finish on a positive note." With one of the world's greatest watching, Rubin slotted his next shot into the back of the net.
It was a simple yet eye-opening moment that sticks with him to this day and benefits his mentality. Whether it be through finishing training "on a good note" or even doing something as basic as making his bed every morning, this idea of small positive changes was inspired by Maradona.
Unfortunately, like many others, 2020 then put everything on hold for Rubin. He was on the outside looking in with Dorados, but by the end of the year, he found himself being coached by another icon in the game who helped provide his route to RSL.
"I knew Rubio was ready for the next step before he even arrived here," said San Diego Loyal manager and U.S. soccer legend Landon Donovan in an email interview. "Our job was to help him get to a higher level by giving him a platform to succeed. He has the ability to play at the very highest level and we are happy to have played a small part in getting him to RSL."
Although it was a short stay before eventually moving to MLS, Rubin was incredible for Loyal in a five-game run through the USL Championship, the 2nd division of American soccer. Seven goals were quickly collected in those five games, and under the leadership of Donovan, Rubin praised the manager for "reboosting my career."
Nonetheless, as much as Rubin's stock in the game has recently bounced back, he's made it clear that his talents have been there all along.
"Ultimately, I don't think my soccer had ever gone away," said Rubin. "It's all about confidence and at the end of the day, if you're doing well and you're feeling good, it reflects on the field."
That confidence is now soaring. At a crossroads in which he's young but also has an immense amount of experience, Rubin has stated that he feels more mature and prepared for what life can throw at him—which is what makes the player such a fascinating figure.
While others with similar soccer resumes are well into their 30s or 40s, Rubin is only 25 years old, and in theory, he can continue to elevate his game.
And along that path, he won't be afraid to share the knowledge he's gained through his experiences. In a recent video released from RSL on Rubin, there is an intriguing moment in which the forward begins to encourage a young defender. "Keep going. Don't settle for being young, bro. Trust me. Keep working, earn your spot and you'll be alright," said Rubin to an academy player in the video.
This ability to connect with others is what truly makes him a valuable teammate. It's easy to only highlight what he showcases on the field, but behind the scenes, he can also be an asset on the training ground and during rough moments of a season.
"First and foremost, he's a tremendous human being and everybody at the club loved being around him," said Donovan about Rubin's time with Loyal. "He always came in with a smile and worked really hard every day."
But what's next for Rubio?
When discussing how he can build off of his memorable MLS debut, Rubin prefers to be in the moment when discussing his goals. He's not worried about where else his career could take him or stressing about future matches or training. As a player who was put into the spotlight at a very young age, he's already done enough of that.
"Taking it day by day, that's the most important thing that I've learned through my journey of being a soccer player," stated Rubin. "You simply just get so distracted by the future. You forget about the moment."
There's something to be said about truly appreciating the here and now, especially for Rubin. After spending years abroad and putting an incredible amount of pressure on himself, you can't blame him for being more introspective and appreciative of what the game has brought him.
And most importantly, for what the game can continue to bring him.
"It's life, man. It's futbol. It's about growing and I'm excited."