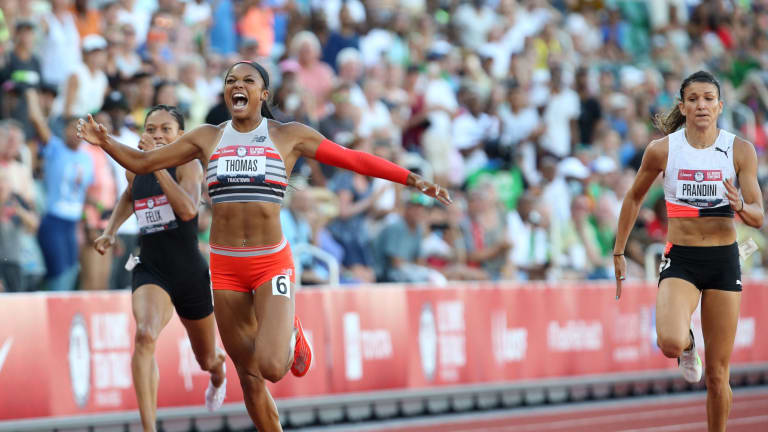 Meet The Most Interesting Olympians in the World
The greatest stories in sports will soon unfold at the Tokyo Summer Olympics.
The Summer Olympics have finally arrived in Tokyo, and they are a far cry from what we thought they'd look like.
Robbed of much of its pomp and pageantry, these Summer Games will be certainly be characterized by its lack of fans in the stands and absence of cheering across its stadiums.
The thing that remains, however, is the athletes. Each has made their respective journey to Tokyo in the same way as previous games, through sacrifice and hard work. While Tokyo will be unlike any other Olympics, we can't discount that it still packs one compelling story after another.
Gabrielle "Gabby" Thomas
Gabby Thomas is impressive in pretty much everything she does. From breaking the collegiate record in the 200m in 2018 to graduating from Harvard with degrees in neurobiology and global health and health policy, she's an inspiration.
The 24-year-old isn't done. She has her sights set on her first Olympics but also on continuing her work in researching public health.
As she tells Runner's World, "Epidemiology—the study of diseases and the populations and the patterns behind it—can be very relevant to why certain demographics and populations are experiencing certain health outcomes."
Seeing the kinds of endemic issues presented during her studies, she has now decided to focus on healthcare after the games. 
Allyson Felix
Allyson Felix continues to change the world off the track. In 2019, she cut ties with sponsor Nike after it failed to implement contract protections around her pregnancy.
"If we have children, we risk pay cuts from our sponsors during pregnancy and afterward. It's one example of a sports industry where the rules are still mostly made for and by men," she wrote in a 2019 opinion piece for the New York Times.
She not only left Nike but started her own label Saysh, sneakers by women for women. Now, at 35, she is headed to her fifth Olympics and now remains just one medal shy of being the most decorated female track and field athlete.
Sky Brown
Prodigy is a term that gets thrown around far too much. When it comes to 13-year-old skateboarding wunderkind Sky Brown, the description is an apt one.
She is set to be one of the first skateboarding Olympians as the global event welcomes the sport for the first time in Tokyo. She is also Team Great Britain's youngest participant ever.
Brown is overcoming a terrifying crash that left her with multiple serious injuries. As she tells The Guardian, whether she would hop on the board was never a question.
"My parents didn't want me to skate for so long," Brown said. "But I just felt like I couldn't stop skateboarding. I just told them I need to skate. It's one of my favorite things to do. You only get one life and you've got to enjoy it."
Misugo Okamoto
Another Olympian showing that age ain't nothing but a couple of digits, Misugo Okamoto is a 15-year-old phenom who is dominating the sport's street discipline. Assume that she lights up the competition just a hop, skip, and a grind from where she grew up.
Eddy Alvarez
It takes the rare athlete to train their lives and make it to the Olympics. It's even more remarkable when they do it twice, doing so in the Winter and Summer Games.
Eddy Alvarez is back on the global stage after just losing out on a gold medal in Sochi when Team USA's short track team lost to Russia.
He left those games and plunged himself back into baseball, a sport that revived his hopes for gold as he joins Team USA's baseball squad.
"Like I've said before, this feels like a redemption trip for me. Last Olympics, when you're so close to winning and you have to stand the podium and listen to someone else's anthem, it leaves just a little bit of that bittersweet feeling," Alvarez told News 4 Jax. "And this trip is like a second chance. I'm going with this, to absolutely leave it on the field."
Sunisa Lee
While every athlete dons the uniform of their respective country, each comes into the games bearing the weight and pride of their communities. Sunisa Lee heads to Tokyo not just as an American but also as a Hmong American, which is a tremendous deal.
"I think a lot of people are sharing in this success because, again, like, this is such a historic moment for our community to have someone become an Olympian," Minnesotan Hmong Seng Alex Vang told MPR News.
"When a Hmong person is able to do something, whether it's good or bad, it reflects our entire community," he continued. "Because Hmong people live in different countries as well, although she's Hmong American, in some ways, she represents the entire global Hmong community, too."
Oh, also, her uneven bars routine is on some Spider-Woman level stuff. 
This is just the tip of the Olympic flame. There are so many more stories that deserve your attention and will unfold beautifully over the next two weeks.
Diana Taurasi is at her fifth Olympic games, which means she has a chance at making history as the first to win five gold medals.
You should hear plenty of Nelly and Jessica Korda, sisters who will join Team USA's golf contingent. Noah Lyles is prepared to make a statement in the 200m and become the world's most electrifying man on the track.
And on and on they go. Over myriad countries and multiple disciplines. They may soon compete in an Olympics drenched in the eerie silence of an unrelenting pandemic, but they will follow their passion and work to finish this chapter of their stories.
We will be there to cheer them on.