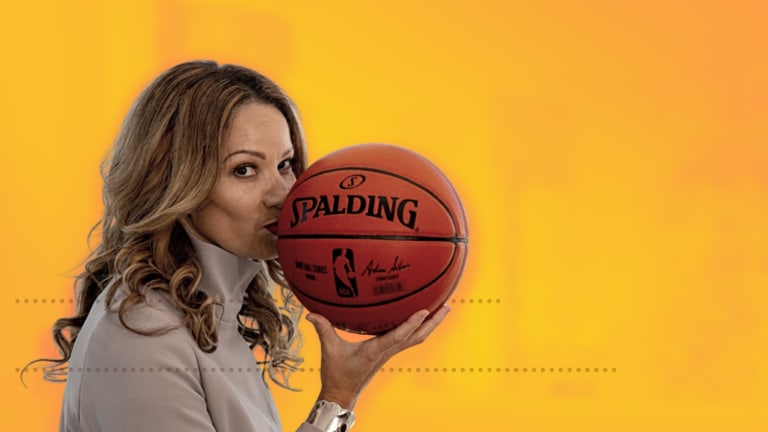 Meet the Mental Performance Coach Keeping NBA Players In the Zone
Laura Mitchell Wilde offers a snapshot of what it takes to think and act like the most cold-blooded athletes in the world.
In the waning seconds of a first-round playoff game against the Phoenix Suns back in 2006, Kobe Bryant saved the ball from going out of bounds. He comes up the court against a defense that held the lead as well as the hope of evening the series at two games apiece.
With his iconic cool, he dribbles the lane, pulls up near the key, and drains a shot at the buzzer to win the game. The look on his face is a mixture of a lot of things none of which are disbelief.
This is what he willed. It's what he saw beforehand.
Some people are just wired differently. But if you are among those who aren't like the Kobes or Joe Johnsons of the world, renowned for their ability to be clutch precisely when needed, you can work on your own respective wiring.
Laura Mitchell Wilde is a mental performance coach. She has worked for years on harnessing that mystical ability of athletes to get in the zone, trying to show others there is nothing magical about it.
She's worked with various elite NCAA, WNBA, NBA, NFL, and MLB athletes, staff and coaches to get players to understand the benefits of embracing a stress-free style of play.
For all the handwringing we do about athletes showing passion and emotion, there is an undeniable adulation for the moment when the look on their face goes blank, emotion is drained, and they seem like they're on autopilot. 
Humans acting like machines. Perfection on the court. It's less like going Super Saiyan and more like becoming Zen.
"The zone isn't a place that we run to. It's like a place that we allow. It's more of a surrender," Mitchell Wilde explained to En Fuego.
While she was not at liberty to divulge specific players or teams with which she has worked, her career as a holistic mental performance specialist has seen her launch the Quantum Player Development and Quantum Sports Medicine programs and found the Sports Dreammakers. She's an author, former head coach, and a partner at Turn2 Equity Partners.
Coach Laura is someone who knows what it takes to harness the physical and mental acuity that it takes to succeed on the bench as well as on the court.
She's been a coach, helming the sidelines at UC Santa Cruz and University of Dallas, as well as at Malibu High School. She is also a former NCAA basketball and track scholarship athlete.
Visualization in all aspects of life is important and paramount for athletes.
"When I was 23, I became a head coach at a university and I was able to, at a very young age, now work with younger athletes to help them understand that the free throws you shoot with your eyes closed with no basketball are as important as the ones with your eyes open."
It's in these moments that clarity aids future success. After all, the most gut-wrenching plays in sports are those times when athletes lock up, frozen in the fear of failure.
There is a way to extinguish the death grip of nerves. For some reason, there remains resistance to the simple fact that getting into the zone is something that can be engrained through practice.
According to Mitchell Wilde, it's not just an attainable skill but something that will garner success and longevity.
The Right Mindset 
Despite the fact that being in the moment is championed around the sports world, it's not how athletes are trained.
From a very young age we teach athletes to be aggressive and get into a fight mentality, disregarding that there is another state outside the fight or flight reaction.
We spend a considerable amount of time on Zoom discussing the power of simply getting to a place of inner peace.
"One thing is if an athlete spends a little bit of time in the stillness or meditates, they're much more ready for these moments because they now have a reference point to go back to the calm," she explained.
There is a common propensity to take on an influx of stress during pivotal moments during the game. This is not just exhausting but works to get you out of the place where body and mind can work in tandem.
Her most basic tenet is to allow her players to mess up. Once you accept that it's perfectly fine to make mistakes, as he puts it, athletes can then more easily harness the pivotal "low state of the zone state."
It seems remarkably simple and hokey, the kind of practice that you wouldn't employ in a world of analytics and carefully crafted on-court strategy. It's why much of the world of holistic mental performance training remains elusive despite its real-world results.
Just look at the tenure and legacy of Phil Jackson, someone who brought mindfulness to the forefront of his coaching.
Ignoring "The Missing Piece of the Puzzle"
Mitchell Wilde admits that the success of not just her practice but mental training in general has not been embraced as it should be.
"One of my goals in my entire life for my career is to keep Phil Jackson's legacy alive and to kind of be the bridge to this new group of athletes, understanding the power of his work."
I was fortunate enough to speak with former NBA player John Salley about this very topic back in 2020. He addressed the efficacy of yoga and breathing exercises that not only limited injuries during the 2000 championship year but also how it brought the team together.
"When I was on the Lakers, we would breathe until we all were breathing in at the same time and breathe it out at the same time, one breath," he explained.
What started off with eye rolling during his most Zen moment became a focal point for a team that was utilizing not just basketball acumen but the body's innate ability to focus.
"Let's just recognize that what Phil did is something that no one else did," Mitchell Wilde continued.
"And I don't see most teams using it to the level that he did. I mean, really, there's no one out there with that sort of Zen master feel. There's no other team is doing that. And I don't understand that because he wrote a book called Eleven Rings. And that should mean something to people."
Getting in the Zone
As she explains, getting into the zone is about surrendering. But it works in direct opposition to how athletes are trained.
From an early age aggression and getting after it are engrained into the very fiber of their respective sport. Now all of a sudden you are told to allow the moment to come to you. It takes training to get out of what is an otherwise unorthodox mindset.
For practitioners of yoga and meditation, there is a very early lesson in concentrating on the most basic of functions. You are often told, be attentive to your breathing. It's an easy way to refocus on something that clears the mind. Mitchell Wilde likens getting into the zone to this very act.
You might tap your hand a few times or think of a calming thought. Whatever it is, the athlete has a tool to quickly get themselves into the zone.
"He can actually program himself to be able to get into the zone really quickly and stay there," she said.
"That's why as hard as it may sound to athletes learning to meditate, it's actually easy and it can really change the game."
Getting out of that meditative calm is where you can really discover the missteps and yips that plague so many otherwise talented athletes. All of a sudden, the calm you felt in practice becomes stressed during the game. Not only does your mind change but so does your body, which greatly affects performance.
When you ignore mental performance you leave more than points on the table. "Healthy athletes win championships, healthy athletes save team owners money," she explained.
"And to me, this is like a pile of cash on the table. Hey, guys, if you use mental performance, that pile of cash on the table is for the taking for you. So just incorporate mental training. Your team will be amazing."
It's not just about winning games but building a healthier culture. As Mitchell Wilde puts it, seeing players accept this kind of training can have lasting implications.
"And a little boy sitting in a house across the country might hear a player talk about mental training and maybe he'll get some. And maybe then he'll be a better person, a better father, a better sibling."
So where can you find the zone? Thankfully, it's easy to start but mandates a lifetime of commitment. Not to worry, because you're already doing it every second of every day.
Finding the zone starts with the simple practice of breathing. She tells me that she will set a timer and just focus on her breathing, which immediately changes her mindset.
"Your brainwaves change. And then maybe you get in the zone because you don't want to just be in the zone for sports. You want to be in the zone for parenting. You want to be in the zone for driving or studying for all that stuff. So, I think just focusing on finding your breath when you can."
You become calm and invigorated. Getting to that zone that athletes often find elusive is not just attainable but in practice is remarkably beneficial for those on the court and those watching at home.
"It's not just for pro athletes. It's for every human being on the planet to feel better and to find this inner divine spark, because we all have the divine spark. And if we could all just know it and start to experience it, I just imagine what humans can accomplish in this lifetime."