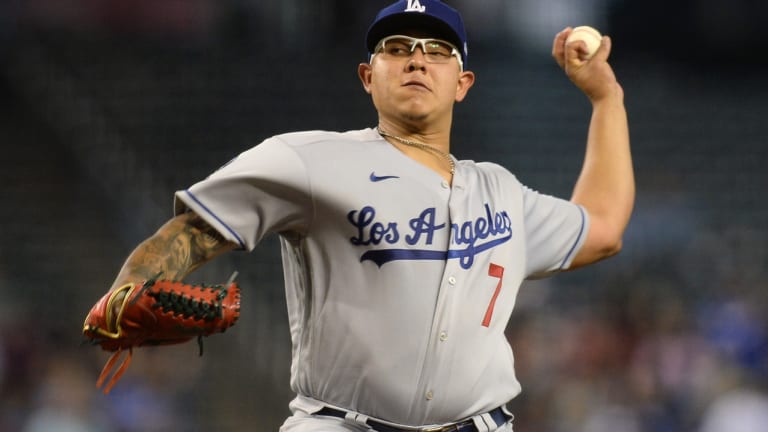 Julio Urías Is Key To Dodgers' World Series Hopes
If the Dodgers are going to get through the National League, they are going to need to ride a healthy and prolific Julio Urías
By now you've come down from that Chris Taylor high, side effects of which include sudden euphoria and visions of a shirtless inebriated Max Scherzer.
It's a good thing we've all sobered because the San Francisco Giants boast perhaps the most convincing and consistent roster throughout this season. And here they are, just itching to dispatch of their bitter rivals.
One thing will again prove true. Julio Urías will be tucked away as an afterthought. As Friday afternoon turns into evening, the discussion will revolve around Game 1 starters. But among the players that get bandied about, it's Urías who will have the most lasting effect.
The 25-year-old is a 20-game winner, a notch that doesn't have as much cachet as it may have had a couple of decades ago. Still, he is the first National League pitcher to boast that fact in five years.
But any argument that this left-hander is less-than because of his awesome run support stop when you dig just a little through his stats.
He was eighth in ERA (2.96) and sixth in WHIP (1.02) in 2021. He also limited the amount of damage in his starts was fourth in walks per game with a 1.84 BB/9 rate. That fits in nicely with his elite K/BB ratio of 5.13 (No. 7). He was pretty much top 10 in most pitching categories, including adjusted WRA+ (138).
His presence on the mound gets all the more necessary in the wake of Clayton Kershaw's absence.
The star southpaw suffered a forearm injury, one that could be felt in waves through Dodger Land. His presence in uniform is calming despite whatever you and your friends have to say during his late innings through past postseasons.
Losing the team's ultimate leader is a big hit to this squad. It's also forced Dave Roberts's hand. As was mentioned a couple of weeks prior, Urías was a possibility to be deployed as a sort of bridge to the bullpen, a super-long reliever during the playoffs as he was last season.
Urías understands that things are never simple in the postseason. You can enter the fray in one role and are called upon to do something completely different the next. One day you're throwing two innings in middle relief and a few days later you may need to get the final out of the World Series.
Prior to Wednesday's Wild Card victory, Urías said all the right things. He's ready for whatever comes his way or whenever Dave Roberts hands him the ball.
"I've been blessed to have the opportunity to pitch in the postseason and I know what that's like," he said, via Dodgers Nation. "In any role, they ask me to go, I'll be able to help out the team the best I can."
With Max Muncy a looming question mark and Kershaw presumably sidelined for the rest of the season, the Dodgers are filled with one glaring issue after another.
Max Scherzer finally seemed to resemble his good self at the end of Wednesday's game. But the fact that he meandered to the end of the season when he gave up 10 earned runs over 10.1 innings doesn't bode well over the next couple weeks.
Facing the Giants and whoever may come after is going to be an excruciating task for a ball club with the fittest of rotations.
But the Dodgers once again limp into October with uncertainty. The one pitcher who has held steadfast has been their young southpaw who has grown into a budding star on the mound.
He's far from a household name away from Los Angeles. But around Southern California, they know what it means when the white glasses come on and the crowd files into the stadium.
It's time to go to work for Urías, the young man from Culiacán, Mexico. It's time to eat some innings. It's time to get a win.
In a five-game series, a player like Urías is priceless.