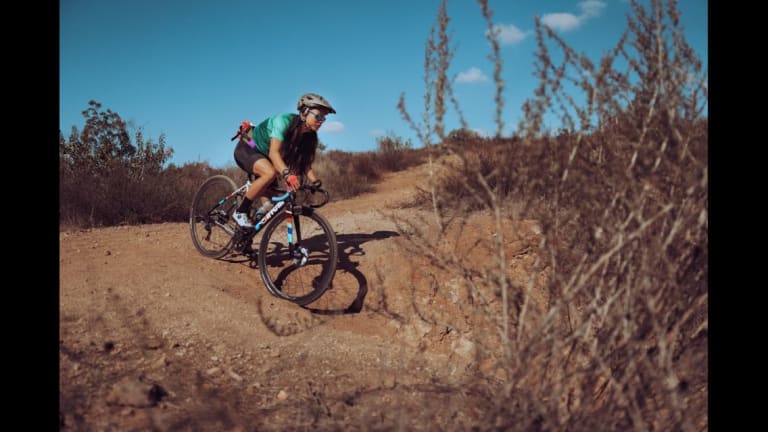 Josie Fouts Is On a Mission to Change The World
Para-athlete Josie Fouts stars in a new documentary and now has aims on changing the world at the Tokyo Games and beyond.
Josie Fouts makes it perfectly clear at the beginning of the documentary Go Josie. She decided very early on to ignore what other people thought.
What started as a defense mechanism has become a strength. As a transradial congenital amputee, Fouts' life has been about adapting to a world that isn't as accessible it should be nor is it incurious.
At the top of the documentary she explains that from kindergarten on, she made the decision to not care what others thought. It's a mantra from which she's shifted. Now she is leading from the bicycle seat, using her sport as a platform for positive change.
"When I see kids out on bikes, I totally wave and I, of course, don't wave with my hand, I wave with my stub. And their faces, I just like blow their minds and I just change their lives and the visuals of what they see as a capable human," Fouts tells En Fuego.
A Para-Cycling Track National Championship (2018), the 2020 San Diego Velodrome women's record (2020), and the flying 200M national record are just some of her early accolades. 
Fouts was born in South Korea, adopted at six months and raised in Ohio. She never stopped moving. Her life has always been about momentum. 
From a microbiome lab to the track to the undulating hills of San Diego, Fouts is on a mission. Well, she's on several at the moment. She is determined to make the Paralympic team and represent the U.S. at the Tokyo Games this summer.
She is also determined to shift the paradigm of what we consider exemplary in the sports world. She is doing that by utilizing her platform, amplifying her story and the stories of those like her.
She is also determined to see the breathtaking sport of mountain biking reach Paralympians at the Summer Games.
Josie Fouts is pushing forward, always on the move, always searching for positive change.
Finding Joy in Riding 
Having the Tokyo Games get postponed last year was a tremendous blow to athletes who have trained their entire lives for a blip of a moment to shine.
Fouts managed to find more than solace in otherwise disappointment—she found joy. Growing up at arm's length from others also meant growing up not reveling in some of the other activities that other children may have enjoyed.
Many of us take for granted the experience of riding a bicycle, a conveyance that demands muscle memory and balance. It's the latter that Fouts never really got to experience until hopping on an adaptive bike.
Modern-day bikes aren't designed for her. She has to adapt to them and not the other way around.
That is until she discovered the joy of a bike that accommodated her body, answered the demands that allow her to be one of the best in the world at what she does.
Fouts saw another year of preparation and was stoked. The reason wasn't as simple as additional training, it was finding extra time to enjoy the sport.
"Everybody else typically goes through this phase of first riding a bicycle for fun, and I never had that," she explained. "So when the games were postponed, I was like, 'Oh, crap, I get that opportunity now.' And it turned out that I could fall in love with a bicycle even more so without the pressure of a competition schedule and training, I could really take a step back, reevaluate why am I doing this. And I actually found myself on a different type of bicycle."
Fouts became enamored with mountain biking. The freedom of going off the carefully crafted track of a velodrome called to her. There was exquisite liberty that she couldn't wait to devour.
She discovered quickly that while mountain biking might offer a demanding terrain, there was another hurdle she hadn't considered—one she is determined to overcome.
Olympians have four disciplines they can choose from when it comes to cycling—BMX, Mountain Bike, Road and Track. Paralympians have just cycling road and cycling track available for competition.
Fouts has a new mission, one that extends beyond simply making the Paralympics in cycling track for 2021. She is now determined to change the very nature of what is available to Paralympians going forward.
"That has really fueled my fire for the Tokyo Games," Fouts said. "Now instead of the Tokyo Games being the finish line. I'm looking straight past the Tokyo Games and I'm just using it as a stepping stone for para-mountain biking."
She is competing with the calm of someone who doesn't have a finish line in sight. The journey is going to be long and rewarding, and she's here for it.
"I know, as a para-athlete, everything is about perspective; life is about perspective. So instead of turning these games into the finish line and looking straight through them, it's just going to be a little bit easier for me to succeed."
Being told that there are not enough athletes to warrant mountain biking's inclusion is one thing. But Fouts can see the interest. What is daunting is building out the sport from the individual out to other communities, proving what she already knows to be true. Mountain biking has a place at these games.
But daunting is what Fouts does.
She is determined to help aid access to adaptive bikes, ensure that more trails are accessible, and, all the while, amplifying those stories that need to be told.
One of those stories is her own, recently told in a powerful way with the documentary Go Josie.
The documentary, directed by Tobias Ohlsson, is a snapshot of the life of an athlete constantly on the move. Fouts is in the midst of training but also finding time to enjoy life.
It's the enjoyment that she doesn't take for granted. That's the reason she gave up her prototypical life for one on the track and on the rock-strewn backroads of San Diego.
"My normal is being outside of other people's boxes," she says to open the documentary.
The 12-minute day-in-the-life piece is a way to show others that borders are not for others to put up. Definitions are for the individual to define.
Through the film, Fouts hopes to shine a light on what is possible with mountain biking.
"Everybody else can visually see how this will work in the future and getting stories like mine out there with my film Go Josie, that's the whole point, which is to just show people that we can do it because, in my head, what's stopping everyone from allowing adaptive athletes to be out on the bikes is the fact that they can't visualize how this is going to happen, which again, is the importance of sharing the stories, amplifying them."
A Team Effort
It's easy to mistake cycling for a solo sport. It actually takes a team and great friends to build the kind of athleticism and confidence commensurate with a world-class event like the Paralympics.
Katie Walker shares more than a passion for cycling. She shares a singular world view. Both she and Fouts were born missing limbs. Fouts was born in Seoul; Walker in Taiwan.
Each would grow up in Ohio, just a couple of hours away from one another. The two then attended the Ohio State University but were still strangers. And both would find themselves packing up and moving to San Diego.
It's there, in the city that boasts the world's most perfectly balanced weather, that the two would meet at a local gym. Since that time, the two have relied upon, supported, and strengthened one another.
"It's actually been awesome getting to know Josie and train with her because I'm super new to the sport. She's kind of been in it for a couple of years," Walker tells me over Zoom. "The time that we spent together, yeah, it's just very supportive. She's taught me a lot."
The teaching goes both ways. Fouts, previously hesitant to use prosthetics, realized how natural it was for Walker to use hers.
"I have never wanted a prosthetic," Fouts explained. "But then I saw her use hers and I was like, 'Oh, yes, she can do it, I can do it.' I'm like, what am I doing to myself? Why am I making this harder for myself?"
Riding a bicycle is an exercise in volition and balance. Walker is a trained track and field athlete who has incorporated the power she gets from her legs. Riding an adaptive bike and being able to utilize a prosthetic allows for so much more balance. The arduous task of compensating by not being able to rest or utilize one-half of the body is corrected. It's a whole new world.
I asked Walker about growing up in a world when accessibility is often the exception.
"We've adapted our bodies to fit the world," she said. "So, accessibility for us, I think the term for what we always use is adaptability. We just adapt to my whole life, to it, to a two-handed world. And so growing up, you're right, there was no accessibility. You just had to adapt."
Much of what Fouts has cherished is the opening up and trust she discovered in a kindred spirit. That comfort of being isolated has opened up into a life that now has more balance thanks to a training partner with whom she can relate and share in this amazing journey.
"I have put myself so far out there and I have positively associated just being out there alone my whole life," Fouts tells me. "And then somebody like Katie comes along who physically looks like me. And it turns out we kind of have the same upbringing as well. She's just a couple of years ahead of me. It makes me feel connected. It makes me feel like I'm not alone. And that I don't have to be alone.
Getting Support
Being a world-class athlete takes more than talent; it takes a great deal of support. It takes faith in friends but also sponsors that are willing to show that adaptive sports need the spotlight and the representation their platforms bring.
Fouts' supporters include the likes of Shimano, Fuji, and athletic sock purveyor Swiftwick.
The power that comes from aligning a brand with these athletes is not lost on the likes of Swiftwick, which offered a statement to En Fuego.
"We believe strongly in the importance of representation as well as support for this community," the statement reads. "Sponsoring adaptive athletes and featuring them in our marketing material is something we are very intentional about. Not only does it inspire and motivate the next generation, but it is our way of living and breathing our mission through all we do."
Something like a sock is so very crucial, a piece of equipment that can mean the difference in a race won in seconds.
"It's one of those things that are unsung heroes that you can't see," Walker explains. "But without it, it would make a difference in your performance."
Aside from getting the right equipment, having brand awareness is pivotal to moving the sport forward.
"Having sponsors be able to amplify my story and to put just my picture out there that changes kids' lives as well," Fouts said.
"With this mini-film that I'm producing, it's going to open more doors for other para-athletes as well. And that's really what I'm most excited about."
Fouts has been training for two years now. Prior to following her dream full-time, she had a dream job as a microbiome lab manager at U.C. San Diego.
In the realm of suitable work-life balance, she was teetering far to one extreme and chose to reassess what made her happiest. It wasn't being in a lab for the entire day. It wasn't dealing with the mounting stress with little respite.
She decided to walk away completely, and it's put an effervescent smile on her face. She explains how that momentous change has impacted her life.
"Deciding to quit my job and not have this job security and all these things that I was told from a young age are the things that are going to make you happy, It was the best decision of my life, prioritizing my health above everything else has just really changed my life."
Now she has aims on furthering her career past Tokyo. What she sees as an unnecessary dearth of mountain biking at the Paralympics will be a long battle. But in the short term, her story and stories like hers are making an impact.
"I never had a role model when I was younger because I disassociated myself from everybody else, because I kind of had to," Fouts explained.
"I had to stop caring about what other people thought about me. I didn't think about other people influencing me or me being like other people. But now I can do that for our generations to come, our future generations, especially the kids, even ones that aren't adaptive."
As she says, the visual of an adaptive woman competing at such a high level changes a notion that isn't innate but is very much ingrained.
So much of what is preconceived can be shattered and rebuilt by beautiful stories that are not just told but shown. And then the next great stage is just a few months away.
Tokyo
Tokyo seems further off than most Olympic Games. It's less than 100 days left to its opening, but the delay and unrelenting uncertainty cloud what is ordinarily a jubilant occasion.
For Fouts and Walker, making the team would mean so much. It means representing country. It means vindication for all the hours upon hours of toil. It means showcasing what can be done thanks to the human spirit.
"It's bigger than ourselves," Walker admits. "We're not doing it just for ourselves. And we're doing it for our country, of course. But I'm doing it, too, for just the underrepresented, the kids with physical disabilities that can really look up to us and be like, man, I may have this disability, but it's not going to stop me because I see these people doing this on the biggest platform."
Fouts echoes the sentiment. "I'm just excited to put myself out there in a productive way, in a way that I can represent my country and be there for a bigger purpose and to do something that I love."
If Fouts does make Team U.S.A. this summer, it will be another moment for growth amid a journey that has had so many amazing chapters.
"(I) also continue to learn about myself. Tokyo isn't going to be a walk in the park. But I know that at the end of the Tokyo Games, I'm going to come out a better person than I went in. I'm just excited to learn from the experience and to keep growing and to get stronger and to learn something new."