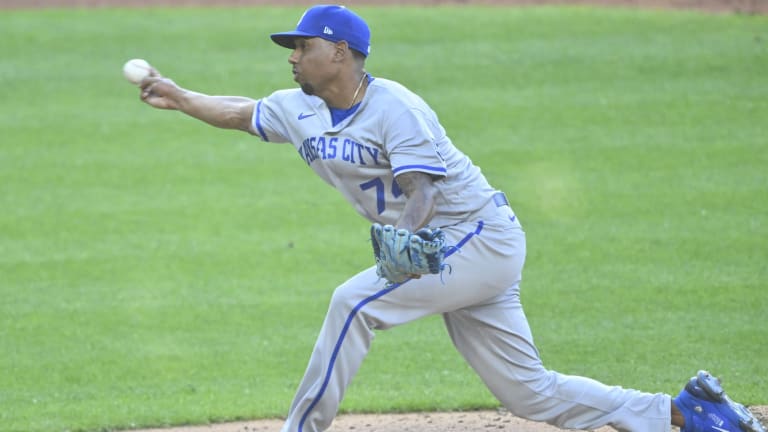 Jose Cuas Delivers MLB's Most Magical Story
The Royals reliever's journey is the kind of story they make into movies.
Jose Cuas has one of those stories that makes you feel good about sports. It's the narrative equivalent of a snuggle session on the couch as a roaring fireplace pops nearby.
The 27-year-old is now an MLB player, a relief pitcher out of the bullpen of the Kansas City Royals. His road to the show was a winding one.
The Kansas City booth breaks down one of the season's more phenomenal stories.
Cuas was an infielder who was drafted in 2015, converted to a pitcher by the Brewers in 2017 and subsequently cut by the franchise altogether.
That was strike one for Cuas' confidence who wanted to quit the sport but was encouraged by his brother and longtime girlfriend to keep with it.
He was picked up by the Diamondbacks but was again released at the outset of the pandemic, which was another sign to Cuas that he should just give it all up.
That's when a poignant story gets all the more beautiful.
With his girlfriend's encouragement and his brother Alex's support, Cuas would put in long days with FedEx and then head to the park at night.
That's where the brothers would continue their work and hone a craft that was destined for the big leagues.
Asked about his remarkable journey, Cuas explained that it's all been rather unbelievable.
"It's a dream come true, being a kid from New York, everything I've been through in my playing career, to be here in a Major League stadium with a chance to pitch—I can't even say I dreamed about it," Cuas said, via MLB.com. "It's beyond my dreams."
With a huge assist from his brother, Jose proved one important life lesson. Never give up on your dreams, because they might be just around the corner.