It's Time To Sit Cody Bellinger and Walk Away
Patience and time have officially run out on the clock for Cody Bellinger.
The Los Angeles Dodgers are 92-42. They are marching towards the postseason with a 19-game lead in the National League West. As Andy McCullough once described them, the Dodgers are a "fully functional Death Star."
It is precisely because of this dominance that the Dodgers have been able to ignore, or at least slightly sweep under the rug, the elephant in the room. Cody Bellinger has been obscenely bad in the Dodgers lineup. Let's look at his recent numbers.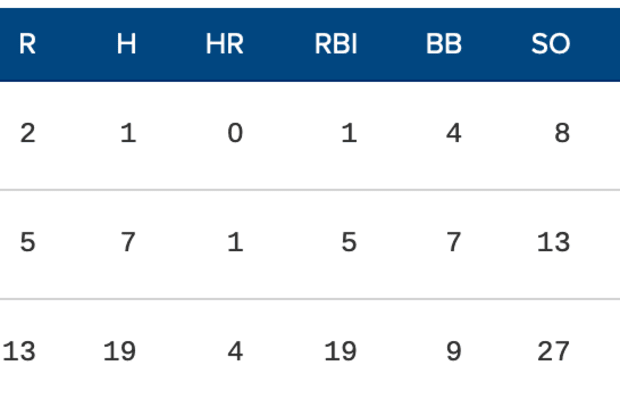 A .270 OPS in his last seven games is putrid. Small sample size? A .644 OPS in his last 30 games is also putrid, well below-average, and hard to forgive.
*Before I go on, I feel the need to say that I have had faith in Bellinger for as long as I could. I have been one of his biggest fans since his name was whispered on the prospects list when he was still in the minors. The rest of this is going to be brutally honest.*
This Is Not Just 2022
In 2019, Bellinger won an MVP. He posted an 8.6 bWAR that season with an OPS+ of 167 (100 being league average) while taking home the award. I think any player who struggled in 2020 deserves a mulligan, so we will ignore his 112 OPS+ season while hitting just above the Mendoza line. In 2021 he had just come back from injury (caused by his own making) and many expected a slow start to the season. In 95 games in 2021, Bellinger was bad. Really bad. He slashed .165/.240/.302 which equaled a .542 OPS. He posted a -1.5 WAR for the season. WAR is a very biased and limiting statistic for defense, but it was not kind to him either. The rationale for keeping Bellinger in the lineup every day was his defense. If his defense is not up to snuff, why is he still out there?
I don't want to parse any Fangraphs advanced statistics, but Bellinger's defense is still good. The metrics say his defense is still above average and he still has a cannon for an arm. His UZR and UZR/150 have him in the negative. Even Fangraphs defensive metrics cannot account for everything, but this is not a good look.
As far as 2022 it has been more of the same. Bellinger currently boasts an anemic 75 OPS+ while slashing .200/.261/.384 slash line. His OPS is .645. His 1.2 bWAR is not exactly screaming, "start me every day!"
Who In His Place?
The Dodgers need to ride the hot hand. In 55 games for the Dodgers, Trayce Thompson has been a revelation. Thompson has slashed .285/.380/.549 for the Dodgers with an OPS+ of 153. He has hit eight home runs for the Dodgers in his limited time. He has slumped a little over his last seven games, but not enough to put him on the bench. If Gavin Lux is healthy, Thompson should be playing in center field with Chris Taylor in left field. Taylor's slump has been ugly, but he has shown enough flashes throughout this season and his previous body of work to not be in the same place of frustration as Bellinger. Even slumping Joey Gallo has earned a little more leeway.
Adjustments Go Both Ways
Part of the frustrations with Bellinger stem from his apparent stubbornness.
If anyone feels there is a flaw in Hairston's point, you can see Bellinger's lowered bat in this clip from Bellinger's finest moment during the 2021 playoffs.
Bellinger's batting stance is everything people have said to him. As Hairston said, sometimes you have to try something that doesn't feel right until it does, if it is yielding good results.
Last Thoughts
I am certainly not advocating for Bellinger to be off the playoff roster. Bellinger has earned too much and is too valuable. Bellinger's talent and athleticism are off the charts. Bellinger needs to make the adjustments. There are no other ways about it.