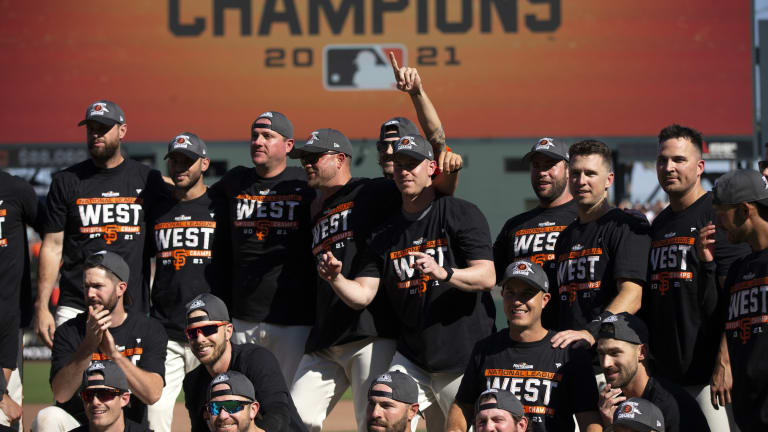 Come Get Your Lukewarm, Not-So-Bold MLB Postseason Predictions
MLB playoff predictions for those who don't like their coffee bold or their food all that spicy.
We managed to get 162 of those regular-season games in rather nicely. And so the dessert portion of the baseball season will resemble a more regular version than that Jenny Craig streamlined thing we got last year.
As the Wild Card games are set to unleash their usual array of wackiness, we buckle down and look at the brackets, consider what we know after several months of baseball and give you a sense of where this thing is headed.
Spoiler Alert: Dodgers fans, it doesn't look good.
Here are my quick predictions followed by a snapshot of where we find ourselves as the glorious postseason unfolds.
Wild cards: Yankees beat Red Sox; Dodgers beat Cardinals
ALDS: Rays over Yankees; Astros over White Sox
NLDS: Giants over Dodgers, Braves over Brewers
ALCS: Rays over Astros
NLCS: Giants over Braves
World Series: Giants over Rays in 6
But First, A Wild Two Days
First, the Yankees beat the Red Sox:
Look, it's obvious we are stuck in the bad timeline. The Yankees are hot and hitting dingers into low orbit and the Red Sox are tripping themselves onto the injured list.
Boston will be without J.D. Martinez who is sidelined with a hurt tootsie after tripping over second base on his way to the outfield. That's right, he has a commuting problem.
Gerrit Cole is about to make a start in the Wild Card game, which would be the culmination scene in whatever fanciful Gerrit Cole fantasy movie Yankees fans have dreamed up in their head.
Then, the Dodgers take a wild one at Dodger Stadium.
Speaking of banged up, the Dodgers will be without one of their best hitters (Max Muncy) and clubhouse leader (Clayton Kershaw) for significant durations of the postseason.
I honestly think the Cardinals would get over on L.A. in an extended series, but a one-game event at Dodger Stadium with an equally hot Dodger squad means the losses on the roster won't have time to bleed through and show how much they will affect this team down the road.
Notes From the Future:
The Astros certainly have their blemishes and some that can't actually be corrected by the PR department. However, any uncertainty on the mound late in the game should be a non-factor for a team that can put up runs and will have plenty of stoppage power from the starting rotation.
They are second in OPS this season (.796) and first in runs scored (863). But if we are talking depth and the kind of team that gets out of this kind of bloodbath, it's the Tampa Bay Rays.
The most vital tool that will get them deep into the postseason is having arms that are not just talented but young. Shane McClanahan and Shane Baz will get the bulk of the innings. Instantaneously getting recognition outside Tampa Bay drive-time sports talk.
But where these prognostications really get boring is with the eventual World Series champions. Dodgers fans feel as if they have been trying to move a load-bearing wall by bashing their heads against it this season.
It's all because a San Francisco Giants team seemingly put together out of spare veterans and talent with questionable ceilings were in fact finely tuned to not just compete but dominate.
While the Dodgers were off winning 106 games the Giants put together a season one win better than remarkable.
The Bay Area bombers were first in the senior circuit in OPS (.769) and second in runs (804). They were also second only to the star-studded Dodgers in WHIP and ERA.
Perhaps the most formidable weapon in the Giants' arsenal is their bullpen, a group that makes meandering through a tumultuous postseason seem like more of a gentle amble through the park rather than the pants-wetting scare maze that it is.
In the end, we've questioned the Giants enough. They have clearly been the deepest and most consistent squad through the summer. There's no reason to think that ends as the weather turns cold.