George Pickens Makes The Greatest NFL Catch Since OBJ
Are you serious? What an incredible catch.
The Cleveland Browns sent the Pittsburgh Steelers to a 1-2 record by defeating them 29-17 on Thursday Night Football. The Steelers clearly need some work back at the drawing board. Steelers fans had something to cheer about, though.
Late in the first quarter, Steelers quarterback Mitch Trubisky found George Pickens for this preposterous catch.
Martin Emerson Jr. had Pickens covered well. If you're Emerson after that play, walk away guilt-free. There was nothing better he could have done. Catches like that are rare. They are slim-pickens. Sorry.
Pickens had just two catches for 26 yards entering Thursday's game. This 36-yard catch was the longest Steelers passing play of the season so far. If you're the Steelers—you have to hope that other passing plays will not require this level of difficulty. The rest of the game did not go the way the Steelers were hoping, but it offered a glimmer of hope to a team searching for a new identity the year after their franchise quarterback of many years retired.
This Looked Familiar...
Yes. I know that anytime a receiver makes a one-handed, contortionist catch running down the sideline, it will immediately be compared to a different one. Remember Odell Beckham Jr's one-handed catch back in 2014? They do seem kind of similar, don't they?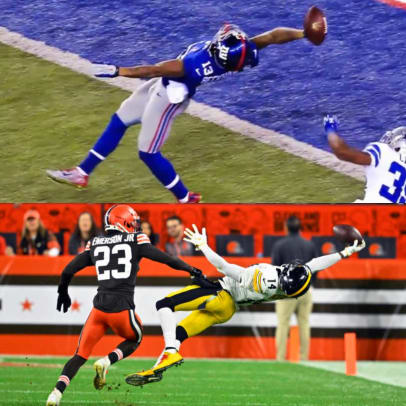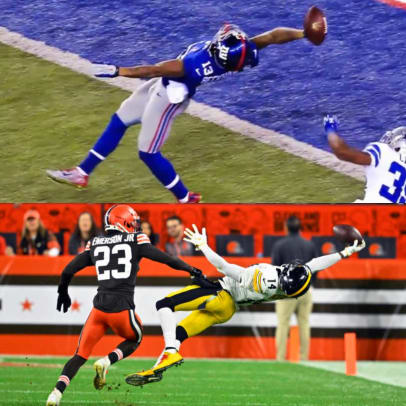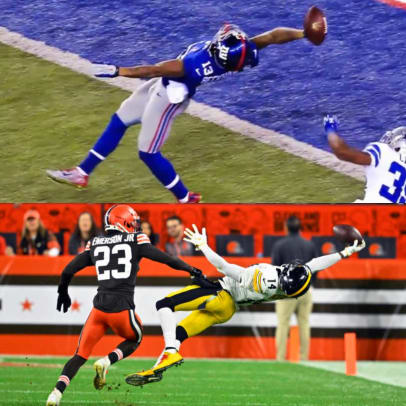 Some striking similarities between those two catches. There is a lot to appreciate. For one thing, there are so many specific rules on what "constitutes a catch" these days in the NFL. The other part that always blows me away is to be able to have large enough hands to cradle an NFL football like that.
Steelers
If I were a Steelers fan, I would exercise some patience. Trubisky is no Ben Roethlisberger, but he has some talent. Pittsburgh is going to take some time to develop its new identity after the retirement of its former franchise player.