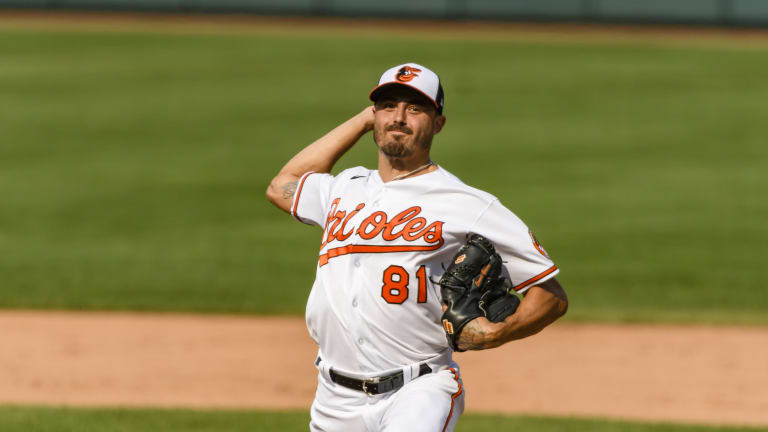 From RV to MLB, Conner Greene's Journey Is a Beautiful Thing
Baltimore Orioles' pitcher Conner Greene is the epitome of hard work and perseverance, and he's not done yet.
Drive through Southern California's Venice area and you're going to see an abundance of RVs parked stoically along streets that reside in front of multi-million-dollar homes.
These tenements on wheels are home to stories as ubiquitous as the overpriced coffees you could purchase an impressive spit's distance nearby. One of those stories featured Conner Greene, who is now a relief pitcher for the Baltimore Orioles.
At 26, he's bounced around a lot in life already. Drafted on graduation day in 2013, he's gone from the Toronto Blue Jays to the Orioles to the Los Angeles Dodgers and back to Baltimore. Though, that is leaving out a few remarkable stops along the way.
His is the sort of anecdote that gets lost in the shuffle of in-season MLB transactions. So-and-so gets waived so that one guy you think you heard of gets a call-up. That sort of thing.
But Greene's journey, or his upbringing, or a multitude of things that don't fit into this profile, form who he is as a person. And that's someone who lives in the moment. Chatting with him is like talking to someone decades older than his driver's license lets on.
We talk over Zoom back in the middle of August, just as he was getting settled in with the hometown Los Angeles Dodgers—a boyhood dream realized.
Living in a mobile home is arduous. But Greene never lets adversity define him. Rather, he uses each and every lesson as another strike of the sculptor's mallet, chiseling away what will eventually be a life fulfilled.
"Growing up in Santa Monica, you always know about the homeless population," Greene tells En Fuego. "The biggest thing I learned is that circumstances don't necessarily need to dictate your happiness or who you are or where you're going to be. My circumstances aren't dictating, who I know I can be and what I am capable of."
What he is capable of is the pinnacle of his profession. After years in the minors and a year away from professional baseball, Greene is on an MLB bump, cutting down the likes of Giancarlo Stanton and superstar Vlad Guerrero Jr.
As of this writing, he has a 1.17 ERA over his last seven appearances and 10 strikeouts over that span (7.2 innings). It's an analytical sign that he's settled in, something those who follow his Instagram feed already figured out.
Conner Greene has made it. 
(Videos courtesy Tony Todd)
A Story of Perseverance
Any athlete in the minors has to rely on more than a sick cutter or insane exit velocity. You need perseverance and a short memory. The ups may come but they're always preceded by quite a few lumps.
For Greene, his story in professional baseball started with the Toronto Blue Jays, an organization he hat tips for their class and tutelage. Drafted in the seventh round in 2013, however, it wasn't until recently that he tasted the sweet air of an MLB mound.
He would bounce from the Blue Jays to the St. Louis Cardinals, to the Kansas City Royals before landing with the Baltimore Orioles this past season.
But it's in this season, one in which he also enjoyed a stint with the Los Angeles Dodgers, that Greene discovered that he was indeed an MLB pitcher. Any doubt, however minuscule, replaced by the now concerted effort to prove he deserves to stay.
Rewind to 2020's preseason, Greene had to decide whether to push all of his cards into the middle or cash out for another dream.
Just as he was dealing with the usual stress of making it as a professional pitcher, the pandemic hit. Greene was left off the Royals selection to go to an alternate site as MLB teams suited up for a shortened season. He would not suit up for all of 2020. That does not mean, however, that he quit baseball.
Consider it a hiatus on wheels. His trusty RV was a home and a means to traverse Southern California. At one point, he had an auspicious encounter with a woman named Geraldine.
"She allowed me to park my RV on her property as long as I worked the land for her and run the dog rescue that she runs," he explained. "That was a blessing because I didn't want to park my RV in Venice Beach and be just on the side of the road anymore."
Locals will tell you that the roads in and around Los Angeles aren't exactly paved with gold. A city that promises denizens the opportunity to cash in on Hollywood dreams is festooned with rampant homelessness and the ubiquitous sight of mobile homes decorating one street after another.
Whatever nomadic existence he led was always connected strongly to the ultimate destination. A rather large symbol of his steadfast commitment.
"That RV was me still not quitting," he explained. "And if I would have picked up a different job and rented an apartment, which I easily could have done, but that RV was me committing to the baseball grind.
"Because I could pay for workouts if I didn't pay rent. I'm committing to it by living in the RV, because it will allow me to pay for meals and workouts and be ready when that phone rings, because when it comes, because it's going to come, that's what I had in my (head). It's going to come. So, when it does, be ready."
After long days of giving pitching lessons, solitary long toss into a bucket on the other side of a field, or working odd jobs, Greene managed to also hit the mound and record video of himself during bullpen sessions.
The Orioles took notice and after a year away from a professional mound and MLB ready to embrace a full-fledged season, Greene was invited to camp.
MLB via Santa Monica
It doesn't take much digging to see where Greene gets his grit. It's something instilled in him over the years by a father who very much believed in his sons but also demanded that they put in the work from an early age. It was a childhood cultivated by support as well as a hundred swings a day from both sides of the plate.
"My dad was amazing at seeing the potential in other people," Conner said of his father, Johnny Greene.
"He has the ability of seeing you and seeing the future in you and seeing what you can be capable of.
"And not just me and my friends around me, other kids in the community like Lucas Giolito, some other big-time players, you know, at a young age, he believed in them and he knew exactly what they were going to turn out to be."
I spoke with Johnny, who is like any father. He's been by his son every step of the way, recalling with vivid detail every success and hardship.
"I always expected him to be in MLB," Johnny Greene tells me over a phone conversation. "I don't know how I can say that, but from a very young age, we always had that confidence that the boys were going to have that kind of talent and that they were going to at least have a chance to prove it."
Greene is a baseball wanderer, akin to Archie Graham from "A Field of Dreams," keeping his options open by resisting the urge to settle down and get another job.
But it remains to be seen whether he has reached his Moonlight phase, seeing baseball pass him by on the night wind. 
He worked tirelessly in whatever way he could through a lonely year, playing long toss by himself at nearby Westlake YMCA. He was accompanied by no more than a bunch of balls on one end of a turf field and his bucket on the other, trying to hone in one toss after another, locking in on a call that may one day come.
A Promising Prospect
Every inning that Greene gets, every pitch he tosses, it's a reminder to other players that there is great reward when you double down on your dream.
And you can credit a lot to Tony Todd, a gifted actor/stuntman who also happens to be the best celebrity softball player in the world. Another apt description would be someone who loves his community dearly; someone who will champion Santa Monica baseball talent until he runs out of breath.
From Harold Reynolds to Kenny Mayne, Todd is known as a former athlete with a keen eye for talent; and pundits and scouts lean on his recommendations. Todd is someone I spoke with as Greene was called up by the Dodgers last month. He was beaming like a proud papa, "It's unbelievable," Todd said. "To see the progression and to see the hard work and see this kid from being a little pup."
Todd, who also coached Santa Monica High School players, recalls a slight Greene who, while smaller in stature compared to athletes like Lucas Giolito, still packed the whipping arm action of promise.
"He probably weighed about a buck thirty-five. You could see his heart beating. He was so skinny, but just very talented and raw," Todd recalled.
That meant getting drafted was no small feat. Greene lacking that imposing frame meant other players would demand the attention of scouts touring the nation. But Greene did not go completely unnoticed.
As Todd explained, Conner is something special: "The one thing about Connor was his athleticism. I mean, he can do flips. Ozzie Smith flips like that," he said. "He was a freak."
This freak of slight build can also be seen near his home along Santa Monica beach, swinging on the rings as if it were the Summer Olympics.
George Vranau was an area scout for MLB's Scouting Bureau at the time he saw a prep Greene throwing. His assessment at the time was a kid who may have looked lean but had all the tools to throw heat.
"I projected that he would have—now you've got to keep this in context, at the time, and we're talking ten years ago now, so we're talking 2011 context—I projected that he would develop and have what we refer to as a plus-fastball," Vranau explained. "And at the time, the average fastball in Major League Baseball was around 91 miles an hour. Today is just over 93."
Conner Greene can consistently touch 97-98 on the gun.
A nudge from Todd, a glowing report from Vranau. Greene certainly had people who saw the talent and believed in him. The rest was up to Conner, and he was determined to make good on the promise of his talent.
Sticking the Landing
Working and living out of an RV would give anyone anxiety over the uncertainty. When you're without a stable foundation of permanence the nomadic life can be maddening. For Conner, it gave him clarity of mind. As Johnny explains, the pandemic gave his son a moment to see his career with fresh eyes.
"It was the first year in his life since he was probably about seven years old, that he didn't have baseball all summer long," he said. "And it gave him a chance to back away from the game for a second and realize how much he loved it and how much he missed it."
Greene is back where he started. OK, that's misleading. He's back to where he kicked off his MLB career, with the Baltimore Orioles. To get here he took the road so many have before, one MiLB inning after another. 
Greene was able to accomplish his dream but that hasn't erased his goal, and that's to continue and be the MLB pitcher he knows he can be. He continues to stretch the confines of what his dream means.
So he remains dogged in his pursuit. As Todd put it, "He's made it, but he's not done yet. Yeah, he's not done yet."
When you're raised with confidence and gifted with talent, setbacks have a way of folding back on themselves and becoming opportunities.
Conner Greene will use this opportunity to its fullest. The one thing he won't let flourish is self-doubt.
"Yes, thoughts of doubt creep in no matter what, there's always going to be thoughts of doubt, but it's being conscious of them, being aware of them and being an optimist about it," he said. "I wasn't letting my circumstances dictate my emotional mindset. I was just staying positive and staying on track towards what I knew was possible."