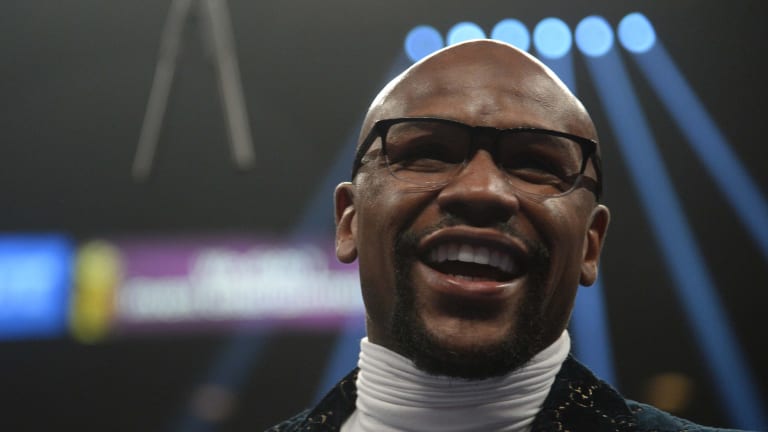 The Insanity of Floyd Mayweather Fighting Logan Paul Is a Reality That Is Actually Good For Boxing
Floyd Mayweather will fight Logan Paul on June 6 in Miami, and even the most hardened boxing fan should celebrate that fact.
It's official. Floyd Mayweather will fight Logan Paul in Miami on June 6 at Hard Rock Stadium, and I'm here for it.
Now that doesn't really sit well in my throat or stomach as I write that. I'm also definitely not purchasing whatever the pay-per-view will be, but this "fight" will ultimately be good for the sport.
Welcome to modern boxing, where the elite are former retirees, and the budding boxers are full-time YouTubers.
Mayweather Promotions announced that they finally had a date and time for the much anticipated "crossover event" that will pit one of the greatest fighters to ever step foot in the ring against the guy who got back into Pokemon cards recently.
Paul also tweeted out a promo:
The fight is at least on theme with a sport that is in many respects enjoying a renaissance at the same time a clown car circles the arena.
Jose Zepeda and Ivan Baranchyk delivered an absolute slugfest last October. Miguel Berchelt and Oscar Valdez more recently went toe-to-toe, and the two unleashed one of the best fights of the year, leading to a candidate for knockout of the year.
Seniesa Estrada is quickly showing not just that this is a woman's game now, but that she could very well be the best fighter in the world. Her mastery of footwork and versatility has been a joy to watch.
Fighters like Canelo Alvarez, Teofimo Lopez, and Ryan Garcia (currently taking a step back from the sport to work on his own health) are just a few reasons to check back in with a sport you may have left years ago.
Too many belts and a bloated infrastructure hinder boxing to this day, but there is reason to like the glitz and glamor of the inane taking place alongside this legitimate rise in talent.
While the sport welcomes some of the most exciting boxers to grace the ring, there are engaging shows taking place that invite would-be fans to see what boxing has for them. It's not the time to scoff at the benefit a card like Mayweather-Logan brings.
It's going to do numbers not seen by other cards, and the fans who tune in wouldn't have bothered checking out boxing anyway. So, let's welcome them.
The list of unorthodox bouts has been notable and alarmingly prevalent recently. In the realm of social media stars dipping their hands into the gloves, Paul first fought fellow YouTube sensation KSI back in 2018, a card that included their siblings in Deji and Jake Paul.
Paul and KSI revisited their high-profile altercation in an official fight in 2019, which Paul lost. Now his second professional fight is against a fighter who is 50-0 and is renowned for his defense and speed. It should be a good night for schadenfreude.
And speaking of the younger Jake Paul, his recent fight against a retired UFC fighter drew criticism for the heavy-handed entertainment on the night and the quick work Paul made of Ben Askren.
In the realm of boxers who just couldn't give retirement the undivided attention it deserves, Mike Tyson imbued 2020 with a bit of nostalgia when he took on Roy Jones Jr. in an eight-round exhibition that ended in a draw.
Coming up in July is a fight with but one fighter at the moment. Oscar De La Hoya is still searching for a high-profile opponent for his comeback fight slated for July 3.
There was hope that De La Hoya could fight Eddie Alvarez, the latter of which recently recanted his interest over fallout from the Jake Paul-Askren bout.
The De La Hoya event will be promoted by Triller Fight Club, the same platform that produced the recent Paul-Askren card.
Esquire's Brady Langmann described the evening as such: "Triller Fight Club resembled a particularly rompous evening in Fortnite more than it did a sporting event."
There was over three hours' worth of live entertainment with but a sprinkle of boxing tossed into the mix, which ruffled some of those tuning in to watch a boxing match.
What can't be ignored is the success of the event, which reportedly garnered upwards of one million pay-per-view buys.
Boxing hasn't exactly been the epitome of sophistication. It would be hypocritical now to clutch at pearls and talk about the sanctity of the sport.
Great, refined boxing can still exist alongside a sideshow of recognizable names giving passing fans what they want. The spotlight can pour just a bit over onto boxers that deserve the recognition.
I'm actually in agreement with someone who has a vested interest in the upcoming Mayweather event. Mayweather Promotions CEO Leonard Ellerbe spoke with BoxingScene.com's Jake Donovan (h/t Bleacher Report) recently.
"Look, I commend all those who go out there and try to leave their mark," Ellerbe said to the publication, noting a more eclectic slate of boxers. "If it brings more eyeballs to the sport, I'm all for it. At the end of the day, it's all about entertainment. This is why I can never be mad at anyone who thinks outside the box. Once you start living in that bubble and only do things inside that bubble, you don't ever have a chance to separate yourself."
Boxing writer Steve Kim was rather positive in his article on the KSI vs. Paul II back in 2019, writing, "Some might not like this answer, but this did help the sport of boxing -- yeah, I said it."
"Though it might not have created a huge new generation of fans who will stick around, on a weekend with a lot of other things going on in American sports -- namely college football -- this fight was a trending topic as it took place."
Boxing is a sport that used to create fervor around the country. The fact that a fight of any nature can be a trending topic demands much-needed attention.
Now I don't have to see Logan Paul get a masterclass over however many rounds he lasts to know that an astounding number of people will see it.
They will also see the training video packages, previews of upcoming fights and get a flash of what a legendary boxer can do in the ring. If that earns the sport some notoriety then this fight, as hilarious as it will be, can do some good for the sport.