Dodgers Owe a Great Deal to Mexican-Americans, They Can Start With Fernando Valenzuela
El Toro's contributions to the world are bigger than his baseball statistics.
Most people at least have an idea of what happened before Dodger Stadium was one of the most beautiful parks in Major League Baseball. Its original name was "Chavez Ravine."
The land was purchased from some local inhabitants in the early 1950s by the City of Los Angeles. Using eminent domain and funds from the FHA, the city originally planned a public housing project. By 1958, the public housing plans went by the wayside and the land was essentially traded by the city to the Brooklyn Dodgers to entice them to move to Los Angeles. This story is a sad one involving Mexican-Americans being forcibly removed from their homes. There are many places to read this full story since. I highly recommend doing so.
The new Los Angeles Dodgers eventually had their new stadium built on this land which is now known as Dodger Stadium. A rich white man's baseball team started playing on the ground once occupied by a Mexican-American community that was forced to uproot their lives from the place their family called home for generations. The displacement of a Mexican-American community in Chavez Ravine should not be forgotten.
Today, the Dodger fandom is known for being heavily Latine, especially Mexican and Mexican American. How is it that in a short 64-year span, this came to be? The answer is not as simple as it sounds, or is it? The answer is Fernando Valenzuela.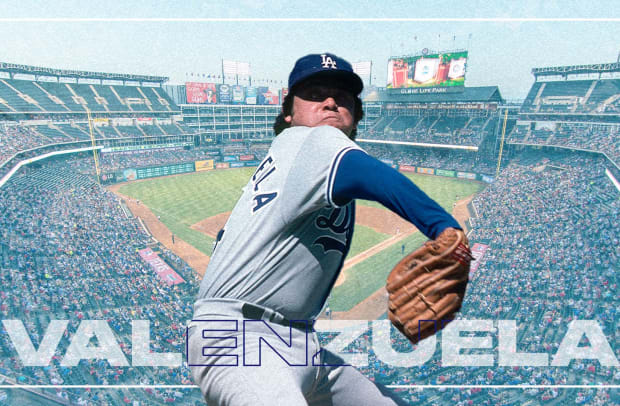 The Los Angeles Dodgers were looking for "a Mexican Sandy Koufax." The late, great, Mike Brito tells the story that he was scouting a shortstop but after a few innings, he decided he was unimpressed. He saw a pitcher load the bases and get out of the jam with a poise he had not seen in other players that age. The rest, as they say, is history.
Fernando Mania Takes Over
Dodgers pitcher Jerry Reuss got injured just before opening day, 1981. Skipper Tommy Lasorda penciled in a young pitcher. It was Fernando Valenzuela. What started that day was a takeover of MLB culture and the country. If you were not around in 1981, Valenzuela's dominance on the field was matched only by the hype machine off the field.
Anybody whose poster outsells Farrah Fawcett in 1981 is a superstar outside of the jersey. It was "the" thing that year. Fernando was it. That season he led MLB in complete games, shutouts, innings pitched, and strikeouts. He won the National League's Rookie of the Year and the Cy Young awards. He is the only player to ever have won both awards in the same season. He also took home a Silver Slugger. To top this all off, the Dodgers won the World Series, besting the New York Yankees in six games.
Legacy
Valenzuela's impact cannot be overstated. In fact, it is often understated. Head to a game at Dodger Stadium and look at the sea of fans. Los Angeles may be the city of celebrities and Hollywood, but Latin-Americans flock to Dodger Stadium like almost no other fanbase.
 This is from the Dodgers website.
"The Dodgers don't have a written "criteria" for retiring uniform numbers. But with one notable exception, each of the franchise's retired numbers was worn by a player who played a majority of his career with the Dodgers and was inducted into the Baseball Hall of Fame. The one exception is longtime Dodger Jim Gilliam, who was the club's first-base coach when he died at age 49 just before the start of the 1978 World Series. His number was immediately retired."
See? The Dodgers don't even have an official policy on retired numbers. Historically, they only retire numbers of players who were inducted into MLB's Hall of Fame. For one thing, Fernando Valenzuela's influence on MLB's culture should have granted him entrance into Cooperstown long ago, but that's a fight for another day. The Los Angeles Dodgers will be indebted to Valenzuela for his on-the-field play and his paradigm-shifting career in Los Angeles. They need to do what is right and retire Valenzuela's number 34. Each year that passes without this being done is a disservice to the fans of the Dodgers and the Latine community who adores baseball.
Get it done, Dodgers.