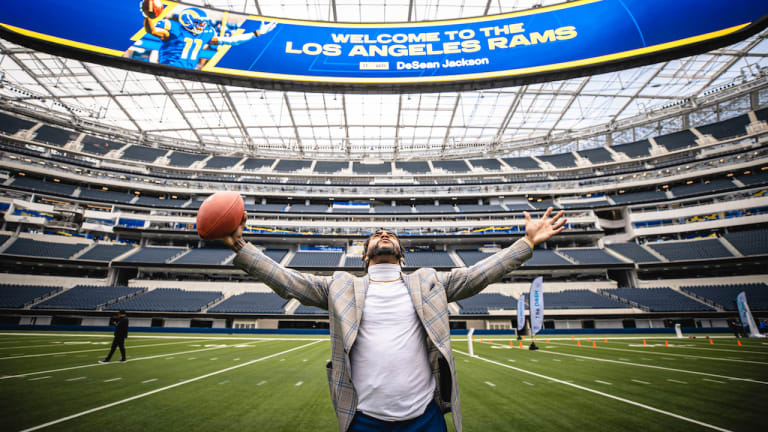 Don't Sleep on DeSean Jackson
The Los Angeles Rams' newest star talks about the final stages of his career, gaining respect, and reflecting on where he comes from.
The Los Angeles Rams got some sizzle for their showtime when they signed DeSean Jackson to a one-year deal. For Jackson, he earned an opportunity to quiet the detractors and, more importantly, come home.
"I'm still in a position where I still feel like I have to prove myself," Jackson tells En Fuego. "People don't give me the credit I feel like I deserve. So, for me, just continue to go out there, letting them know that, I'm a young kid that came from where I came from and I'm able to accomplish my goals and play at a high level."
At 5'10", being where he is now is further than where some may have expected. Counter to the lightning-strike speed of his go routes Jackson's career has spanned now 13 seasons with three Pro Bowl nods. He was the fastest receiver at the 2008 combine but his velocity on the field was always tethered in the minds of scouts to his diminutive size.
He touched upon that back in 2008 when he said, via Penn Live, "People always told me I was too small, that I couldn't play, that I wouldn't make it."
Now entering his 14th season, he has the same resolve that has made him a vertical threat each and every season.
Over the last two campaigns, there was some doubt that he could again flourish as that danger downfield. He had an Achilles tendon issue in 2018, had core muscle surgery the following year, and in 2020 dealt with a hamstring injury. He only had 14 receptions in 2020, but one of them was an 81-yard touchdown that ended with a somersault flourish. 
There's more gas in this tank.
But entering the twilight of his career has special meaning in that it's a literal homecoming. Jackson will be playing under the fresh new lights of Inglewood's SoFi Stadium, a quick jaunt from the Los Angeles neighborhood of Crenshaw in which he was raised.
A Dream Come True 
It's here that he gets to bask in familiarity and family.
"I think for me, it's like a dream come true," he said via phone. "Where I've been in my career to be able to come back and kind of finish at home is, for me, it's a big deal, man. So, I'm excited about that. And I just kind of can't wait to get going."
It's any kid's dream to step foot out from the prep field, even one as vaunted as the football program at Long Beach Polytechnic High School. But the dream doesn't end with his own success.
It's important to the 34-year-old that he be a physical representation of what hard work can earn and what community outreach can mean.
The DeSean Jackson Foundation continues to raise awareness and funding for those affected by pancreatic cancer. It also concentrates a great deal of effort to address bullying in its myriad forms.
And, as TheRams.com writer Stu Jackson reminds, L.A.'s newest receiver has over the years made a financial and personal commitment to various causes in the area such as to the Boys & Girls Club of Long Beach and the Cali Youth Football Team, the latter saw their 2019 season salvaged thanks to Jackson's generosity.
"I think the biggest thing is just having the resources to be able to kind of help these young kids, paint a picture that there's better things out there in the world and in the community to do," he says.
Changing the Narrative
Our conversation back in April inevitably pivots to social media, namely what was the then-surging platform Clubhouse.
The NFL star had been one of the early adopters of an app that sort of feels like a cacophony of live podcasts, streaming to your phone and granting access to celebrities, athletes, tech giants—an eclectic array of experts in their field.
For those who have not yet been invited onto the platform, you log-in and are given multitudinous options of folks and rooms to follow. Drop-in a room and you are a fly on the wall of what might be an immersive or meandering conversation.
In early March, Jackson joined 21 Savage and others to discuss brand building. The lack of recording means that Clubhouse is but a passing teachable moment.
Jackson's own brand is one built off unrelenting work but also evolution. Last September, he found himself on a personal journey of reflection and atonement after sharing anti-Semitic social media posts.
Jackson owned his mistake and dedicated himself to education, agreeing to go with NFL star receiver Julian Edelman to the United States Holocaust Memorial Museum.
"Over the past few months I kind of had to reflect on just life," Jackson stated back in September, via NBC Philadelphia. "People make mistakes in life, and it was a mistake I made and I had to own up to it as a man, which I did, but I think I'm taking the proper steps to educate and I'm learning from something I didn't really know too much about."
Clubhouse afforded Jackson the opportunity to further something we all strive to accomplish—a more thorough examination of the human experience.
"There's a lot of positive things you could take out of it, you know, just really learning," he said of Clubhouse. "I'm a big learner. I'm a sponge. I like to learn and just hear things from different perspectives of lives."
What is most evident but easily ignored is that social media quickly becomes a virtual identity. It may not be who you are as a person. It's certainly not indicative of life and all of its formative chapters, but it's how the world will see you. It's a lesson that Jackson is eager to impart upon the next generation.
"That's what I tell the young kids. You know, I've been through a lot and I've learned a lot. The biggest thing is watch what you put out there and especially on social media because once you put it out, they can't take it back."
Jackson's professional football journey is coming to an end. Whether that final chapter is a season or a few, there is finite time left to astonish crowds with his physical gifts.
It's clear in our discussion, however, that his larger brand and his impact on the community are just getting started.
"To kind of go back to what I said earlier, just kind of change the narrative to these young kids growing up in these inner-cities."
For many, role models may not be imaginary but they're certainly not tangible. And it's there that Jackson wants to rectify much of what takes place in these communities.
"I think a lot of times these kids don't really have anybody to look up to and their role models are people that they don't believe are real because they can't touch them or physically see them. So sometimes just being around these young kids and having them (see) somebody like myself or whoever else it is to motivate these kids.
"These little kids could see that and that gives them hope. So, for me, (I'm) just continuing to inspire and just being an example."