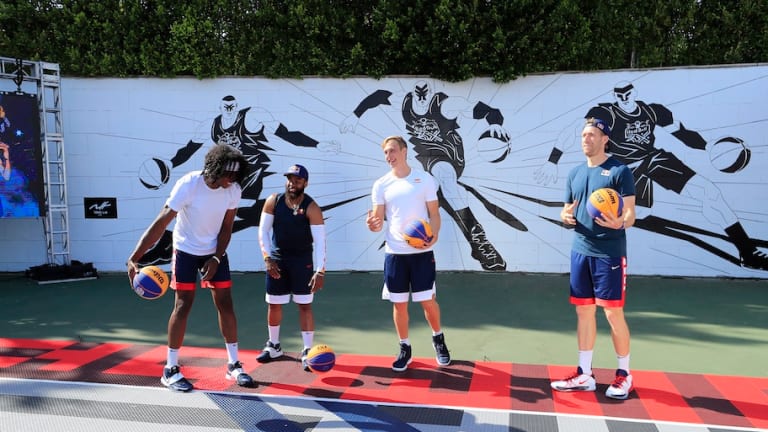 Domo Jones and Team USA are Determined to Continue Olympic Gold Standard
Dominique Jones and coach Joe Lewandowski speak with En Fuego about the best aspects of 3x3 basketball, the amazing Red Bull 3x House and the goal of bringing home gold from Tokyo.
Kareem Maddox doesn't let much get past him on the basketball court. He's described by his coach as a versatile defensive player, someone with an extremely high basketball IQ, and an athlete known for his "laser focus." But when it comes to Call of Duty he is more of a sightseer.
That's just one of the myriad tidbits gleaned from a discussion I had with Team USA 3x3 basketball guard Dominique Jones via a recent Zoom call.
Jones, along with Maddox, Robbie Hummel, and Canyon Barry are about to open play in Graz, Austria, for the FIBA 3X3 Olympic qualifying tournament. It's one more step amid a longer journey towards Tokyo where the four hope to be among the very first teams to introduce Olympic fans to the fast-paced sport of 3x3 basketball.
"I think people will be surprised about just the intensity of the game," Jones tells me from the comfort of the Red Bull 3X House.
Basketball on Adrenaline
It's from this Beverly Hills oasis where four men train tirelessly to take on the world in one 10-minute game of half-court hoops after another. 
While you may not be familiar with watching 3x on television, you certainly recall its subtleties from childhood. Tokyo marks the first foray of this frenzied shot of nostalgia in the Summer Games. And it's sure to be a crowd favorite. 
It's basketball. It has the same tenets of a five-on-five game, but its nuances make it a completely different endeavor than a full-court game.
Think of it as a snapshot from a camera—a moment of brilliance compared to the full court's methodical brushstrokes of an eventual masterpiece. Or, as Team USA Coach Joe Lewandowski calls it, a veritable sprint.
"The 3x3 game has a 12-second shot clock, it's played to 21 points, so the action starts the minute the game starts," Lewandowski explained via email. "5x5 is like watching a marathon, as a viewer, you know you can leave the action for a few minutes and you won't miss a beat, but 3x3 is liking watching the 100-meter dash. No one watching the race leaves until it's over."
If ever there was a sport crafted perfectly for the meme generation it's this one. As Lewandowski points out, 5x5 basketball's pace and clock allow for so much thinking and in-game strategy to be parsed out and dissected.
When the games are 10 minutes, there are four fewer players on the floor, and only one substitution is allowed, you have to think on the fly and hope that every last part of your training is engrained into muscle memory because breaks in play are rare.
Lewandowski also notes that the scoring gives even more of an incentive for teams that can make it rain.
"The point system is also an intriguing nuance," he states. "All shots inside the traditional 3-point line are worth one point and all shots behind the traditional 3-point line are worth two points. The astute fan will quickly realize shots behind the arc are double the value of shots inside the arc, making long-range shooting accuracy imperative to success, as well as guarding the long ball."
Finding Home at the Red Bull 3X House
If Rocky Balboa had a Soviet farm on which to train during his Rocky IV montages, these four players had their own home away from home.
The Red Bull 3x House offered the amenities befitting world-class athletes but also the subtle touches that would make them feel at home.
"The team is really special because the players are all sacrificing so much for this opportunity of Olympic gold," Lewandowski notes. 
"They have been away from family and jobs for extended periods to form bonds and cohesion necessary to win on the international stage. 
"The players are incredibly coachable, and they all have strong intrinsic drives and great work habits. Finally, they really care about each other."
The secret sauce for your favorite sports team's success this summer may be hours of team building on Call of Duty.
After hours of training, rehab, and media obligations, things can get exhausting for the body and soul. These are guys who are training away from the friendly confines of home, so it's important to find a comfort zone.
So, I had to have Jones elaborate on something he said about the guys playing COD regularly. As it turns out, some are more useful teammates on the field of virtual battle than others.
"Robbie's (Hummel) been a good teammate. Canyon (Barry), he's been showboating a little bit," Jones declares with a smile.
"He collects the most money and things like that, he showboats a lot. Robbie's been pretty good when it comes to reviving you and being a good teammate taking cover fire and giving you cover fire and things like that. Canyon is trying to collect money sometimes out for himself until he needs you."
But what about Kareem Maddox, a former Princeton standout, Ivy League Player of the Year and, according to Lewandowski, someone who has an "insatiable work ethic."
According to Jones, COD sessions often include sightseeing: "And Kareem is just driving around, you know, just exploring the scenery."
As for the house, Jones credits their bond for keeping things light. Because, otherwise, it could get pretty lonely on the road.
"Just being away from home, away from your loved ones, and not seeing them every day could be kind of tough," he said.
"So just being together and, you know, living together and having access to a gym together so we can get some extended time together is really good for us."
Disco Domo
For those who haven't already seen Jones play, he's going to be one of your favorite athletes this summer. There is a jazz improvisation to the way he operates on the court.
He looks absolutely comfortable in any situation and with whatever the defense gives him. Stopping on a dime. Contorting his body. Letting his whole persona blend into the pace of the game.
Perhaps he can credit his neighborhood for the vibrant and eclectic nature with which he handles the basketball—New York City, more specifically Harlem. It's there that Jones was raised deep in the ubiquity of basketball courts and pop culture.
Harlem courts were as much about the music, dance, and fashion as they were about getting buckets. It's a culture that certainly imbued itself into Jones' game.
"You go to a basketball game, you're there to see a basketball game, but you got a dance performance on the other side. And then everybody comes to these games, you've got to be fresh to death and things like that. Harlem is big on fashion and things like that. So, basketball brings all that and ties all those things together."
He continues to give back to that very community, working at Rising Ground, a juvenile justice program in the Bronx.
It's there that he works as a development specialist, aiding the younger generation and showing them an alternate path than the one that oftentimes presents itself on the streets.
"I could easily be one of these kids," he said. "Some of these kids make some bad life decisions. And, you know, my job at Rising Ground is just to provide them with another outlet and let them know that things can get better from here."
And the empowerment of seeing Jones use his talent to reach such a high level is not lost on those around him.
"It's pretty cool. It puts a smile on their face and I know it puts a smile on my face. My family's proud of me. My community is proud of me. I'm just relishing in the moment."
The Gold Standard
Jones recalls being a kid and running down the hall, leaping into the air, and sticking his tongue out like Michael Jordan.
He will get a chance to replicate one of Jordan's feats in bringing home a gold medal from the Summer Olympics. But he is quick to point out that he is taking this all day by day.
"America, it's a gold standard, especially in basketball," Jones said. "I came up watching some of the greats. Just being put in an opportunity where you can advance your country to qualify for the Olympics is big within itself."
For the man the called Disco Domo when he played for the Harlem Globetrotters in 2015, the goal is certainly to bring home a gold medal.
Being present in the moment is also knowing how far he's come. Emulating players like Jordan, Magic Johnson, and Jason Kidd only to be at this point in his career isn't lost on him.
"Just being a kid in Harlem and running full-courts by myself, late nights and early mornings in the gym and just, you know, acting like I was these guys doing certain moves like these guys. So, I mean, just to be put on this stage is a blessing for me."