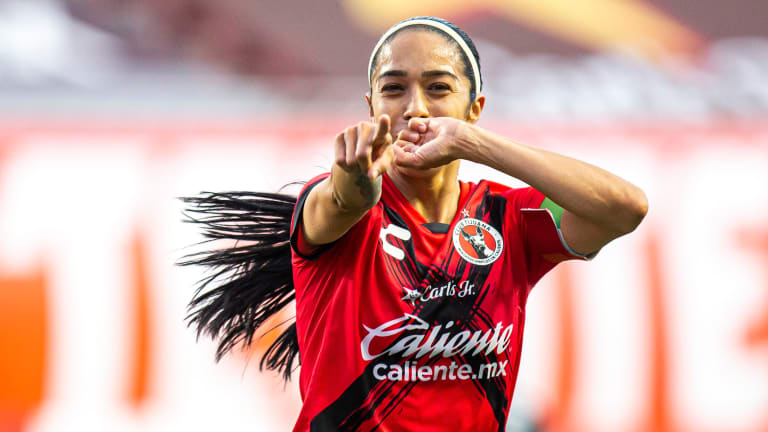 Scoring Goals And Shattering Cultural Gender Norms With Renae "Soccer Mom" Cuéllar
Both a mother and a professional soccer player, Cuéllar wants others to know that they can chase their dreams while also having a family.
Back in 2017, professional soccer player Renae Cuéllar suddenly found herself on the receiving end of doubts about her career.
Right after the birth of her now four-year-old son Romeo, Cuéllar was told by some to only focus on her new duties at home. Others questioned whether she should even continue professional soccer altogether. In spite of her time as a figure for numerous club sides and for Mexico's women's national team, she felt like she was being written off. 
Cuéllar wasn't going to allow that to happen.
"I don't know if I can do this," thought the striker a few years back about maintaining her career while also raising a child. "But I'm damn sure going to try."
In a recent chat with En Fuego, the Mexican-American athlete discussed the embracement of her own "soccer mom" definition, the difficulties of being a dual-national player, and challenging outdated gender roles that can halt the dreams of Latina women.
"In our culture, once you have a kid, it's very rare to see a woman continue to play soccer or continue to focus on their career as well as being a mother," said Cuéllar.
Faced with a dilemma, she knew that she didn't want to drop her ambitions and talents behind. Cuéllar still had plenty to offer for the sport she loved, and if men could "have families and play," she wondered, then why couldn't she do the same? 
Having It All 
It wasn't as if becoming a professional once again was an outlandish target either. Following an already successful run that had previously led her through World Cup appearances, the NWSL (where she scored the league's first-ever goal), and a career abroad, it was clear that she had all of the tools and the skillsets to return to the pitch.
As for her new role as a mother, she found that taking care of Romeo didn't slow her down. Instead, it galvanized her and provided an "endless motivation."
Cuéllar was back by 2018, quickly returning to Mexico's national team training camp and later earning a chance to join two European clubs: Kiryat Gat in Israel and Stjarnan in Iceland. In the summer of 2019, she then landed in Liga MX Femenil with Club Tijuana's women's side—known more commonly as "Xolos Femenil."
By early 2020, her performances for Mexico earned her a place in the Best XI of the Concacaf Women's Olympic Qualifying Championship. And most recently for Xolos in the 2021 Clausura regular season, the 30-year-old finished as the joint-third leading goalscorer in Liga MX Femenil with 11 chances finding the back of the net.
All while helping raise Romeo.
Through that process, she has redefined what it means to be a "soccer mom," a phrase she often utilizes in social media and interviews to describe herself.
As opposed to the traditional usage that evokes ideas of packed minivans or someone cheering from the sideline, when Cuéllar uses it, she thinks of "being on the field, scoring goals, training every day, giving everything I have."
"When I score a goal, I'm like: Look at me, I'm the Soccer Mom."
It's an empowering idea from the striker. Through social media, she's able to flip the context of a "soccer mom" by sharing it with images of her training or taking part in matches. Cuéllar is able to change the narrative and not only make it her own, but also something that can be inspiring for others.
When young girls are watching and following her, Cuéllar hopes that they're thinking that "if she's playing and she has a family," then they can do it too.
When looking at her own family and the continued altering of cultural norms, Cuellar noted the help that her husband Carlos Álvarez (who also plays professionally) has provided. 
Specifically, Cuéllar highlighted a moment in 2019 when Álvarez was watching her in her first season with Xolos. After finishing a stint with Loudoun United in the USL Championship, Álvarez was in the stands with Romeo during a crucial game for Cuellar against Pachuca.
Glancing up into the crowd after scoring a vital goal, she saw Romeo celebrating with Alvarez and her parents, and thought: "Wow, that was me."
"When I was pregnant and when I had him, I was the one in the stands with Romeo.
She has the backing of her family, she's now returned the pitch, and in recent years, she has become more of a household name in the Mexican soccer world through her role with Xolos. 
Two Hearts 
That said, Cuéllar was also open in the interview about some of the Liga MX Femenil issues she's had to deal with as a dual-national.
When it first kicked off in 2017 with only Mexican players, Liga MX Femenil had the peculiar rule of not allowing anybody that was born outside of the country. What that meant is that Mexican-Americans like Cuéllar that had national team experience for Mexico, were initially not allowed into the league.
This can be frustrating for dual-nationals like Cuéllar who can sometimes feel as if they aren't "Mexican enough." It likely felt incredibly unfair to be able to represent Mexico on the international stage and be a part of the national team structure, but to also know that you couldn't play in your country's domestic competition.
It wasn't until the summer of 2019 when the league began to allow Mexican-Americans, thereby opening the door for Cuéllar to join Xolos.
And although the rules have changed and most fans have unbridled support, she believes that there are still people "who aren't happy" that Mexican-Americans are allowed in the league and that some achievements in Liga MX Femenil by dual-nationals are overlooked in favor of Mexican-born players.
Nonetheless, she lets her performances on the field do most of the talking. 
According to the Liga MX Femenil website, Cuéllar has already collected 35 goals for Xolos in just two years. She's immediately become one of the top forwards in the league, and back in April, Cuéllar was also included in a recent call-up for a European tour for the national team.
So what's next?
When discussing her immediate future, Cuéllar talked about her desire to not only help Xolos qualify for the Liga MX Femenil playoffs in the upcoming 2021 Apertura season, but to also finish as the tournament's leading goalscorer. She wants to bring a title to Tijuana, and down the line when she decides to hang up her cleats, Cuéllar wants to pave the way for future generations of women and girls through Xolos' organization.
Of course, all the while, she'll be raising Romeo as well.
"It's exhausting, but it's a beautiful thing," said Cuéllar. "To wake up and be a mother and have the privilege of being a soccer player. I'm absolutely honored, I love it. It's the best job I've ever had."