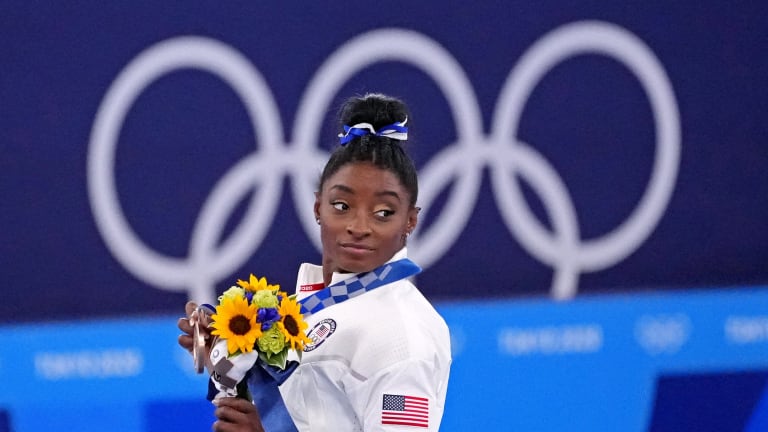 A Call to Invest in Athlete Mental Health
So, do you want to talk about what's really wrong with sports right now?
"Toughen up."
This is the rallying cry of generations who—after weeks of media coverage—still view Simone Biles' withdrawal from Olympic competition as impermissible weakness. 
As I considered why that might be, I recognized that athletic culture over the past 100 years has been dominated by a "no-pain, no-gain" attitude that has permeated American society at large. Fans expect athletes to push through any barrier and give their best physical performance, every time out.
I know this expectation and attitude as well as anyone. As a four-time Olympian who has held numerous International Olympic Committee positions, I've seen the pressure and expectations from every angle. I've played in Gold Medal games (Women's Ice Hockey '98 - '10), and I've spoken with athletes dealing with real mental challenges.
What these experiences have taught me is that while society likes to point fingers at individual athletes in cases such as Biles', we really should be examining the system in which they're trained and the culture which supports them. We already know that mental and physical health are inextricably linked in everyday life, so why should we treat sports differently? "No-pain, no-gain" has reached its limit: It's time for an upgrade.
Fandom needs to reflect the reality of mental health in sports. This past month has led to an uptick in conversation around the validity of mental health as a performance factor. To me and countless former teammates who have actually competed in the Olympics, there is no debate: Playing sports carries tremendous pressure and external stressors that are unknown and unseen by the public eye. We experience burnout. We try to live up to the impossible expectation of perfection. And we do it while being fully committed to winning.
But that's not what fans want to acknowledge. America is a results-driven culture that views the results of its athletes in a silo without consideration for the process by which achievements were earned. It doesn't matter if athletes actually enjoy what they do, as long as they do it flawlessly. If they fall short, the narrative is they're not trying hard enough—completely forgetting that life happens off the field of play has real repercussions on it.
Trust me when I say athletes want to win and have fun playing the sports they've dedicated themselves to. But just because they put on a jersey does not make them immune to the same issues as anyone else in regards to mental health. Your favorite athlete can experience depression or anxiety, or privately be addressing a number of other clinical diagnoses.
The simple way forward is for fans to acknowledge that athletes are people underneath all the accomplishments. When an athlete makes a valid statement regarding mental fatigue or illness, do not question it or doubt their commitment. From my experience, Olympians treat the opportunity to represent their countries through sport as an honor, and they dedicate themselves to pursuing greatness. A mental health illness does not change that, and accordingly, we cannot continue to view discussions on mental health as a weakness if we are to achieve progress in sport and culture at large.
Athletic training needs to look different moving forward. Mental health training programs should be a norm for elite athletes, not an exception. A former Harvard University ice hockey teammate of mine, Dr. Kimberly O'Brien, is now a mental health clinician who works with athletes. Through her research and clinical experience, she can attest to the performance benefits of dedicated mental training programs in sports. She can also confirm the detrimental effects on performance and overall wellness when this support isn't available when needed.
What we must do with this information is invest in the mental development and wellness of athletes with the same vigor that we have towards physical training. The introduction of curriculum at all levels—from elite professionals all the way down to youth participants—stands to not only develop better-performing athletes but also healthier members of society. 
Consider the value of mastering topics like focus, enjoying the process, and handling pressure situations, and how those skills translate across all areas of life. If sport truly influences culture, then it is our responsibility to encourage making active mental health training a norm for the benefit of all.
Advocacy needs to start in the U.S. The two changes I've proposed here aren't significant undertakings from an action standpoint; fans must simply be more compassionate to the topic, while leagues, coaches, and athletes must integrate dedicated clinicians and their programs into their development.
A cultural shift amongst fans to empathize with adversity and offer judgment-free understanding can seem like a daunting goal on its own. However, the documented effects of sport on culture brings the promise that as more leaders like Simone Biles and Naomi Osaka speak up, the quicker views change en masse.
As for teams and individuals, those who understand the benefits of listening to research on mental health will be rewarded with greater outcomes on the field. In an industry where everyone is looking for an advantage, that's enough to get the ball rolling.
Let's support our athletes.
---
Short Bios:
Angela Ruggiero is CEO and co-founder of Sports Innovation Lab. She has served in numerous key positions with the International Olympic Committee and United States Olympic and Paralympic Committees.
Dr. Kimberly O'Brien is a Clinical Social Worker in the Sports Medicine Division and Female Athlete Program at Boston Children's Hospital.