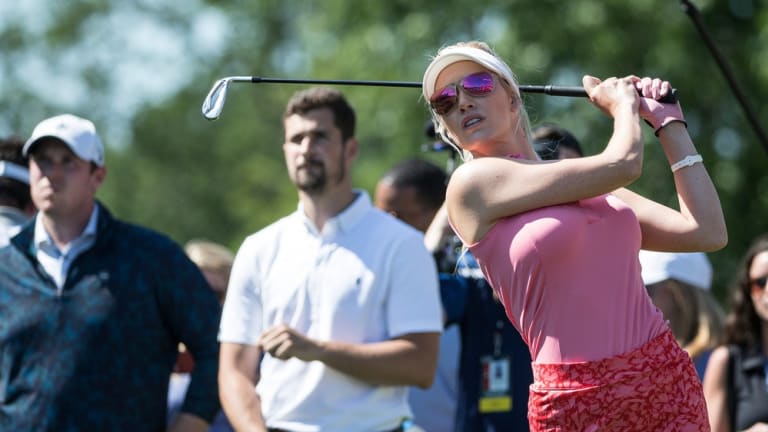 Who Swung it Best: Adam Sandler or Paige Spiranac?
Paige Spiranac took on Adam Sandler's greatest role, Happy Gilmore.
Paige Spiranac is taking social media by storm with every post, but none has been better than her attempt at emulating Adam Sandler's famous Happy Gilmore golf swing.
Sandler's golf-related comedy film 'Happy Gilmore' premiered in 1996, but it's still giving us moments to cheer for, like Paige attempting to do the famous swing.
For those who don't know, the vital part of this famous golf swing is to take a running start before hitting the ball with the club.
Spiranac's social media followers loved her perfect recreation, with some even calling to tag Adam Sandler himself.
"With hockey playoffs starting, I had to break out the Happy Gilmore swing! What's your favorite sport to watch," wrote Spiranac on her IG caption.
This post came two weeks after she revealed that men use binoculars to spy on her while she's on the golf course.
With all she has to go through to be taken seriously as a golfer, it's good to see her having fun despite the obstacles.
So, what do you rate Paige's impression of Happy Gilmore?
Honestly, to quote the great Happy Gilmore, "Who gives a crap?"
We're just happy she keeps giving us these great moments on IG.
---
More En Fuego:
Don't Sleep on DeSean Jackson
The Laidback Brilliance of Manny Montana
Rob The Original Is Making A Career Out of Being Exceptional