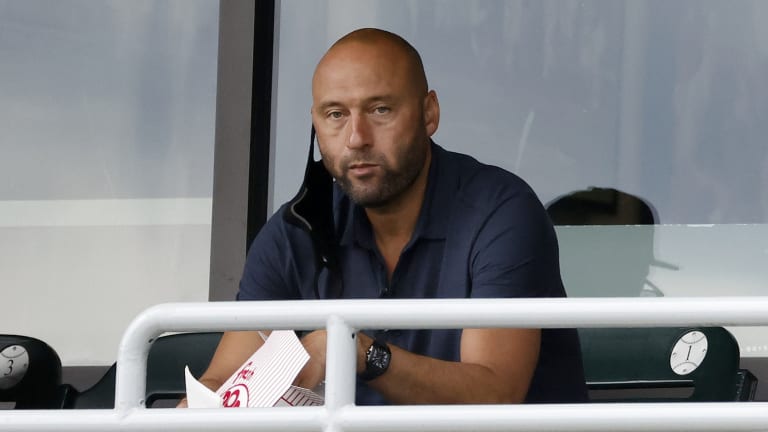 So, The Teaser for the New Derek Jeter Documentary Is Pretty Depressing
ESPN is premiering a new Derek Jeter documentary in 2022 and the social media trailer leaves a lot to be desired.
MLB didn't exactly go overboard in promoting the upcoming Derek Jeter documentary.
The teaser posted to Instagram looks like the kind of celebratory video you make for your co-worker who leaves the company after a three-month stint. Congratulations on a questionably historic career, Captain.
Say what you will about Jeter. And I know you will. The shortstop played for 20 seasons, went to 14 All-Star games, batted .310, drove in over 1,300 runs, and helped win five World Series titles for the Yankees.
Yet there are some who feel he is overrated. It tends to speak more to how much he has been celebrated for his postseason prowess and the celebrity that comes with being the face of such a prolific dynasty.
So it makes sense that ESPN would see fit to give him a six-part documentary series premiering in 2022 entitled The Captain.
But the issue I have in 2021 is the lackluster, hilariously low production of the above teaser for this series.
Were there not any video clips cleared for use? Did they only have still images to use? Why are the pictures thrown out there without any regard to the beat of the music?
It's like an intern fired up iMovie, tossed a bunch of assets into the timeline, took out his vape, and marveled at his creation.
As for the actual documentary, there's a lot to be excited about. It's being produced by the same people who oversaw The Last Dance and is directed by Randy Wilkins.
According to ESPN, it will center around "the story of Jeter's professional and personal triumphs and challenges."
It's a way to reintroduce this cultural superstar to a younger generation who should appreciate one of the hardest working players that ever donned pinstripes.
I just hope the teaser isn't indicative of the final product.