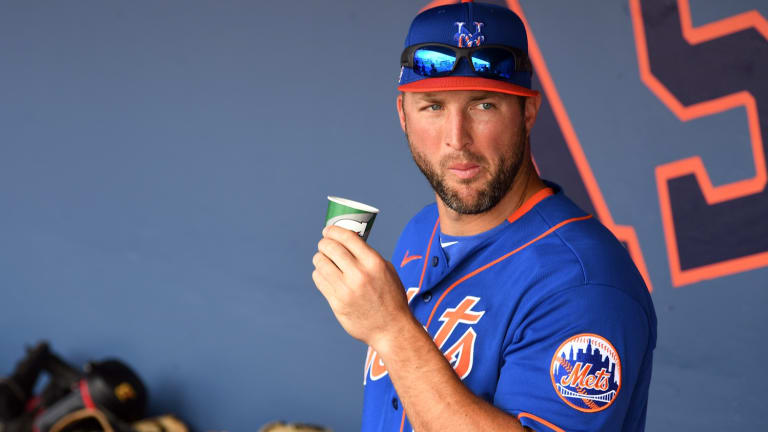 Former Quarterback Turned Baseball Player Tim Tebow Will Now Try Catching Footballs
Tim Tebow is headed to the Jacksonville Jaguars according to recent reports.
Much like the Olympics, you can set your clock to Tim Tebow making sporting news every few years.
Now we know the former quarterback turned baseball hopeful will again set his sights on the gridiron. Only this time he is set to play tight end as he works to make the Jacksonville Jaguars roster.
The tweets were as abundant and opinionated as you'd imagine.
There were rumblings during the NFL Draft that the Jaguars were considering bringing Tebow into the fold. Head coach Urban Meyer once led Tebow while at the University of Florida.
But a rumored workout has become a now reported signing that is imminent, according to ESPN.
"The Jacksonville Jaguars are expected to sign Tebow, 33, to a one-year contract later this week or next week to play tight end, a position he never played in high school, college or his previous three-year NFL career, a source confirmed to ESPN."
The worst part of this news is this guy: 
Of course, none of the above will happen. The 33-year-old has always been better as a concept than he has as an actual professional athlete.
His NFL career lasted three seasons and all of 16 starts amid a fervor from fans who wanted more than anything to see him replicate the success he enjoyed in the collegiate ranks.
By 2016, he decided to pivot toward baseball, which garnered headlines but also three seasons in the Mets organization where he played as high as Triple-A, slashing .163/.240/.255 over 77 games in 2019.
He will transition again, bringing tenacity and passion to Jacksonville. Whether he has more in the realm of tangible talent will dictate if the latest experiment succeeds. There's a current logjam of five tight ends on the Jaguars roster.
According to our own horrible fate, this will not be his final shot to make it in the NFL. Because Tebow has made a career out simply trying. And like watching a puppy trying to get up on a couch, the world is eager to see give it one attempt after another. 
Every time you think we've heard the last of Tebow the athlete, he resurfaces with the majesty of the cicada.