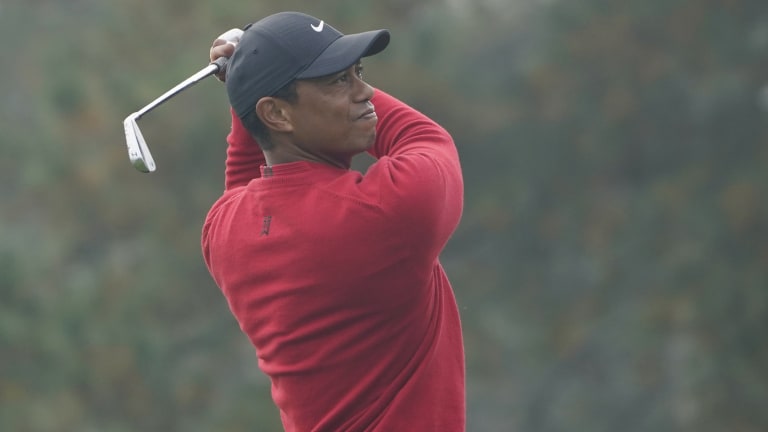 Tiger Woods Will Never Be The Same
The legendary golfer divulged a grim outlook for the remainder of his career.
Tiger Woods wowed the world recently when he showed off his new bionic swing on the driving range. Any excitement that the GOAT would return to his former glory should be tempered—a lot.
Woods spoke frankly with Golf Digest's Dan Rapaport about his Feb. 23 car accident that left him with multiple leg fractures and drastically curtailed his career.
He now sounds more like an athlete eager to get back but has the realization that things may not be as they were before. He's also quite aware that he won't be as prolific as he once was nor does he necessarily have the motivation to conquer the daunting weekly schedule of a golfer on tour.
He tells Golf Digest:
"I don't have to compete and play against the best players in the world to have a great life. After my back fusion, I had to climb Mt. Everest one more time. I had to do it, and I did. This time around, I don't think I'll have the body to climb Mt. Everest, and that's OK. I can still participate in the game of golf. I can still, if my leg gets OK, I can still click off a tournament here or there. But as far as climbing the mountain again and getting all the way to the top, I don't think that's a realistic expectation of me."
Despite the setbacks Woods has had throughout his illustrious career, there was always the assumption that he would overcome whatever malady to notch off one major after another as he did early on.
While reaching Jack Nicklaus's 18 majors isn't an impossibility (he sits at 15), seeing him on the course week in and week out is a thing of the past.
It's now time to get used to the occasional Woods cameo and, hopefully, the occasional Tiger spotting on the leaderboard.
But the best of Woods is in the past, which isn't the end of the world. Every incarnation of Tiger has been riveting. We wait to see the next evolution of the best to ever swing a club.