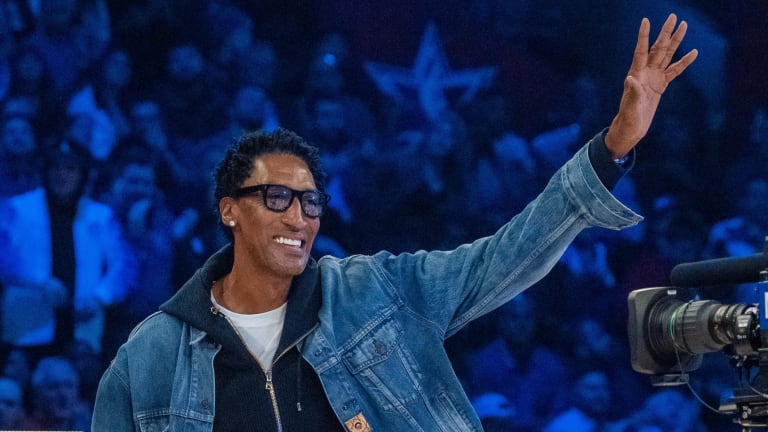 The Best Parts of That Delicious Scottie Pippen Interview
From dragging Kevin Durant to his awkward bourbon brand, this interview has it all.
The most famous sidekick in all of sports is selling bourbon now, so it was time for the baritone to sit down and speak with GQ about all things whiskey, NBA, and beyond.
Scottie Pippen did not disappoint.
On KD and LeBron
Kevin Durant was bounced from the playoffs after seeing the best players on his team hit the bench with injuries. Still, he dropped nearly 50 in a last-ditch effort to save his team.
Still, Pippen found a reason the throw shade.
"And this is no knock to KD, but they asked me, "Has he surpassed LeBron James?" And my answer was: LeBron James knows team basketball better than KD. KD can score better than LeBron, probably always have been able to. But has he surpassed LeBron? Naw. He tried to beat the Milwaukee Bucks instead of utilizing his team. You see what I'm saying? LeBron James would've figured out how to beat them and he wouldn't have been exhausted and he may not have taken the last shot. But LeBron ain't KD, and KD ain't LeBron. KD is a shooter, a scorer. But he doesn't have what LeBron has."
Durant, the consummate social media maestro, clapped back fiercely.
Grudge Much
Pippen has a long-standing feud with Charles Barkley, which dates back to their brief stint with one another on the Houston Rockets. They both said some things at least one of them (ahem, Pippen) doesn't care to take back. The 55-year-old said the following, via GQ.
"I wish he woulda went through with it. I never apologized to him (Barkley), but I'll tell you what: He only got arrested for throwing some little white guys out of a window. I ain't never seen him fight a Black man unless there were referees around. He plays his role like he's tough. I don't know nobody he done whooped. Go back and check his record. Did I apologize to him? I told him to get me the hell out of there. That's what I recall."
Getting Handsy
When you think bourbon you might conjure images of oak and the aroma of smoke-kissed caramel touching the furthest reaches of your tastebuds. Nostalgia and relaxation washing over your entire being.
Or, maybe you think of a giant hand:
Pippen's newest passion project is Digits, a bourbon that is, presumably, for people who are really into fingers.
On Ben Simmons
Sixers star Ben Simmons has taken a lot of heat for shrinking in crucial moments on the offensive side of the floor.
Pippen puts the blame squarely at his coach's feet.
"I watched a lot of games that Doc [Rivers] shouldn't have had him in, in the fourth quarter. If I give you a deck of cards and I give you a deuce of heart and a deuce of diamond, and we playing Spades, why you keep grabbing those cards when you know you're gonna lose in that category? This kid been this way the whole time and Doc brought him in and set him up for failure. He been like this!"
Pippen is one of the greatest to ever play. But get him on the record and he's darn near a legend.