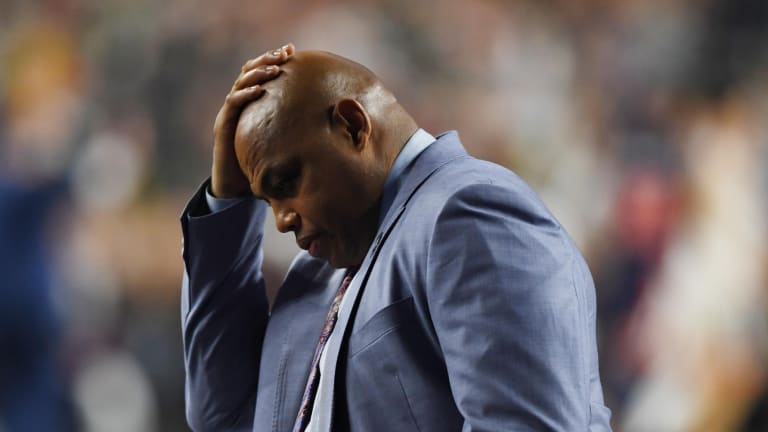 Surprise, Charles Barkley is Again Talking Lakers Trash
Basketball soothsayer Charles Barkley has some thoughts on the Los Angeles Lakers chances during these playoffs.
The Lakers are down 0-1 to the Phoenix Suns, LeBron James continues to nurse a bum ankle and Anthony Davis looks human. So, it makes sense that Charles Barkley would get on the Lakers bashing bandwagon.
The NBA on ESPN Facebook account gave us a nugget to tide us all over until Tuesday's Game 2 from Phoenix. And it also gave King James and crew some locker material. 
"Nobody is afraid of them," he said, via NBA on TNT.
This runs counter to the current futures odds on the NBA Finals, which has the Brooklyn Nets followed by the Lakers as favorites to win it all, via Vegas Insider.
This is the second time the famed NBA legend turned broadcasting icon has blasted the Lakers. He recently opined on news that James had broken Covid protocols. 
"Ain't no f***ing way LeBron James is going to sit out because of health and safety protocols," he was quoted as saying.
Last summer, ahead of the bubble playoffs, Barkley was also down on the Lakers in a possible showdown with the Portland Trail Blazers.
The following month, the world got that very match-up in a first-round series. And, as luck would have it, the Lakers lost the first game of that series too.
READ MORE: NBA Legend Joe Johnson is Yoga Fire 
As we all know, the Lakers went on to win the series in five games and later took home another banner to hang from the Staples Center rafters.
Barkley is again all in on Lakers' futility. On Sunday, he followed L.A.'s lackluster loss with some fire of his own.
"I'm watching all these idiots, fools and jackasses on television like, 'Oh, the Lakers are the team to beat.' I'm like, I don't think that's true," Barkley said on TNT, via the Sporting News. "This notion that they can just show up and they're going to win — nobody's afraid of them."
Judging by Barkley's recent track record of doubting the eventual champion, you have to like the Lakers' chances, even if they are down a game.