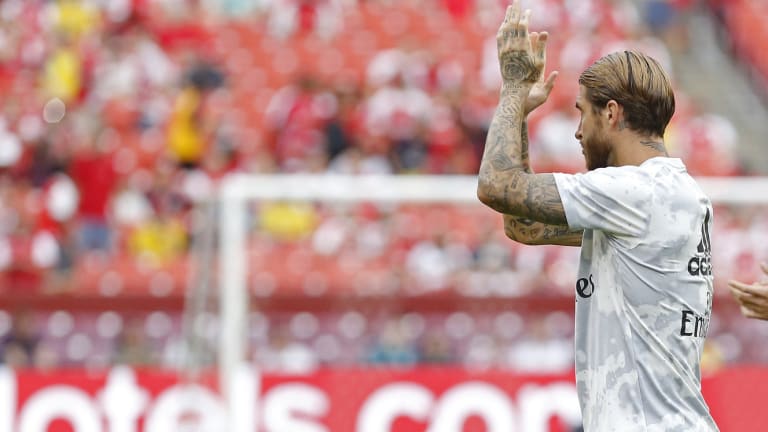 Sergio Ramos' Absence Means a Notable First for Spanish National Team
Sergio Ramos' absence at the upcoming Euro 2020 is more than the end of an era, it means something rather unique when it comes to Real Madrid.
Spain is now preparing to take on Sweden, Poland and Slovakia in June's European Championship. They will do so without a consistent leader and defender in the form of Sergio Ramos.
The Spanish stalwart and longtime Real Madrid star has had to deal with injuries recently. As ESPN reports, it was decided that he would not be selected to feature alongside his countrymen at the upcoming tournament.
The 35-year-old took to social media on Monday to offer his own somber words over the announcement.
"After a tough few months and a strange season unlike anything I have experienced in my career comes the Euros," Ramos began on Facebook. "I have fought and worked every day, in body and soul, to be able to reach 100% for Real Madrid and the national team but things don't always work out the way we'd like. It pains me not to have been able to help my team more and not to play for Spain but, in this case, the best thing to do is rest, fully recover and come back next year like we've always done. It hurts not to represent your country, but I have to be honest and sincere. I wish all my teammates the very best of luck and I hope we have a great Euros. I'll be another fan cheering on from home."
This marks the first time since Euro 2004 that La Roja will head out onto the pitch sans Ramos. Even more remarkable is the fact that Spanish side Real Madrid will not be represented at a major tournament.
As the website The Athletic explains, this is indeed a singular moment: "Ramos' omission means this is the first time that Spain will travel to a major tournament without a Real Madrid player in their squad."
Ramos remains the most capped Spanish player at 180. He was chasing Egypt's Ahmed Hassan (184) for the most appearances in the world.
READ MORE: Renae "Soccer Mom" Cuéllar Is Scoring Goals And Shattering Cultural Gender Norms
According to Spain's manager, Luis Enrique, there is no use in taking sentiment into account. This was about fitness, and Ramos has experienced injuries this year, including recent calf muscle issues.
"He hasn't been able to compete during this season, especially since January, in the right conditions," Enrique said, via ESPN.
"Not just compete, but even train with his teammates. It wasn't easy. Yesterday evening I told him. We had a telephone conversation. It was difficult, I understand it—I feel bad because he has always been very professional."
At 35, there is an outside hope that Ramos can infuse the twilight of his career with enough fitness to make it back onto the pitch at an international stage. He's certainly deserved the proper sendoff.