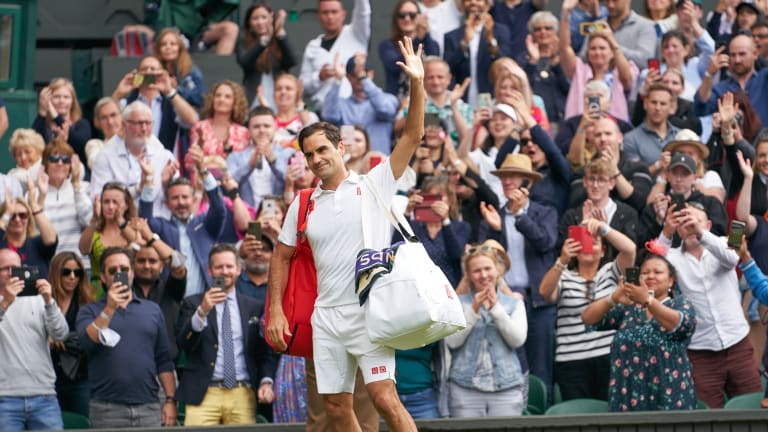 Roger Federer Elimination Leads to Rousing Standing Ovation
Roger Federer goes out to emotional ovation at Wimbledon.
Roger Federer goes out to emotional ovation at Wimbledon.
Roger Federer received a standing ovation unlike any other he's experienced in the past.
This time, it felt like a "goodbye" from Wimbledon, a Grand Slam he's participated in on 22 separate occasions.
Federer was eliminated by 14th-seeded Hubert Hurkacz in an easy win for the Poland international.
The score ended 6-3, 7-6 (4), 6-0 in favor of Hurkacz, who was also seen applauding the legendary Federer as he made his way off the court.
This was just the third time in 429 career Grand Slam matches that Federer ceded a shutout to his opponent, the other two coming at the French Open.
When asked if this would be his last time at Wimbledon, Federer replied, "No, I hope not. The goal is to play, of course."
Hurkacz, who calls Federer his idol, said that he "probably" wouldn't have imagined this result.
The 39-year-old tennis legend underwent two operations on his right knee in 2020, so many speculate that he didn't heal long enough.
"I'm actually very happy I made it as far as I did here and I actually was able to play Wimbledon at the level that I did after everything I went through," said Federer, who has not decided whether he's going to attend the Tokyo 2020 Olympics. "Of course I would like to play (Wimbledon) again, but at my age, you're just never sure what's around the corner."
Do you think we'll ever see Roger Federer lift the Wimbledon trophy again?