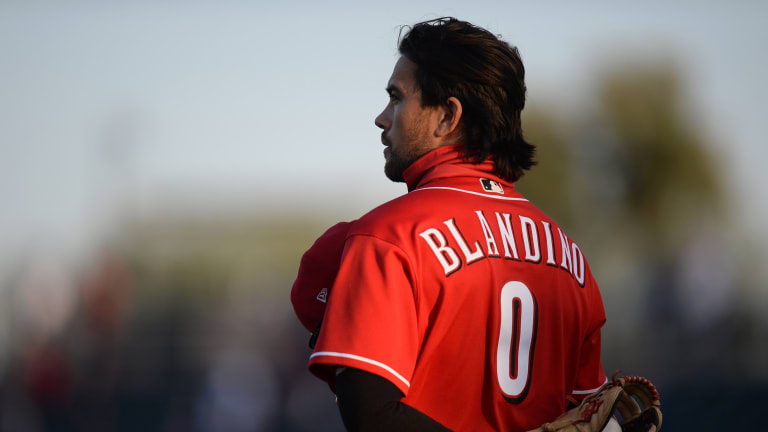 The Reds and Pirates Game Started With a Classic National Anthem Standoff
Alex Blandino and Luis Oviedo were locked in a battle of wills.
Not to be confused with a walk-off, which is what Giancarlo Stanton hits and Billy Zane officiates, two MLB players were locked in an epic National Anthem-off on Monday evening.
And, spoiler alert, it was Alex Blandino with the victory.
The 28-year-old utility man had the day off as the Cincinnati Reds took on the Pittsburgh Pirates. Before the first pitch, however, the competitive juices and pageantry of patriotism took hold as Blandino stayed on the field well after the final note was belted for the national anthem.
Thankfully, for pregame entertainment's sake, he was joined by the Pirates' Luis Oviedo.
As noted above, the game was delayed slightly before a grumpy umpire put an end to the most competitive action the sparse crowd got to see.
As of this writing, the Reds are getting the better of the Pirates, 7-1, in the fifth inning.
This wasn't the only standoff to take place on the hallowed grounds of baseball frivolity. Back in 2013, Joe Kelly, then with the Cardinals, went toe-to-toe with then Dodgers outfielder Scott Van Slyke.
Van Slyke edged out the win back in Game 6 of the NLCS. But as history tells us, winning these things offers only momentary bliss as the Dodgers ultimately lost that series 4-2.