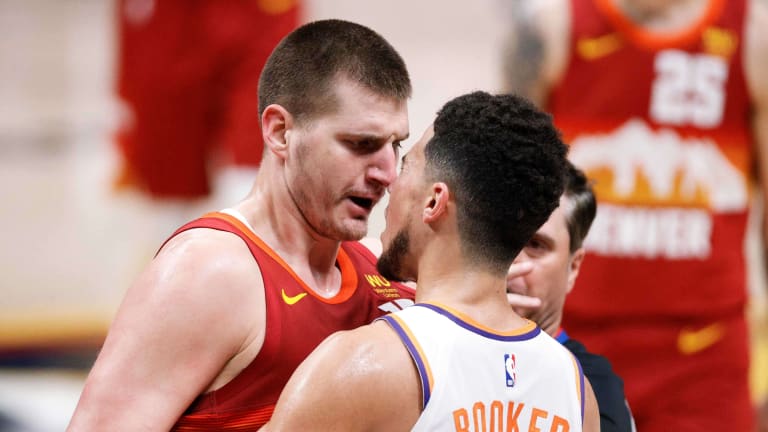 Nikola Jokic's Brothers Were Ready to Throw During Elimination Game Scuffle
MVP Nikola Jokic may be on summer vacation after a second round elimination, but he has the full support of his passionate brothers.
The sweet taste of MVP victory didn't last long for Nikola Jokic who saw his Denver Nuggets get swept from the second round of the playoffs by the red-hot Phoenix Suns.
It makes sense that tensions would run high. The culmination of which was a Game 4 brouhaha that broke out after Joker earned a flagrant foul 2.
A frustrated Jokic heads over to Cameron Payne and takes a swipe at the ball. An exchange of pleasantries ensues. What many of us didn't see, however, was Jokic's brothers shouting from the sidelines like WWE superstars waiting to be tagged in.
Jokic explained his thought process, or lack of one, during Sunday's press conference.
"I wanted to change the rhythm of the game, I wanted to give us some energy, maybe change the whistle a little bit, so I wanted to make a hard foul," Jokic said after the game, via ESPN. "Did I hit him, did I not hit him? We don't know. So I say sorry if I did because I did not want to injure him or hit him in the head on purpose."
There has been no word from Jokic's brothers, but the Internet had jokes.
Don't mess with Jokic. He rolls mad deep.