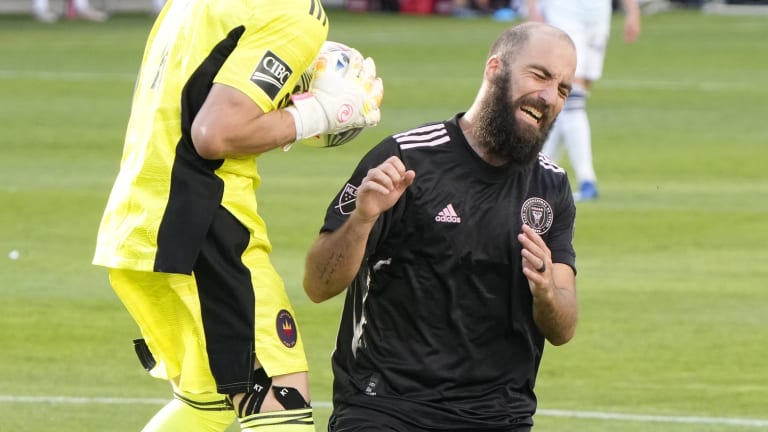 MLS Smacked the Cigarette Out of Gonzalo Higuain's Mouth
Inter Miami star Gonzalo Higuaín has a newfound respect for his new league.
Gonzalo Higuaín has had a revelation these past few months. And it's a simple fact that this isn't your daddy's MLS.
The legendary footballer stopped by Twitch to expound on his recent progress with MLS side Inter Miami.
After spending 16 games in North America, Pipa has a taste for the pace and aggressive play around the league. It seems as though he now has a newfound respect for it.
"I thought I would come here and play with a cigarette in my mouth and, instead, it is difficult," He said on BoboTV, via Mirror.
Higuaín continued, describing the play as similar to Serie A while explaining that players finding their way to La Liga or the EPL might have more of a cakewalk.
"It is a tough league," he said. "I learned that it is similar to Italian football. In Spain and England it is easier to do well, while in Italy, if you do not know the league, you suffer."
Back in 2019, MLS commissioner touched on the shifting view the world held about the league.
"Years ago, the international football community barely acknowledged that we existed let alone rated us as having any sense that we knew what we were doing," Garber said at the time.
"And that was from (governing bodies) FIFA to UEFA to U.S. Soccer to CONCACAF. Over time that has shifted. There really has been a generational movement on the development of the soccer culture."
Old notions stay engrained, so it makes sense Higuaín would see his final chapter as a relatively easy task. It's clear, however, that MLS has changed in form. Thankfully, the world is catching on to that fact.