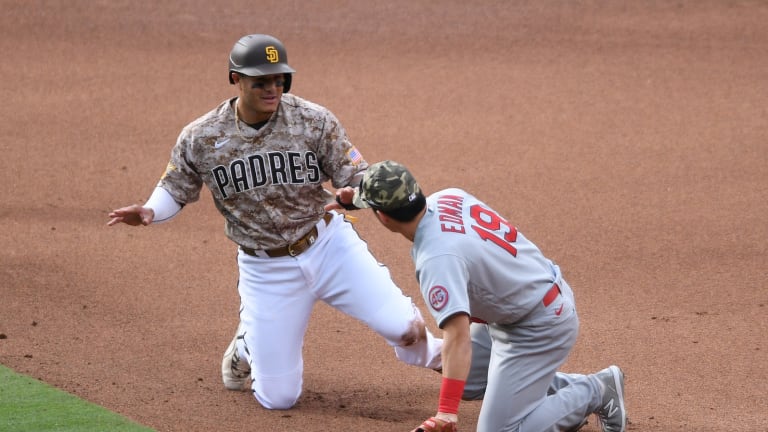 Super Swell Guy Manny Machado Takes Out Tommy Edman In Controversial Play
Manny Machado again made a questionable baseball play and the Internet has thoughts on the matter.
Professional lollygagger Manny Machado was on his way to second base Sunday night when a curious thing happened.
He attempted something.
The man who has shown us the wonders of running while blowing bubbles had another trick in his array of artistry to show us all.
He took out Tommy Edman.
The Internet had some thoughts.
The play came in the bottom of the fourth of an eventual 5-3 Padres victory. With Edman fielding the ball, he goes in for the tag on Machado.
Rather than stop or dodge the tag in an elusive manner, Machado opted to barrel into Edman. If it had been any other player the moment may have been fairly innocuous.
Machado has a right to the base path and Edman was encroaching on that. When you see the full play play-out it looks less egregious than it was.
Of course, I am in the minority here.
For the Win's Henry McKenna had this to say: "Is it illegal, by rules? No. Machado can do what he wants within the lines of the base path to avoid getting tagged. Is it unethical and sketchy? Absolutely."
Sunday's had visions of Machado spiking Dustin Pedroia and clipping Jesus Aguilar dancing in the head.
So, yes. This is just another log for the fire. In the grand case of whether Machado is a dirty player, Sunday's play will be used for a mountain of evidence when he finally hangs up the cleats.
In my opinion, it wasn't all that bad on its own. If you need me, I'll be over here shouting into the abyss that Machado isn't such a bad guy.