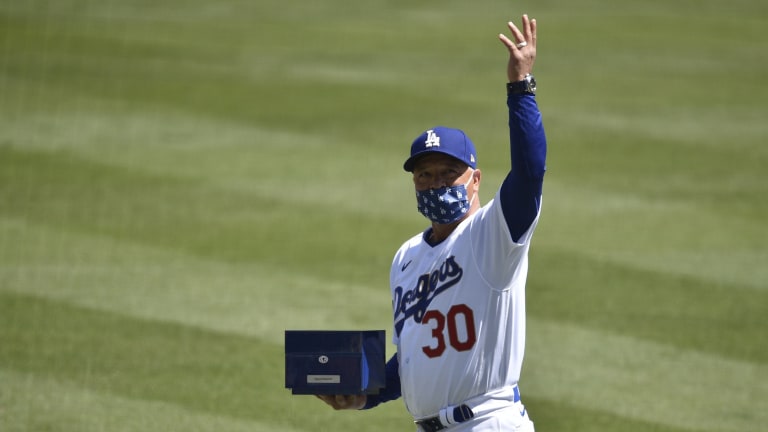 Yo, That Dodgers World Series Ring Comes in a Highlight Reel Box
The Los Angeles Dodgers received their championship rings on Friday, and the box they came in was something else.
The Los Angeles enjoyed an actual home opener in front of fans on Friday. While there may have been just 15,000 in attendance due to covid protocols, those in the house got to see something truly special.
The team celebrated their 2020 World Series title by receiving their championship rings. Appropriately, the rings had an acceptable level of bling to them. Basically, you'll want to approach wearing sunglasses.
The nice little Easter egg hidden in these enormous boxes is the video screen that adorns the back of the lid.
Once you pop these bad boys open you don't just get to appreciate the sight of the gorgeous ring. The diamonds also dazzle with the accompanying highlight reel video that plays the moment you open this treasure chest.
If you're scoring at home, the rings feature 232 diamonds and 53 sapphires. The box features a platform that rotates, so you get every last angle of this majestic beauty.
The video that plays is a four-minute reel that encapsulates the 2020 season. And, according to the L.A. Times, it's "complete with music and sound, each time the box is opened."
"For 32 years, Los Angeles waited for this moment, this team and this ring — and all that it represents," Dodgers president and CEO Stan Kasten said, according to the Times.
"Jostens did a spectacular job designing these rings, which represent the sacrifice, determination and fortitude demonstrated by our players, coaches and entire organization to win a championship while overcoming unprecedented challenges."
While Dodger Stadium wasn't a packed house on Friday, it was attended by fans who got to see something not experienced in Los Angeles in over 30 years. And it was a beautiful sight.