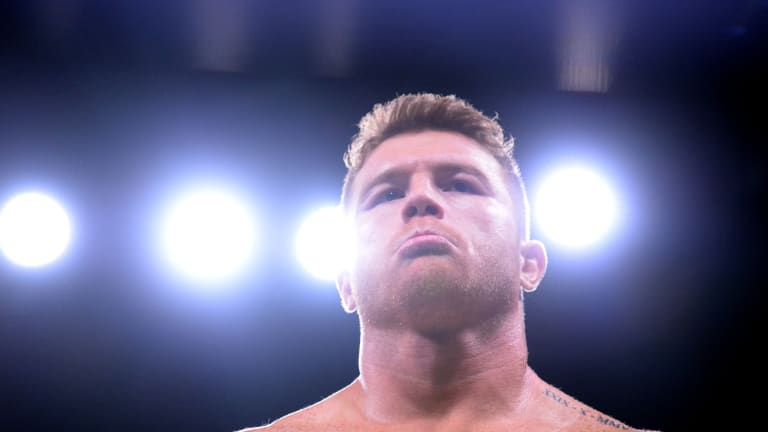 Watch Canelo Alvarez Exchange NSFW Pleasantries With Billy Joe Saunders' Camp Over Ring Size
When it comes to the fight between Canelo Alvarez and Billy Joe Saunders, size does matter—at least when it comes to the ring.
Billy Joe Saunders is finding a lot of things to complain about before the fight even begins. 
The best part of boxing is the novella that tends to play out just before the bout. Two boxers who train for months suddenly become uber-sensitive and react with the melodrama of an episode of The OC.
Such is the case with Saunders and Saul "Canelo" Alvarez who are set to touch gloves this Saturday, May 8, at AT&T Stadium at Arlington, Texas.
UPDATE: Tuesday, May 4 at 6:09 p.m. ET 
The fight is on and Saunders is happy with the size of the ring. That is according to his recent Instagram post, republished by DAZN. 
"I just want to say I'm pleased the issue is sorted," Saunders states in the above video. "The ring is not a problem, so thumbs up." 
End of Update --- 
So far, things are going to plan in so far as one boxer is causing a ruckus about the specifics surrounding the fight.
First, Saunders camp drew umbrage with the fact that there would be no British judge at the event, implying that he wouldn't get a fair assessment if the fight goes to the cards.
"I was under the impression there would be a British judge on there but apparently the commission don't allow it," Saunders said, via ESPN.
"I'm happy I've got the shot. I'm just asking for a fair shake. I might go there and get knocked out in one round, we may not need judges. He might spark me in 30 seconds. If we do get to judges, if I win by two or three rounds then it is hard to get that unless they're fair scorecards."
As ESPN notes, the fight is being held in Texas and officiated by neutral judges that are neither from Mexico or the United Kingdom.
By Tuesday morning, there was another call from Saunders' camp that the fight wasn't to their liking. The size of the ring came into dispute with the 31-year-old fighter from Welwyn Garden City, United Kingdom, stating that he had assumed and agreed on a larger ring.
"The problem is I come over here and they try to chuck me in a phone box of a boxing ring," Saunders said, via talkSport. "You know, all these games and other bits and bumps played along the way for this fight is all mind games. People say stuff to get under people's skin and under camp's skin, but it's hundreds and hundreds of feet long and they want to stick a 16' to 18' ring in the middle of it."
The size of the ring has been a source of contention well into Tuesday afternoon as video surfaced of Canelo exchanging NSFW barbs with Saunders' team as he left for training.
The fallout has been a roller coaster on social media, ranging from concerning to hilarious. 
One report actually purports that another fighter is being considered if Saunders bows out.
We will update this piece the minute there is closure on the subject. At the moment, it seems camps are going to negotiate a myriad of possibilities. 
From a minuscule 18-foot ring to the average-sized 20-footer, to the Grand Canyon-esque 24-feet Saunders and company want, it's like trying to pick out what Netflix show to watch with your significant other. Nobody wins. 
Until it's settled, we'll be in our corner munching popcorn and taking it all in.