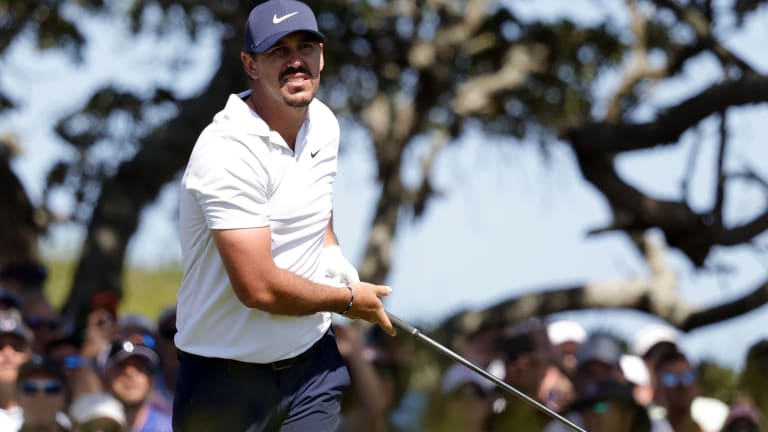 Brooks Koepka Sounds Pretty Pissed About the Crowds at the PGA Championship
Brooks Koepka has a perfectly sound reason to be irate at the crowd control right before Phil Mickelson won the PGA Championship.
If it's any consolation, Brooks Koepka had the best seats in the house to watch Phil Mickelson capture the PGA Championship.
For those watching the closing moments on Sunday were greeted with an extraordinary sight of fans following Mickelson as he closed in on history.
After a year when so many were kept away from sporting events, it was a welcomed vision of the future wherein fans can experience the biggest moments in sports live and in person.
You would just hope for some, I don't know, security out there.
Koepka was among the throng. Only, it bears reminding, that he was actually competing in the tournament. It goes without saying that his well-being should be a priority.
At some point, he certainly felt more than a mere figurative rush from the crowd.
As Golf.com reminds, Koepka had surgery back in March for a dislocated kneecap and ligament damage. He was visibly affected by the injury when he later played at the 2021 Masters.
He is very much fresh off of the injury and it makes perfect sense that he would be wary not just of playing but trying to wade through a mass of frenzied fans.
He spoke to how close he got to re-injuring his leg on the walk up 18.
"I don't think anybody really understands until you actually you're coming out of surgery how—I mean, even when I was doing rehab and there's five people kind of standing by your knee, you get a little skittish," he said, via Golf.com. "Like I don't mind waiting or being in that crowd, but getting my—I don't know, it felt like somebody tried to, I don't know what the deal was, but it's what it is. Be putting it in ice today. It feels like s— right now."
Mickelson (50) took home the tournament and a slice of history as he is now the oldest golfer to win a major.
READ MORE: Surprise, Charles Barkley is Again Talking Lakers Trash
It was certainly a reason to smile for so many who have been isolated thanks to a year of safety precautions amid Covid.
However, taking care of the health and safety of golfers and their banged-up knees should be at least something to think about. The 31-year-old Koepka recounts the moment with the glee of someone who just found a hair in their burrito.
"Yeah, it would have been cool if I didn't have a knee injury and got dinged a few times in the knee in that crowd because no one really gave a s—, personally. But if I was fine, yeah, it would have been cool. Yeah, it's cool for Phil. But getting dinged a few times isn't exactly my idea of fun."