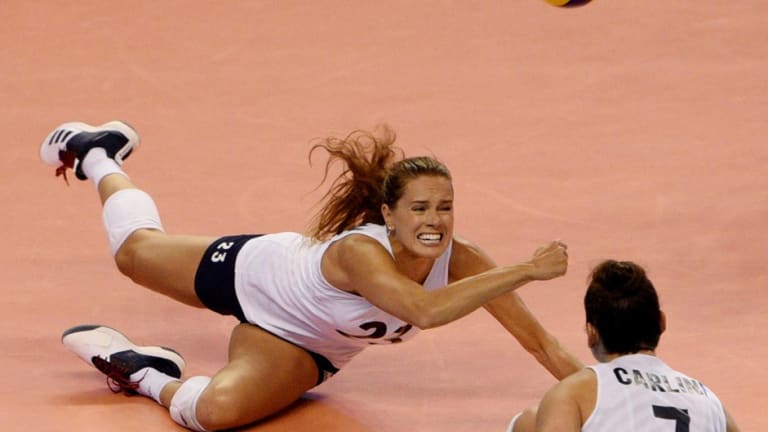 7 of the World's Most Successful Volleyball Players
There's a good living in to be made in the set life.
There's a good living in to be made in the set life.
Volleyball needs far more love than it gets. 
It remains one of those sports we tune into every four years forget about. That's a tragedy. 
Some of the best highlights in the sport come from female athletes in an amazing physical state. Here, we take a look at seven of the most famous female volleyball players, rating them based on height, skills, net worth, and even their good looks.
Samantha Bricio (Mexico)
This 26-year-old professional, who is 6 foot 2 inches tall, became the youngest player ever to play for Mexico. And she showed just how lucrative this sport can be. 
With a net worth of $4 million, Bricio is one of the most talented and popular volleyball players in the world. And she still has a long career to keep getting better.
Francesca Piccinini (Italy)
The 42-year-old Italian stands at 6 feet tall and is worth an estimated $6 million. But she ain't done yet. She's still an active professional volleyball player and already has 5 gold medals in different competitions.
Laura Ludwig (Germany)
This German phenom is as gilded as they come. She's won six gold medals in her career, including a gold medal in the 2016 Rio Olympics. The 35-years-old, is worth about $5 million, and is one of the most followed volleyball players on social media. Ludwig is only 5 feet 9 inches tall, but her talent is immeasurable.
Jordan Larson (USA)
The 34-year-old is worth $3 million and has won 5 gold medals in different events. She's 6 foot 2 and is still killing it for the Turkish club Eczacıbaşı VitrA as well as the US Women's National Volleyball Team.
Saori Kimura (Japan)
With a huge following online, this 34-year-old Japanese player is worth $3 million and has a Gold Medal in the Asian Championship. She's 6 feet tall and has a great sense of humor every time she posts on social media.
Kelsey Robinson (USA)
Standing at 6 foot 2 inches, the 28-year-old American has won 4 gold medals in different events. Her estimated net worth is $3.5 million, and her massive social media following just keeps helping her increase that number. Robinson is still a member of the USAVWNT.
Gabrielle Reece (USA)
Now it's time to talk about legends. One of the world's most popular volleyball players is also a popular actress. Reece is 51-years-old and has a net worth of around $12 million. She is no longer an active professional player, but she left a legacy unlike any other in the sport, making her one of the most popular players even to this day. There is simply no way to discount how she amplified and uplifted the sport. 
Who's missing from this list?