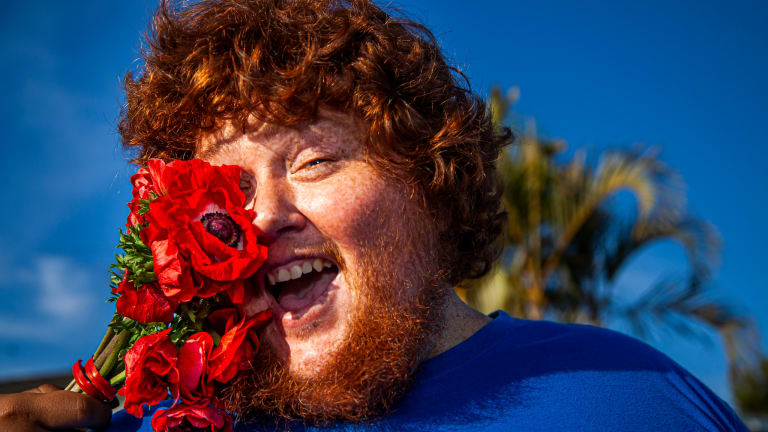 The WILD New Podcast That Is The Perfect Show for These Astounding Times
Erick Galindo brings heart and laughter to a year dominated by an unrelenting pandemic in a new podcast from LAist Studios, 'WILD.'
We've kind of had to stretch the definition of home over the past year.
It's certainly a house, a place you can kick up your feet and unwind. It's also been a place of great duress during a pandemic that has been unrelenting.
The seemingly innocuous term home gets dissected from the start of WILD. Host Erick Galindo is swapping thoughts on the year that was with Daisy Figueroa when the topic comes up.
It instantly becomes clear why a show like WILD isn't just necessary during this moment in time but wholly cathartic. We laugh through the stress, find home amid the madness.
"This idea of home is thrown around so much, especially with the pandemic," Figueroa states. "You don't know where people's homes are."
Disparate socioeconomic factors, differences in family size, and just how well someone does isolated from coworkers, along with myriad other factors mean none of us have gone through the same pandemic.
Acknowledging the difficulties inherent in that fact is one thing, and Galindo certainly highlights those issues throughout the unfolding show. But he also has an uncanny ability to simultaneously show the uplifting aspects of these stories.
Masterful Storytelling 
"I'm the kind of person who laughs when things get hard, it's just a coping mechanism," Galindo states of the new podcast from LAist Studios.
"I grew up in kind of a rough neighborhood and, you know, as a Mexican dealing with neighborhoods that weren't always welcoming to people like me," he continued.
"And I feel like even though this has been a heavy year, thankfully I have a lot of coping mechanisms for dealing with heavy parts of life. And I have been able to find the joy in that. I think that that's what we try to do with WILD, to sort of take you on a journey that doesn't ignore the heavy stuff, because that would be preposterous. But we definitely try to carry it together and ease the burden off each other and maybe laugh together about how some of this stuff is kind of funny."
The aforementioned Figueroa is the founder of Hood Renovationz. Its mission is to remodel homes within marginalized communities. She is just one of the people you meet throughout a show that is as compelling as it is entertaining.
Comedian Chris Garcia hopped on the pod for the second episode and delved into what it meant to be a good father. In discovering the meaning of that role he also uncovered what it meant to be a good son.
Episode 8 introduces listeners to the life behind the scenes of the comedic stylings of Aida Rodriguez. Her testimony brings to light the very nature of finding laughter amid hardship and pain. WILD is, after all, the salve for an unprecedented year, one that has exacerbated many ills and strengthened a great many bonds.
So many aspects of the pandemic are addressed but are done with immersive storytelling. The human element of COVID is at the center and, thankfully, communities that are often overlooked are at its heart.
Bringing these stories to a podcast is particularly important to Galindo who has a prolific career in all manner of storytelling. He's served as the managing editor of LA Taco, published articles for the L.A. Times, New York Times, LAist, and has not only developed screenplays but created and produced the documentary series A Lakers Life, which delved into relatively unknown human-interest stories of the iconic franchise.
Galindo is uniquely qualified to host such a show as WILD. He himself has had lived in countless locations as he grapples with his own notion of the meaning of home.
In media, there is an emphasis on creating evergreen content. But there is no greater value than in telling stories that glisten with the tears and perspiration of a moment in time.
Born to parents from Sinaloa, Galindo has lived in Mexico, Compton, Long Beach, Washington D.C., New Orleans, Chicago, Downey, among other places. He even explains early in the podcast that he spent much of his formative years in a "powder blue, 1999 Mercury Grand Marquis;" a car he loving refers to as Chuck Berry.
"I think about those hard-living times more often whenever I hit my shot. Because home is wherever my family is and where I want to be but it's also where I live right now," he explained.
The show is certainly about the human condition and how we all grapple with unforeseen and astounding times. What resonated with me is Galindo's dedication to showing people and places that continue to be tragically overlooked in mainstream media.
Represent
Representation is a term that gets floated around so much it has lost its meaning. Being for it is easy, but digging into the very nature of why it's important illustrates just how embedded our notion of what a term like home means thanks to endemic pop culture.
What we see and hear on a daily basis has power. The stories that are most visible become ingrained into society's subconscious and become Americana. A major component of that has been missing. WILD is just one place that hopes to rectify that.
"These past hundred-plus years have proven that television, film—Hollywood in general—has control, like the way we see ourselves, right, and you look at something like the first episode of WILD, we're talking about home, like go home. What does that mean? And that the meaning of home comes from Happy Days or whatever TV show you grew up watching and, either intentionally or unintentionally, we're not in those stories, so if society is only what we see on TV and film, then we are not part of society. And my goal in life is to change that."
WILD was born out of necessity but also out of passion. There is a need for a quaint corner of empathy during an astounding moment in time. But there is also a need to spotlight communities that are otherwise content to talk amongst themselves, perfectly fine dealing with hardship in quiet.
It is those communities that have rich stories that need telling. The laughter and tears enliven and embolden all of us.
"I make a podcast, I write screenplays, I write TV shows," Galindo states "I want to do as many things as possible because as much as I love my community, I can't just preach to my community. I have to tell these stories to the people that don't know these stories."
The show's eighth episode features Rodriguez and includes commentary from the show's producer, Lushik. She is both personally invested in the subject matter and also the eyes and ears for the audience.
This particular episode is a great snapshot of the podcast. Through tragedy and arduous challenges, there is laughter. It would be easy to be dismissive of the dark times and concentrate just on the merriment of better days. But life isn't like that; it's a tapestry of varied shades.
WILD embraces the hardships as pivotal to the human experience. In that we find solace. We find comfort.
Galindo is a master storyteller, the son of a father with a passion for sometimes inappropriate movies and a mother who was renowned to spin a yarn.
He came to a realization early in his life that it was the stories that matter.
"Stories help us make sense of the world," Galindo says. "The stuff that happens is kind of limitless. The possibilities are kind of unlimited. And as a kid, I thought that was chaotic and it gave me a lot of anxiety. And it wasn't until I realized that it wasn't necessarily chaos. It was limitless potential that I was able to sort of make sense of the world through stories."
WILD is available to stream on Spotify and Apple Podcasts.