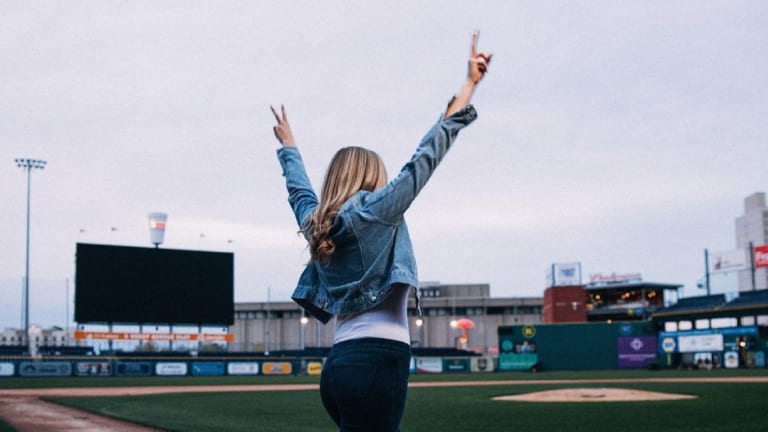 Suzie Hunter Is On a Mission to Conquer Every MLB Ballpark
Reporter Suzie Hunter left her job to journey across the country and see every last one of MLB's gorgeous stadiums.
Suzie Hunter's home for the summer is the confines of the most welcoming locations in the biggest cities in the country. That's right. She's settling down at every MLB ballpark this season.
The intrepid reporter is on a choose-her-own adventure at the moment. The kind of journey that should make all of you jealous, and it's for a great cause.
"I've always been a huge baseball fan," Hunter tells En Fuego. "So, when I realized that I could make the time to do a trip like this where I visited every ballpark, this was the perfect time to do it. Like this is every baseball fans dream is to go to every ballpark and to do it all in one season is like another level. It's just so cool."
The cool will be presented in vivid-vlog colors on her YouTube channel and social media channels. 
You can also follow along the most delicious aspects of the journey with her second social media channel Nacho Scout. It's Hunter's passion project to literally devour some of the best food baseball has to offer.
Hunter recently left her job as a reporter covering news, sports and features for WTNH in New Haven, Connecticut. Long before she decided to step away from that position, she had toyed with the idea of finally seeing every stadium in MLB, and doing so in one fell swoop.
Her passion for the game stems from growing up in Philadelphia, a place where you pretty much get baseball fanaticism mixed in with the baby formula.
Prior to WTNH, she worked as a multimedia journalist for the Hartford Courant, doing everything from writing about local cuisine to creating content packages about local entertainment.
Hunter knows a good story when she sees one, and she is currently immersed in one of the most captivating of her life.
It's all unfolding as the world pokes its head out after a year in relative isolation. So many of us were kept away from family and friends due to Covid restrictions. And nearly all of us were missing live sports. Until now.
While the pandemic continues to evolve and mutate, mandating continued adherence to safety protocols. Leagues like MLB are enjoying a relative return to summer. Nostalgia is there to meet you at the ballpark, and fans are embracing the opportunity.
"I really started thinking about it more and more during Covid during that season where no one got to go to sporting events, no one got to go to a baseball game," Hunter explained.
"And the cool thing, as I'm on this trip now, I'm meeting a lot of other people who are making up for lost time and visiting more ballparks or trying to finish the 30 (ballparks) this season. So, I'm not the only one out there doing it. But I feel like this is kind of a trend where people are making up for all the time we missed out on during Covid."
Making a Difference
It wouldn't be a proper Hunter escapade around the nation if she didn't infuse some goodwill into the proceedings. This entire sports shindig also has a charitable component.
The 30 stadiums will get ticked off by the end of the season, and it will all go a long way to helping the Boys & Girls Clubs of America.
She is hoping to reach donations of $30,000 by the end of her adventure. Fans interested in helping the cause can do so via her GoFundMe page.
"They are champions of youth sports and they do so much with MLB," she said of the Boys & Girls Clubs of America. "They're doing so much to grow the game with kids.
"And I think that's really important for the future of baseball. And even more importantly, it is so important for the future of these kids. You learn so many life skills that you're not going to get anywhere else through doing team sports. I want to make sure that we are doing everything we can to support these kids after the year we've all been through."
A Massive Undertaking
Hunter's most recent chapter in this story finds her in Denver for All-Star weekend festivities.
"Denver is amazing so far. You can tell that people are getting excited for the All-Star Game. Especially as things are opening up more and more as we inch out of this pandemic, it's cool to see it all coming together!"
She considers this trip—one that has taken her to the Miami Marlins LoanDepot Park, the Rangers' Globe Life Field, and Yankee Stadium—as driving with a side of baseball.
Her trusty companion is a car that stuffed with carefully packed boxes that will be her lifeline to clothing and other essentials on this trip many of you readers would consider a dream come true.
I often fantasized about doing a trip a year, one to each division throughout MLB. To conquer it all after the year we've all had would taste like a proverbial ice-cold beer and mile-high nachos.
Hunter continues down the baseball road with so many possibilities in front of her and a wealth of wisdom in the rearview mirror.
"Just be versatile, be able to do anything, be a photographer, be a writer, be an on-camera reporter. Just be well-rounded in your skill set," she explained when asked what kind of advice she would offer future would-be storytellers.
The current story she's working on is for her. It's about a lifelong love of baseball and it just so happens to be playing out during the most cathartic season in recent memory.
"I've been talking to especially some older gentlemen," hunter said. "Just talking about how they didn't get to do social things and the pandemic was so lonely for them and they're just almost emotional coming back to a ballpark and getting to do that again."
This season was always going to be magical. To see it unfold in real time in 2021 is not lost on this reporter, "It's just such a special season because it's not just baseball. It's a lot of emotions too."