Rockies Rookie Shows Off Serious Shoe Game
Colorado Rockies rookie Mike Toglia shows off custom cleats that might be the best drip in Denver.
Mike Toglia is having a pretty good end of the baseball season. He was called up to the bigs, hit a couple of bombs, and will walk into the offseason on some truly dope kicks.
Here is the Rockies rookie unboxing a pair of cleats that tell a slice of his life.
"These are pretty sweet," Toglia tells En Fuego. "Stadium Custom Kicks. I've seen some of their other shoes. They're doing an incredible job. This one's my favorite, though, because it's got a little nod to the UCLA Bruins right there. It's also got the date that I debuted. So, these are pretty sick."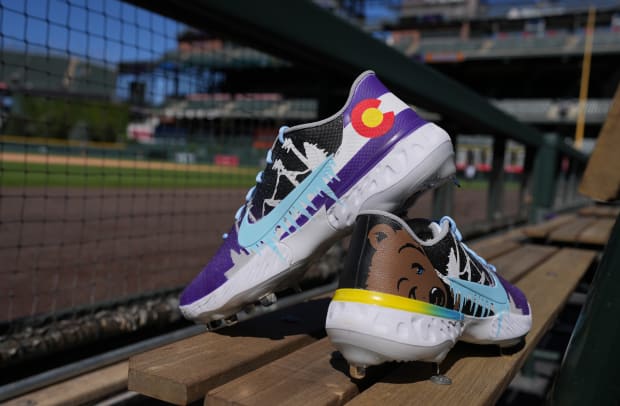 The 24-year-old from the Tacoma area of Washington showed off what power and a stingy glove can get you and was drafted 23rd overall by the Colorado Rockies in the 2019 MLB Draft out of UCLA.
He was called up Aug. 30 of this year and has proceeded to hit two home runs and drive in 10 runs over 83 at-bats.
His cleats tell the story of a west coast cool hitter who remains extremely proud of his time at UCLA and his big moment as he walked into the Show. In his second game in the bigs he went 2-for-4 with a bomb and two runs knocked in.
The sky is the limit for a young player who has power as well as Gold Glove-level defense. It also doesn't hurt that he now has the best drip on the team.
A little Easter egg for you out there. The man behind the camera is none other than Kris Bryant. So if it wasn't enough to play all over the field, the dude makes a pretty good DP on a shoe reveal shoot.