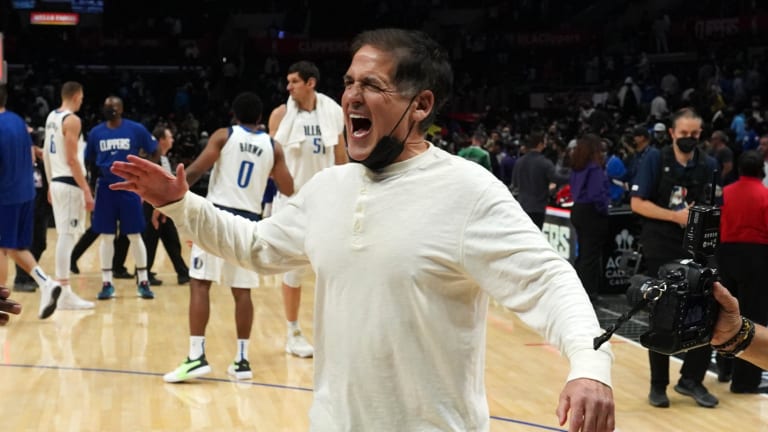 Mark Cuban Roasts Luka Doncic, Delivers Thanksgiving Dimes
The Dallas Mavericks owner offers his thoughts on the NBA star's culinary ability while doling out his own Thanksgiving advice.
Nothing says Thanksgiving quite like a warm stew of, hear me out, cranberry salad? According to Dallas Mavericks owner Mark Cuban, "It's insanely good!" A staple and family favorite in the Cuban household this holiday season is 'Cranberry Salad.' Wonder what delicious ingredients make up this must-have Thanksgiving dish? Cuban spills the green beans with me Tuesday night as the Mavs prepared to take on the Los Angeles Clippers.
As a vegetarian, Cuban is off the hook when it comes to participating in the slicing of the turkey. However, the rest of the party fills their bellies with the traditional main course without a side-eye in sight. Phew, close call! No need to break a sweat. 
Cuban is not completely left out as these Thanksgiving goodies continue to remain on the list: sweet potato, sweet potato pie, squash casserole, green beans, and the famous cranberry salad. This savory side is made up of cranberries, marshmallows, grapes, and cream all mixed together for an irresistible third-round KO.
This billionaire truly knows how to balance a healthy holiday menu while still indulging in sweet alternatives and food coma galore. As a self-proclaimed "food coma specialist" there's no time to take lead in the kitchen. "If I started to cook it would be over," Cuban chuckles.
"My family would desert us. No one would want to be around me," he joked. For Cuban, "The minute the food is up, it's straight to the couch, turn on the TV (watch football)" and, as a Dallas resident, enjoy the Cowboys.
So, that begs the question, if Cuban's wife or perhaps chef were to take the day off, what Dallas Mavericks player could Cuban count on down the stretch to have the skills necessary to take lead in the holiday food preparation? Cuban responds, "Oh my God, that's a great question!" Mark begins to burst into laughter as he takes one look at Mavericks' superstar Luka Doncic and immediately says, "not Luka, that's for damn sure."
Do you mean to tell me the Slovenian machine and the Mavericks' on-court lethal weapon has zero skills in the food department? Pinch me…I guess Doncic is human after all! 
So, who does that leave us with? Ladies and gentlemen, welcome to the main event! Subbing in from the left corner, weighing in at 245 pounds, no cooking credentials, and an elongated 7'2", Moses Brown! Cuban eagerly drafts his pick with Brown taking the first-round chef slot over Doncic.
Cuban shares what he really feels. "Luka is like your typical 22-year-old," he said. "He knows what a microwave looks like at best." Ouch, burn! Following the round of shots fired, I asked Cuban if the young dynamo would come correct at a Cuban family holiday with some famous Slovenian dishes from Doncic's roots. Cuban laughed boisterously as he confidently stood his ground to say, "He (Doncic) knows some good stuff, but is he cooking? No, I'm not buying that."
When asked the same question, Mavericks head coach, Jason Kidd, echoing Cuban's reluctance, added, "That's a good question. Luka and KP (Kristaps Porzingis) are probably eliminated. They are too young. Maybe Tim (Hardaway Jr.), he's the oldest, maybe he can cook." Kidd reiterates, "We got to let those two youngsters (Luka and KP) not cook. Maybe clean up, but not cook."
Final score: Turkey 2 - Luka 0 (respectively). Safe to say, their players are welcomed, but only to eat.