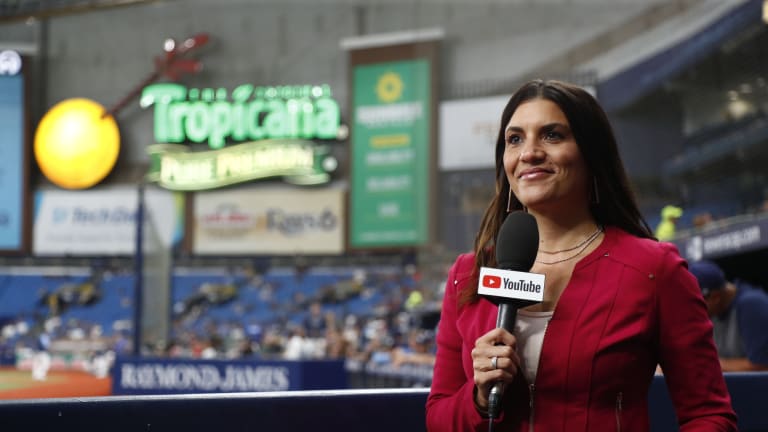 Alanna Rizzo Is Just Getting Started
MLB reporter, wine expert and dog advocate talks about her career and what drives her as she moves further along an interesting chapter in her life.
For seven seasons, Alanna Rizzo was as pure L.A. Dodger as a Joe Davis call, as Blue as the hat atop Julio Urías's head, as beloved as the iconic Vin Scully call that starts every game.
She's since moved on from Chavez Ravine but is more entrenched in baseball than ever. What's more, this seven-time Emmy award winner seems to have found that sweet spot of life.
Leaving Los Angeles, a town she grew to adore, and bidding goodbye to the Dodgers, a team that became like a family, wasn't easy. It's a remarkable thing to cut ties with that kind of job and move across the country without the next chapter fully written. For Rizzo, it's what she's always done.
She has a gift for listening to her heart and following her passion. For her, the heart is with her family and that is very much on the east coast. And her passion, well, that's a multi-faceted thing.
"Baseball, dogs and wine," she tells me over Zoom. She's managed to carve out a life that resembles perfection. Work and life are more in balance. And, as I discover over our chat, she is as dedicated as ever on precisely the things that matter.
Success for this reporter begins and ends with a simple mission, staying true to herself.
"I think the biggest thing is I've just always bet on myself," she said. "I knew that I would be successful because I've always been successful at what I've put my mind to."
Betting on Herself
Anyone who has ever seen Rizzo on television is blindsided by how effortless she makes it all seem. Players are equally comfortable and engaged during her interviews. It's a quality not afforded every reporter.
Rizzo explains that pivoting is part of who she has become over a career that has spanned seven seasons with the Dodgers, a previous stint with MLB Network and work as a sports anchor for CBS affiliates in Wichita Falls, Texas, and Madison, Wisconsin.
Like a journalist Dani Rojas, Rizzo would probably tell you that baseball is life. That wasn't always the case as football and the NFL jumpstarted her initial love of the sports world. It makes sense when you grow up in the shadow of Mile High Stadium, rooting on the Denver Broncos. And it's clearly the sport if you matriculate to Colorado to root on the Buffaloes.
It's there at the University of Colorado that she studied international business with a marketing emphasis. It's there that she decided to jump into a life of sales shortly after graduating.
Fortunately for baseball fans, her heart just wasn't in it. So rather than toil away in a job that left her unfulfilled, Rizzo made the decision to live a life of passion.
Sure, it's a nice thought. But there are two things she wants you to know about pivoting to follow your dreams. First, you should do it. Second, it's going to take a lot of hard work and sacrifice.
"Yeah, it's scary," Rizzo recalled of her transition from the world of sales to journalism back in 2004. "I left everything I knew behind and went to Wichita Falls, Texas, where I knew nobody. And I was making less than $16,000 a year."
On top of that, Rizzo was alone in her endeavor and had to make new friends and colleagues. But uncertainty isn't something that entered the equation.
"It was like literally living below the poverty line," she said. "So, I had to decide whether I was going to put gas in my car to go to work or if I was going to buy food to eat."
These were the decisions she faced as she worked her way from one affiliate to another, honing her craft and building her brand.
Whether or not the sacrifice was worth it isn't even a question: "So any bit of advice that I have is, in any industry, I don't care what your interests are, you have to have a solid work ethic and you have to be driven and you have to take initiative and you have to be willing to do anything to get the job done."
Representation
Seeing Rizzo on the screen is a testament to what can be accomplished when you set goals and embrace the confidence in your talent and drive. She's also a major part of baseball's renewed mission to diversify its coverage.
A July game between the Baltimore Orioles and Tampa Bay Rays, an otherwise innocuous affair, was cause to celebrate as it was the first time in MLB history that featured an all-female team calling the game.
Rizzo joined Melanie Newman, Sarah Langs, Heidi Watney and Lauren Gardner in coverage.
MLB Network brought back an all-female broadcast team in late August, which again featured Rizzo.
As the reporter explains, it's a wonderful moment but one that only further illustrates how diverse this sport is and how varied its beauty can be when more are welcomed.
"While we've made a lot of strides, there's still a lot of things to happen," she said. "There's so many talented women, there's so many talented minorities, both men and women in this industry.
"And I always think there's certainly room for more. And I think the biggest thing that we can do is not only women uplifting women, but also the men supporting us, too. And I think that makes even greater strides when you have your male colleagues supporting you and giving you shout-outs and recognizing the moment and recognizing the value of what it is that we're doing as females in this industry. And I think the biggest compliment is when someone can say, hey, you know, you're my favorite reporter, you're my favorite broadcaster, but they leave gender out of it."
Following Her Heart
Rizzo left Los Angeles and now resides in Wrentham, which is a Massachusetts town almost an hour from Boston. Living on the other side of the country means she is with her fiancé now and closer to family.
Still, it means she is a long way away from the Dodgers and a city she grew rather fond of over the last decade.
"I miss everything about L.A. It's the greatest place I've ever lived. You know, it's funny, I almost didn't take the Dodger job because I didn't think I wanted to live in L.A. because I only knew it from an opposition perspective," she recalled.
"But yeah, I miss L.A. greatly and I hope to when the Dodgers make the postseason this year, I hope that that ends up being the one of the series that I get to cover."
Much as she has always done, she is diving headfirst into the things she holds most dear. As she says with a smile, that's dogs, wine and, of course, baseball.
Rather than one team, she is now covering the entire league as a contributor on "High Heat with Christopher Russo."
"That's the beauty of life now, is that I don't have to be so rigid and restricted as to what I do for a living. And I've done this almost two decades. So I'm at a point in my life now where I don't have to and I can kind of pick and choose more of what I want to do. And right now, I can't imagine a better scenario or better schedule or better opportunity than what I have right now."
Rizzo is often at her best on the field and with the players. She gets that flexibility with MLB Network for various showcase games.
But it's away from baseball that she continues to dedicate more of her time and energy, such as with Scout & Cellar wine where she is a consultant—a way for her to stay competitive, focus on sales and tout a brand in which she believes. "I do enjoy trying to build a strong team and make commission," Rizzo said. "And it's just a lot of fun for me. It's not something that I have to do. It's something I want to do. But it's a legitimate side hustle."
Then there is Guidry's Guardian, named after an adorable Border Collie mix she adopted back in 2009. Welcoming Guidry into her home was a revelation: "It really opened up my eyes to the need for fostering and adopting animals because over 600,000 animals, only dogs, in addition to all the cats, get euthanized every single year in our country shelters just based on overcrowding."
Guidry has since passed but left an indelible mark that has culminated in quite the legacy. The organization is dedicated to drastically changing what is a dreadful reality.
After two years, Rizzo has helped 200 dogs find their forever homes. She is a one-woman show at the moment—fundraising for medical costs, adoptive fees and the administrative costs associated with getting dogs out of shelters and into loving homes.
It's one part of who Rizzo is, someone who lives and works with absolute passion. She understands she spent the better part of five years in an industry that she didn't enjoy.
She could have spent the rest of her professional sales years stuck in that tedium. Instead, she bet on herself.
It's something she has done time and again. She is one of those shining examples of what happens when you do push the chips in the middle on both your talent and your desire to give it all that you have.
"Sports is a passion for me," Rizzo said. "It never felt like a job. And whatever it is that you love to do, I think that should be your career choice because you're going to have to work to get paid. You might as well get paid doing something that you absolutely love."