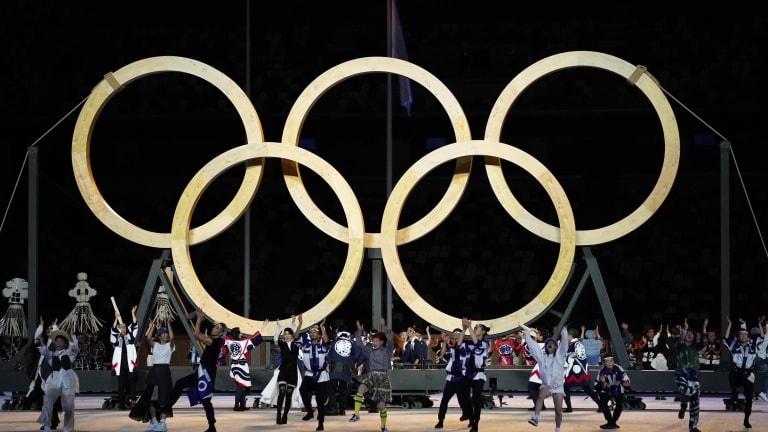 The Tokyo Olympic Opening Ceremony Was Short, Sweet and What You'd Expect During an Ongoing Pandemic
While protests took place outside, the Opening Ceremony unfolded before a packed house of empty seats.
What often resembled a rehearsal for an opening ceremony took place at the wee hours of the morning in America and during prime time in Japan.
The Opening Ceremony has happened, and it was steeped in pandemic protocols.
For those waiting until this evening to see the replay of the event, know that there will be spoilers. But it won't be unlike any other tweet, Instagram or news report you will see the rest of the day.
The most important thing as we sit back and enjoy one event after another for two weeks is to remember that there are many throughout the host country who do not want these games to continue, fearing not just the financial impact but the health issues that may arise from having thousands of international athletes visit during a surge in the pandemic.
As the LA Times' Iliana Limón Romero tweets, people outside of the stadium were shouting, "Cancel the Olympics! Cancellation. ... Stop the Olympics! Stop them immediately! Stop the opening ceremony right now!"
The night's proceedings kicked off with a beautiful montage of Tokyo's journey from winning these games back in 2013 to now. Boy, if we could have told you what 2020 had in store, Tokyo.
The camera then lands on an empty stadium, not for effect but need. With numbers rising, Tokyo Olympic officials are not allowing fans into events throughout the city.
What we get, then, is an eerie performance that starts with a single athlete working out, followed by one symbolic gesture after another.
It's onto the anthem and a crescendo of simulated woodworking, tap dancing and choreography that has you wishing you could see the version of Japan's Opening Ceremony that took place sans a global health crisis.
Parade of Nations
The athletes then walked into an empty stadium, and it felt like this was all some sort of well-choreographed rehearsal.
Each nation, however, looked amazing. Here is just a sample of the fashion.
The Flame 
The night was capped off beautifully by tennis star Naomi Osaka, whose mother is Japanese and father is Haitian. 
You will find the program relatively short for something that in other years tends to drag. Organizers certainly filled the evening with as much pomp as was possible.
And, yes. Just underneath an overarching tone of worry and solemnity was the barely recognizable feeling of jubilation. You have to squint, but it's there.