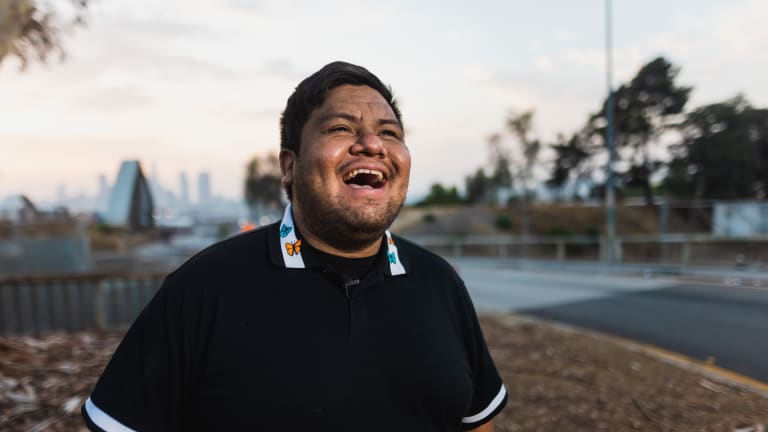 TikTok, The Time is Now for Budding Star Leo González
Hispanic Heritage Month: Comedian Leo González has gone from Hanford to Hollywood and is simply enjoying the dream.
If you're blessed with a certain comedic gift, you can move the world with the slightest gesture.
That's at the heart of a throwaway moment on the "OMG Hi! Podcast," George Lopez's show where he recently welcomed on Leo González.
González is a young comedian from Hanford, California, who has turned an interest in reporting into a passion for performing. That's all been parlayed into one of the most successful channels on TikTok.
In June, he chatted with his boyhood idol on the podcast and was explaining to the show's other guest, former Los Angeles police detective extraordinaire Gil Carrillo, the intricacies of his now beloved George Lopez impression.
"That's all it is," González tells Carrillo. Lopez immediately pushes back, "don't say that's all it is." They laugh.
It's easy to be dismissive of such a new medium, especially when the medium itself feeds on the incessant and unrelenting scrolling of its audience. But there is no dismissing González. He has that certain quality that makes you laugh before he even tries.
González is quickly mastering the art of short-form comedy, getting to the heart of what is humorous in nanoseconds. It's the current currency of comedy but delivered in the classic manner of the greats.
In a world that once moved at the pace of a pitch meeting, content creators are literally turning to their phones and generating a fan base in microwave time. González has 1.3 million followers on TikTok, 112 thousand on Instagram, and was just named one of TikTok's 2021 Latinx Trailblazers.
It's an honor of which he tells En Fuego, "I feel deeply grateful and humbled to be a part of this. TikTok has gone so far out of their way to make me feel loved and welcomed at the big TikTok table. I don't take this for granted and want to make sure to make it worth it."
It's not too bad for a kid who grew up not having a permanent place he could call home, nor the confidence to say unequivocally that he would accomplish his dreams.
He turned to social media to create for himself when he felt there wasn't a place for him at the table. Well, he's dominating the discussion at that table now.
With over a million followers, recent collaborative efforts with producer Marshmello and some podcast time with Lopez, González is doing alright.
Hanford to Hollywood
González speaks thoughtfully. Sure, he might be great at delivering humor in snackable pieces, but this is a storyteller. He explains his aspirations were very early on whittled down by the context of his reality.
"My first dream was to be an actor," he tells me over Zoom. "But at some point, things that made me scared, made me feel like, OK, well, I'm not going to make it to ever live in L.A. That's pretty far. So, the next best thing is I could be a reporter in Fresno and I'll still be doing stories. It's more realistic to try to do something like that."
The young comedian is looking back on his initial reservations as he speaks to me from his new home in Los Angeles. It's a testament to his drive as someone who did dive into reporting and has worked at several stations, including local CBS and Univision affiliates. He cut his teeth as a production assistant as well as a photographer and editor.
He just needed the kind of medium that could marry his experience with his talent. About a year-and-a-half ago, he jumped onto TikTok.
At the start of the pandemic, González quickly found his voice with a video satirizing the great toilet paper run of March 2020.
There is a lightness about his humor that belies a nomadic childhood that lacked consistent financial stability.
"Most of my childhood, it was my mom and I were just going from people's homes to other people's homes," he recalled.
"I had a lot of sadness at that time. I was just a little kid and I just I knew my mom was just always trying to figure it out. And I think when you're an only child and you just watch someone, your emotions become so tied to that person. So, everything that she felt, I would feel immediately."
It's perhaps a life led on the move, constantly changing, never settled, that Leo is always creating. There is a deep well of wisdom inside someone who is looking for that place where he's grounded.
He tells me about the time that he was 11 and found a nearby church where he volunteered at its soup kitchen. He was quickly lauded by teachers for being such an amazing person with a big heart. González insists with a smile that this isn't the case.
"I'm (was) really just bored and hungry," he said of his volunteer work. "You know, it's not that I had a good heart. It was just like I had nothing to do and there was nowhere for me. I was never a homebody because there wasn't really a home."
I choose to believe that he really does have that big of a heart. There is a selflessness in his content that you can see in some of his more collaborative pieces.
It's the kind of comedy that isn't jaded or cynical. It's daytime television comedy, the kind you watch on syndication. The kind that makes you feel good. It's old-school black-and-white.
Beyond that Little Taste 
I laud González for his physical comedy. I rattle off a few examples and he locks in on one that immediately resonates.
"My mom and I, that's what we always bonded over," he explained about his first comedic inspiration. "It was just like funny people, funny moments.
"So, my mom introduced me. She was really into Lucille Ball. And nobody ever talks about her, especially like my age generation. Nobody talks about her. But I loved 'I Love Lucy.' I loved Ethel. And just the relationship, like everything about that was so goofy."
George Lopez, "Reba," "The Nanny," and, his absolute favorite, "Everybody Loves Raymond," all get the credit for entertaining a budding Leo as he grew up.
You can hear it in his podcast with Lopez and in his discussions with me, comedy shaped who González is as a person. Every joke and facial gag left a visceral imprint on his current work.
However, there is a hesitancy just underneath the laughter.
"This job is like, it's like the best thing ever. And it's the closest that I have to my dream. And it's it's just wild."
As quickly as one of his videos, it's there: "closest that I have to my dream." He understands he's right there, on the cusp of a breakthrough. Accomplishing that would mean so much to him but also to anyone else who had had to grow up under similar circumstances.
"I want to try to be funny and show through my through my work that any little kid who is scared and lonely and confused and homeless, you can do it," he said.
"And I feel super unqualified at this moment to say that, but I've just had just a little taste of what some of this stuff that's happened."
The year has been a whirlwind of videos and accolades. The growth he's seen over a year in which we have all been home and on our phones indicates just how popular his brand of funny is to this app-scrolling world.
For now, he's enjoying the freedom that comes with his platform. He isn't just afforded the liberty to create whatever it is he finds funny or interesting, he has a captivated audience.
"Right now, I'm just really content with this idea that I finally feel like I'm able to dream. I'm able to do things."
And the extra salsa on the side of all this? The community. However distant social media seems to make this world, it certainly has a way of doing the opposite in wonderful ways.
González is reminded of the times people come up to him with a reference to one of his earlier videos. It transports him to those initial throes of TikTok comedy when uncertainty slid over and made room for creativity.
"I just feel so it's just wild when people bring up certain videos," he said. "I made that video at three in the morning in front of a green screen in Reno a year ago, and then someone in El Paso brings it up, or when I'm like I was in Chicago or something and I was like, I almost didn't make that video at five a.m. in Reno, you know? So that's crazy. It's all I all I ever wanted was friends. And so that's the best part of this all."