Adidas Dominates World Cup With Fire Mexico Away Jerseys
Adidas didn't just create winning World Cup kits for Mexico, they dressed the rest of the world in absolute fire as well.
Mexico's newest away jersey has newfangled technology I'm sure the players will appreciate, but it's the heart of the design that matters.
Adidas once again went back to the roots to outfit La Selección. As the following images showcase, the new threads are fire.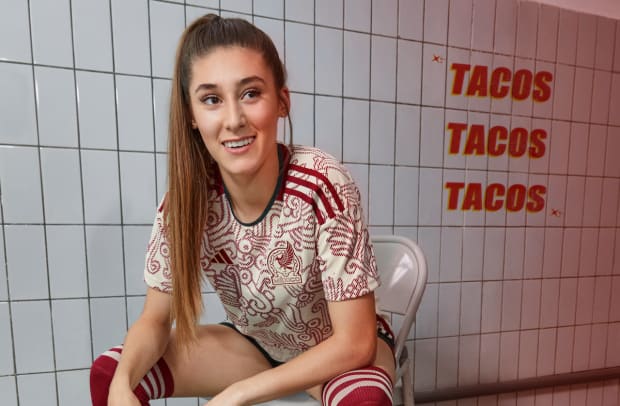 With intricate designs across the face of the shirt, it's easy to miss some of the meaning at first glance.
The brand explains that there are five elements embedded into the kit that hat tip the rich history of the country.
There is a malinalli, or a grass that grows to both touch the heavens but also grounds its roots deep to stay connected to the underworld.
The conch shell is a nod to the lord of dawn Tlahuizcalpantecuhtli. The spiral is a physical representation of song and fluid poetry.
Within the intricate designs, you will also notice a staff, which signifies the god Quetzalcóatl and the theme of leadership. And the burning embers of fire remind us of the "cosmic cycles."
Via Adidas, "These items represented on the away jersey display the history, roots, and culture of our country, carrying knowledge and power to the playing fields of Qatar, revealing not only a uniform, but armor filled with magic, power and poetry."
This is the second recent addition to the illustrious line of kits El Tri has donned. Adidas released its green home version earlier this summer.
Complete with regal accenting with the iconic green color, the new kits were an instant hit. And the rollout further cemented the idea that the brand was incorporating heritage in a major way in the lead-up to the World Cup.
At the time of that release, James Webb, Senior Product Designer at adidas, had this to say: "For this season's home jersey which will be worn on football's biggest stage, we wanted to capture the spirit of the nation with a design that is deeply rooted in the culture of Mexico."
Adidas has released a wide swath of new jerseys for countries marching triumphantly toward Qatar and the 2022 World Cup. Each contains a nod to the rich history each country boasts.
Whether or not you are fortunate enough to get one of these Mexico kits, it won't be long before you get to watch them in action.
These El Tri kits fly onto the Atlanta pitch at Mercedes-Benz Stadium on Aug. 31 when Mexico takes on Paraguay.