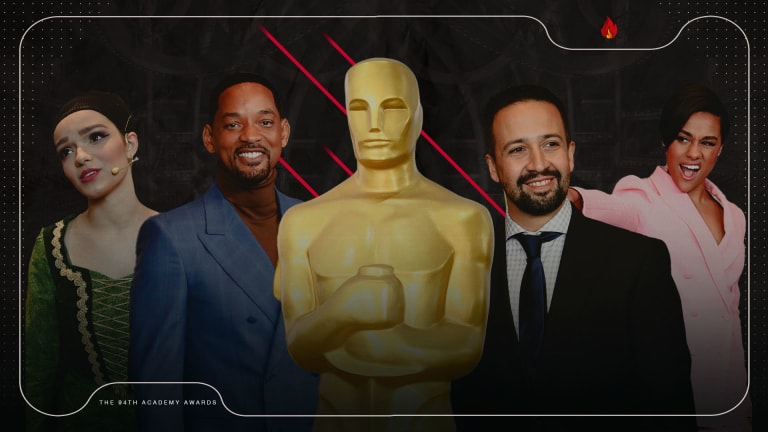 2022 Oscars Preview: The Good, The Bad and The Stunning
The 2022 Academy Awards return with some of the same issues but far more great movie moments.
"The Power of the Dog" is a movie Sam Elliott famously described as a "piece of shit." Having never been a cowboy, I can't speak to the authenticity of the movie. But I can say it was a visually stunning film that made me feel like shit.
So it goes with much that surrounds the 2022 Academy Awards, a ceremony that will have three hosts and lose several categories to the land of previously recorded.
Film's greatest night is going to tweak a few things and just get through the proceedings. Kind of sounds like your own Monday morning, right?
While we are, hopefully, on the other side of this pandemic guff, we are still trying to wade through life and find whatever the hell normal is for each of us. Seeing friends might now mean taking at-home tests. At a certain point it might be easier to just have one of those hazmat shower things connected to your front door.
Regardless, there is a sentiment that lurks just under our masks. We are getting our laughs in while we can and enjoying life while it's in season. That kind of absurdity has become commonplace, and it's worked its way into some of the best movies, much of which were produced during these most absurd times.
In any case, it's best to get a lay of the land as the chit-chat of the day turns from all the awful that surrounds and suddenly revolves around "Oh, what are you wearing. You look fabulous."
The Good
"Dos Oruguitas" remains up there with onions and random Apple Memories that pop up on my phone as to reasons I nearly burst out in tears in the middle of the afternoon.
It's poignant. It perfectly sums up the movie in which it features (the banger-laden "Encanto"). And it promises to be a timeless classic you play with fond memories when those kids of yours you watched the movie with have kids of their own. Ugh, there's those onions again.
It's an example of some of the best that has come out of this crop of films. But it's hardly the only morsel you need savor.
"CODA" was that genial breeze on a sweltering day, a respite from the cacophony of misery that can be commonplace through such highly regarded movies.
From Emilia Jones' cathartic voice to the passion exuded by Eugenio Derebez's Bernardo Villalobos, Sian Heder's summertime release seems to be the most complete work out of some truly wonderful movies pegged as best in show this year.
J.K. Simmons again proved he could play a sneaker if given enough lines. He brings the gruff William Frawley back to life and steals his scenes, often with but a look or brusque breath.
And if you're in the mood for actors who slay the game without saying much, Kirsten Dunst absolutely annihilated her portrayal of a woman who has so much going on inside but is so often left to seethe rather than speak. With pursed lips and pain in her eyes, Dunst spoke volumes.
The Bad
Can we talk about representation? Because while there are so many examples of how things are improving, there are those that continue to do some great work in the shadows.
Researchers at UCLA's Division of Social Sciences, examined the top 252 English-language films from 2021 and discovered that while accounting for a majority of the box office receipts, people of color are not rewarded by representation on the big screen.
"For people of color, and especially Latino families, theaters provided an excursion when almost everything else was shut down. In a sense, people of color kept studios afloat the past couple of years," Ana-Christina Ramón, director of research and civic engagement and co-author of the report, said according to NBC News. "Studios should consider them to be investors, and as investors, they should get a return in the form of representation."
The chasm is especially wide for Latinos who continue to champion a mere few actors, writers and directors who tell their stories.
NBC News' report on the matter states, "Latinos represent nearly 19 percent of the U.S. population. The study found that 7.1 percent of leading acting roles and 7.7 percent of overall film acting roles went to Latinos."
Things can be better. But it's incumbent on we Latinos to continue to tell our stories, because they will be heard. And as "Encanto's" musical success proved, the world craves the rhythms that provide the soundtrack for so many of our lives.
And if we are talking about things that proved problematic, the cognitive dissonance was extreme as I tried to buy into the star-crossed lovers falling madly in love in microwave time during "West Side Story." Please, 2022. You don't need to ask me to be sympathetic to Tony, played by an actor I am having trouble watching without knowing the allegations that now color his career.
But that's enough said about that.
The Show
The Oscars return with more hosts and fewer categories, a push to make it more "watchable" to millions who wouldn't watch it anyway.
Sunday's show isn't for everyone. But that doesn't mean I won't shout from here that it really should be, at least the films that are getting their due credit.
It's hard not to miss a theme imbued in some of the best this year has to offer.
Incoming death knell asteroid? Have a quaint dinner. The neighborhood descending into a cultural and political civil war? There's time to laugh. Dealing with the emotions of hiding who you are over a lifetime, well, you can just be an asshole cowboy to those around you.
The Oscars will come and go on Sunday. Much of what you see on TV you'll forget by the time the second bottle of wine leaves your system the next morning. But each got us through at least a modicum of what has ailed us the past year and beyond.
There is indeed time to laugh amid despair; time to share a bite even if it's lonelier than usual.
There is a part in Belfast when Pop and Granny get up off the couch and share a cuddle and a dance. Buddy is left on the couch to embrace the warm feelings of the moment.
It's the tenderness that sticks with you, when movies reach out to you and tickle the brain like a book might.
This past year we met Buddy, a charming boy who amid political upheaval and family tumult falls in love. That ultimate struggle never blinds the audience but rather uplifts for its purity and universality. While the whole world tears itself apart we can certainly recognize the struggle of our first love.
We've been a bit of Buddy recently. Whether by choice or need, we choose childlike naivete when the concerns of the world prove too grandiose to conquer daily.
Much like Buddy, we find ourselves choosing love over hate and flowers over looting. We muster along and find the good amid the rubble.
The Oscars is absolutely devoid of caloric value. It's junk food with uni on top. But junk food is good for the soul sometimes. And there is something delicious to discover in every bite.
So, come Sunday, I'll be there with cheese, wine, and a lot of opinions. Will it make the world a better place? Of course not.
But I'll feel better.